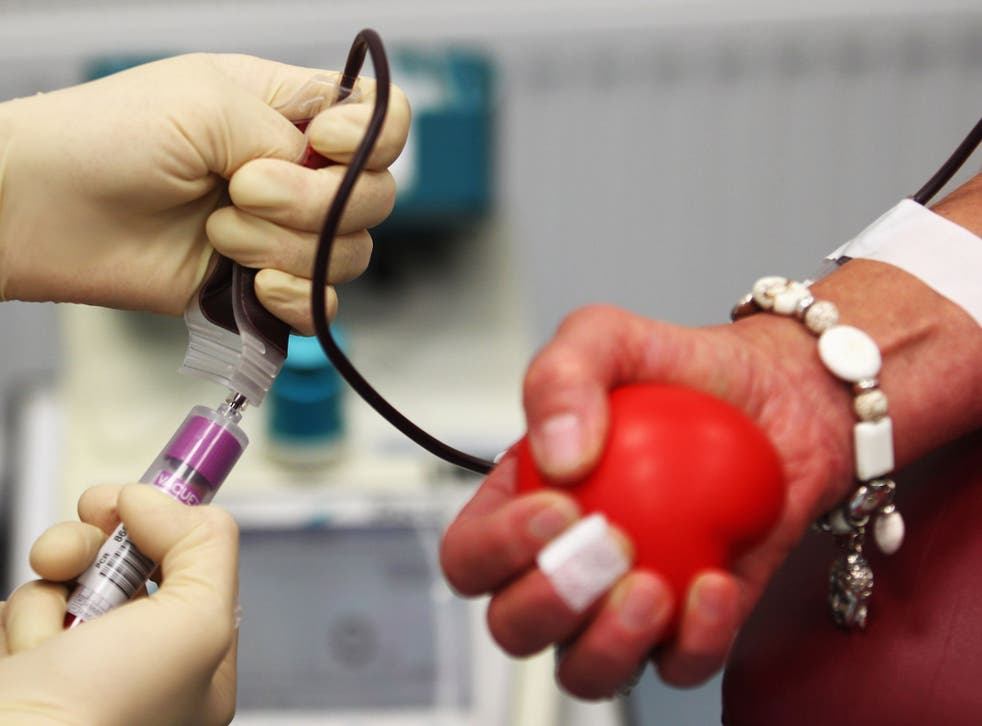 More than a thousand Polish expatriates to donate blood in solidarity bid with Britons
The positive protest is taking place as an alternative to an unofficial strike against the treatment of migrants, planned next week
More than a thousand Polish expatriates are to donate blood in a bid for solidarity with Britons, in a positive protest taking place as an alternative to an unofficial strike planned next week. The surge in people making appointments at blood clinics across the country comes just days after the Independent reported the launch of the two very different campaigns.
Numbers pledging to take part in the mass blood donation on 20 August have overtaken the many hundreds who intend to strike in protest at the way migrants are often used as scapegoats for Britain's economic woes. In London alone, several hundred Poles plan to gather outside Parliament, some wearing red t-shirts which simply state: "Enough! Stop blaming us." No trade unions are involved in the action, which is being promoted by the UK-based Polish Express newspaper.
Yet now is not the time for Polish workers to resort to an unofficial strike, say the organisers of the alternative form of action. The idea is to strengthen British-Polish relations, according to George Byczynski, coordinator of the British Poles Initiative, which is promoting the #Polishblood campaign.
"Over 1000 people have declared on Facebook that they are planning to donate blood on the 20th August. We are getting hundreds of e-mails with booking confirmations from hospitals all around the UK...So far we also have received support from 30 Polish organisations, businesses and media," he said.
Organisations supporting the campaign range from the Polish Youth Association and British Polish Law Association to Oxford University's Polish Society. Many of those taking part are posting pictures online of their appointments to donate blood, in a campaign which is gaining momentum.
Writing in progressonline.org.uk, Ella Vine, the chair of Labour Friends of Poland, said: "It seems that thousands of Poles and other people have joined the Polish blood campaign, not just in opposition to the strike but to show that Polish and migrant energy can be harnessed to achieve positive and extraordinary things – and that is what we should be aiming for. Not for division, not for hatred, not for inequality – but for inclusiveness, positivity and tolerance."
Some prospective donors make reference to the contribution the Polish armed forces made to Britain during the Second World War. "Polish pilots spilt blood for Britain 75 years ago and it costs us nothing to spill blood for Britain today. I respect this country," said Michal Kozlowski, 23, from Manchester.
For others, the act has a wider meaning. Agnieszka Rogusz-Hopwood, 34, from Bradford, said: "Giving blood on this particular day is a statement or a symbol that we all, regardless the nationality, can give when we can, and take when we need, and by doing so we help to create a harmonious cooperation."
Andrzej Rygielski, 54, from Kent, who came up with the idea last week, said: "I would like to donate my blood as I know that Great Britain needs it. And people's lives are too important to ignore this call."
And a spokesperson for NHS Blood and Transplant commented: "By using the 20th August as a springboard to commit to becoming a blood donor, members of the Polish community can help to save and improve lives." They added: "We need to recruit 204,000 new blood donors this year to replace those who can no longer donate. Therefore every new donor who registers and books an appointment really does make a difference."
Join our new commenting forum
Join thought-provoking conversations, follow other Independent readers and see their replies