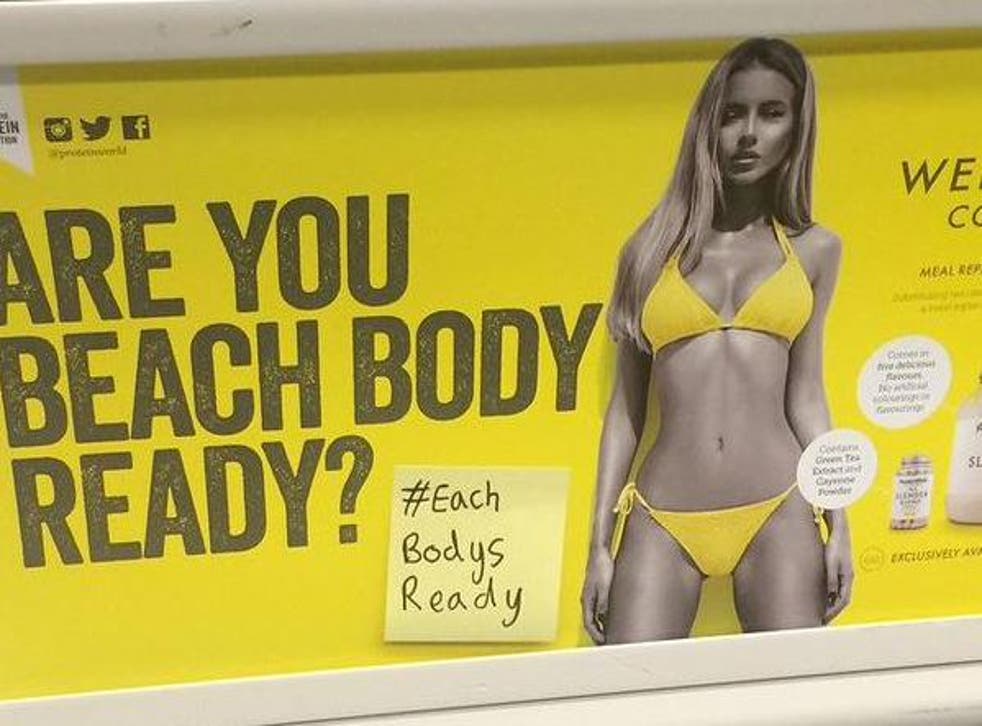 Protein World revels in sexist backlash over 'beach body' advert
The company claims to have gained 5,000 customers in four days
The fitness company behind the 'body shaming' social media storm sweeping across the country has hit back at claims their adverts are a huge "PR fail".
Protein World, the business responsible for the 'Are you beach body ready?' campaign has been sticking up for itself ever since protesters deemed the ads 'sexist' and 'offensive'.
Responding to comments on Twitter that the company is "insanely bad at PR", Protein World claim to have gained 5,000 customers in four days.
They also boasted their sales have tripled and the PR department has received a bonus.
The marketing technique is startlingly similar to that of Sun columnist and self-publicist Katie Hopkins, who sparks outrage - and attracts attention - at every turn.
The Advertising Standards Authority has revealed the volume of complaints it has received about the bill posters is swamping its assessment process.
Featuring the black, bold words "Are you beach body ready?" on a bright yellow background and beside a bikini-clad model, the ads first popped up in the London Underground.
There is now a petition, set up by East Sussex protester Charlotte Baring, calling to remove the posters. It has been signed more than 40,000 times.
The 23-year-old featured in the ad, Australian model Renee Sommerfield, has also stood by the promotion.
Speaking to HuffPost UK Lifestyle, she said: "Two wrongs don't make a right.
"I agree that all bodies are 'beach body ready'. Skinny, curvy, muscular, petite, tall, short, young and old. Confidence is beautiful no matter what size you are. Your reflection doesn't define your worth.
"Protein World's intention is to motivate and inspire their consumers to be the best, healthiest and fittest version of themselves, not to advertise that you have to look a particular way to be 'beach body ready'.
"The real goal should always be health, not body size."
Join our new commenting forum
Join thought-provoking conversations, follow other Independent readers and see their replies