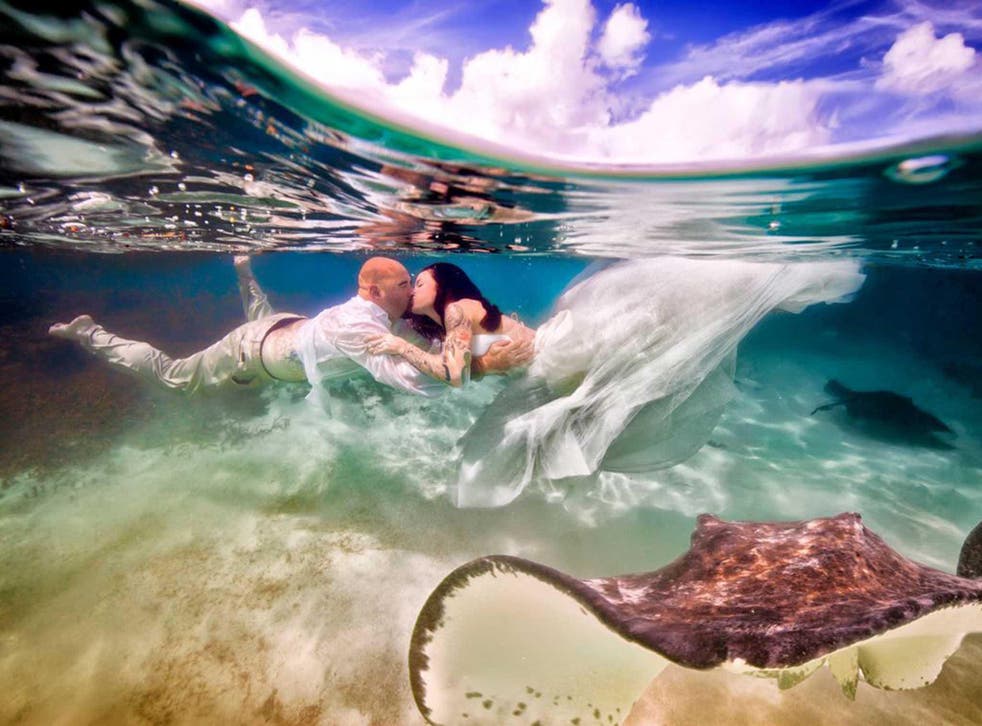 Married couples go underwater in their hunt for the perfect wedding photos
It's a wet wedding experience they'll never forget - for all the right reasons
Newly married couples are taking the plunge by having their wedding photos taken underwater.
US photographer Adam Opris has been wowing with his subaquatic images for the last four years, taking the 'trash the dress' trend to a whole new level.
While some images show couples posing side by side, other images show the bride and groom kissing on the ocean floor while completely surrounded by stingrays.
"I used to see photos of underwater worlds in the Amazon River from divers and was always drawn to them," Opris, who is based in South Florida, told The Huffington Post. "I am mainly a wedding and maternity photographer so bringing my clients into this underwater world added a whole new dynamic of creativity and art into their memories."
Underwater wedding photography

Show all 7
The idea of immersing yourself underwater in your finest garbs might seem extreme but the trend for unforgettable, truly unique wedding photography is becoming more and more of a priority for newlyweds.
"People try and help each other float or mess with each other's hair underwater and make it fun and crazy," he said.
In a recent behind the scenes video Adam reveals how the breathtaking images are created. The couples, dressed in their wedding attire, are surrounded by a crew of divers and the photographer who, as the couple remove their oxygen masks, captures the perfect moment. But it's not all plain sailing.
"Most people don't realise that to create amazing photos the posing is much different than on land," he told Huffington Post, but while it might not always be plain sailing it's surely an experience they'll never forget. "It may look like fun because it absolutely is."
Unsurprisingly, making your mermaid dreams come true comes at a cost. According to wedding website The Knot, Adam's underwater shoots will set you back anything from $3,000 to $5,000.
Join our new commenting forum
Join thought-provoking conversations, follow other Independent readers and see their replies