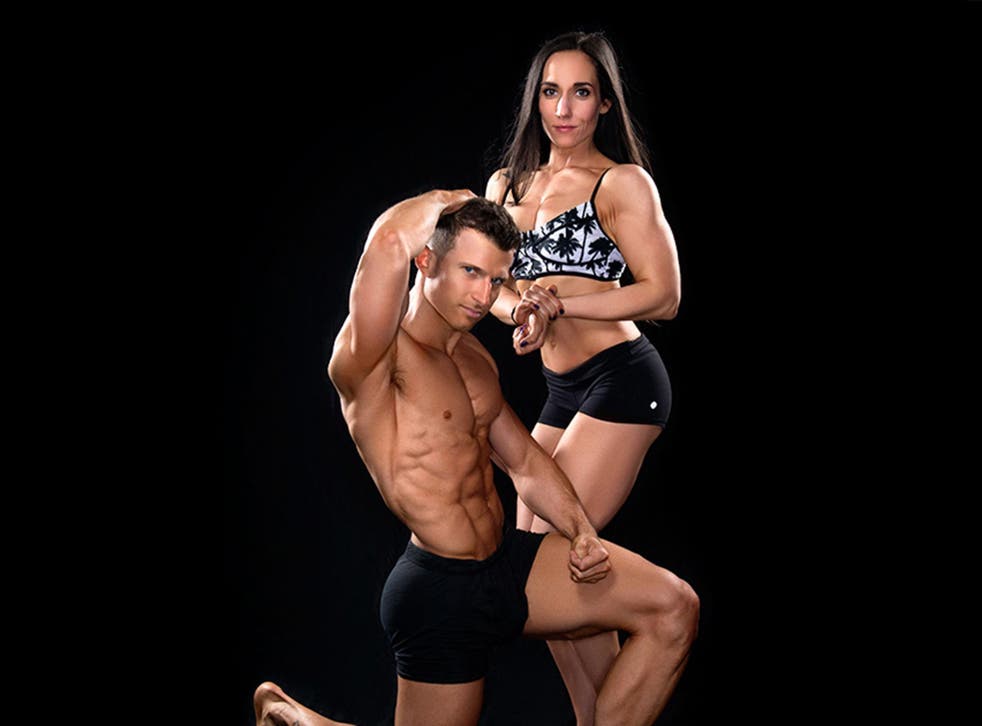 The vegan athletes who show you don't need meat to be fit
The Plant Built team of athletes has been dedicated to busting myths about veganism since 2012
Tanned, lean and with more photos of themselves in tiny outfits shared on Instagram than you've had hot dinners, Giacomo Marchese and Dani Taylor are typical champion bodybuilders. They're also dedicated vegans. Shocked? They want you to be.
The athletic duo are the founders of Plant Built, a group of vegan fitness fanatics in the US who are dedicated to proving meat doesn't necessarily equal muscle.
Marchese and Taylor founded the group in 2012. "We met up with our vegan bodybuilding colleagues for some vegan pizza. Because all good things start with pizza," recalls Marchese. They decided to gather fellow vegan athletes from around the world to compete together.
At first, only 14 members competed at the Naturally Fit Games 2013 in Austin Texas. When every athlete walked away with a trophy, the team decided to stick together. A year later, Plant Built had expanded to include a powerlifting and Crossfit teams, adding kettlebell in 2015. By the end of this year, Plant Built will be a 75-athlete strong team across six sports, including olympic weightlifting.
The Independent caught up with the founders Giacomo Marchese and Dani Taylor to find out their secret to getting ripped on what most would dismiss as rabbit food.
Motivational quotes from Plant Built vegan athletes - in pictures

Show all 6
What do you hope Plant Built will achieve?
Marchese: Leading by example, we aim to inspire others to go vegan and get strong. It has been proven many times over that vegans can excel in endurance based sports. The community has done a terrific job dispelling those myths. In the strength based arenas however, the meat and potatoes crowd still has their doubts. We are here to stay will continue on with our mission to prove that vegans can build lots of muscle.
Do members have different reasons for going vegan, or do you share a common cause?
Marchese: PlantBuilt teammates embrace veganism as a lifestyle. We all have our initial reasons for going vegan but once you fully commit to an ethical lifestyle, there is simply no turning back. Vegans honor that fact that all life is precious and that in this day in age there is absolutely zero reason to farm or consume animals to survive and thrive. We also understand that the number one cause of climate change is factory farming and the importance of removing all animal products from both our diet and lifestyle. Finally it is a no brainer that a plant based diet tends to be richer in micronutrients and is cholesterol free, which will only help athletes perform better, for longer. And just like omnivores high performing vegan athletes have already optimized their macronutrient intake. Going vegan is what gives us an edge.
What do you say to people who believe that a vegan lifestyle is unhealthy?
Taylor: Any "style" of diet can be unhealthy when poorly executed. How many people consume meat and dairy who eat in a very unhealthful way? Like anything, there are good and bad ways of going about a vegan diet. A well planned vegan diet, however, is touted by many world renowned medical professionals as one of the healthiest ways to eat. Nearly every health organisation in the world suggests eating a diet based mostly on plant foods, and with health conditions like heart disease on the rise, I suggest most people take these suggestions seriously.
What would you say to someone who wants to try veganism and is worried, or has given up many times?
Marchese: Back in 2004 when I went vegan internet and social media were not a thing. Times have changed and there are tons of ways to connect with others. For the veg-curious interested in fueling their fitness, check out the vegan bodybuilding and fitness or vegan bodybuilding and nutrition groups on facebook, and of course PlantBuilt.com to find out how our member's fuel themselves. Check out The Vegan Society to learn more about cruelty free options and how to become more involved within the community. Reach out. We are here to help!
Is it true that strict veganism doesn't work for everyone?
Taylor: The biggest mistake that new vegans make is not eating enough.
Plant foods are far less dense than animal based foods so you need to eat a lot more volume, and if you've been eating a certain amount of food your whole life, it takes some attention to detail to be eating more. With a lot of people under-eating, sometimes for months at a time, it's no wonder so many people complain of feeling weak, hungry, or dropping weight without trying.
Making sure you're eating enough and a nice variety of grains, legumes, fruits, veggies, nuts and seeds is key to successfully transitioning to veganism.
What is your advice for someone who is worried about upping their exercise regime while vegan? Do you need to eat differently?
Marchese: Just like any dietary change, it will take some time to become more familiar food choices that are available to you. Give yourself time to transition. And know that there is absolutely nothing that you cannot get from a vegan diet. We are living proof!
What is the most important thing readers should know about vegan body-building?
Taylor: Bodybuilding is hard regardless of your style of diet! There is so much planning and attention to detail with diet in the sport of bodybuilding, and it's important to understand that. Going vegan doesn't make this aspect disappear. I find that bodybuilders who are vegan tend to be able to eat more calories while still getting very lean (likely due to the higher fiber content of foods), and also they seem to recover from training sessions much more efficiently (likely due to the abundance of phytonutrients in plant foods). But bodybuilding is a challenging sport that requires a lot of discipline and focus to be successful in.
Join our new commenting forum
Join thought-provoking conversations, follow other Independent readers and see their replies