Alan Turing and his machines - fresh insights into the enigma

Show all 22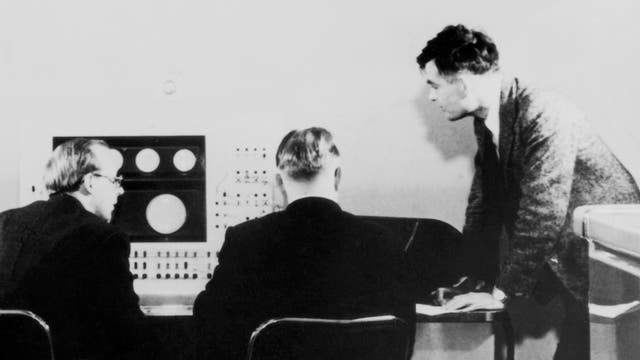 Alan Turing and his machines - fresh insights into the enigma
A week ahead of the Science Museum's Alan Turing exhibition - 'Codebreaker' - Matilda Battersby speaks to his old assistant and his nephew to find out what drove one of Britain's greatest men and looks at the machines that helped make his name.
It is fitting that the greatest code-breaker of World War Two remains a riddle a hundred years after his birth. Alan Turing, the brilliant, maverick mathematician, widely considered to be the father of computer science and artificial intelligence, invented an electromagnetic machine called the 'bombe' which formed the basis for deciphering Germany's Enigma codes.
The man himself has rather eluded definition: painted (too easily) as a nutty professor with a squeaky voice; as a quirky, haphazard character with a sloppy appearance by his mother and schoolmasters; by colleagues as a gruff, socially awkward man; and by his friends as an open-hearted, generous and gentle soul.
The crucial contribution Turing made at Bletchley Park, one that has been credited with shortening the war by two years and saving countless lives, did not become public knowledge until twenty years after his death. His mother, brother and friends did not know until long after they'd mourned him, the extent of his heroism.
Despite his premature death aged 41, Turing was so prolific and ground-breaking that the Science Museum is dedicating an entire exhibition to what sprang from his mind. It will showcase his machines, his mathematics and his work on codes and morphogenesis, but will also tell the extraordinary story of his life.
"We're calling the exhibition Code-breaker because of Bletchley, but also because Turing broke the codes of science in his work and the codes of society through his homosexuality," says David Rooney, head curator at the Science Museum.
The State which Turing had fought to protect cruelly turned on him in 1952. He was found guilty of gross indecency for homosexual acts avoiding prison by agreeing to a now unthinkable condition of probation: chemical castration. He took Stilboestrol, a pill containing female hormones, but was removed from his government work and felt himself to have been placed under observation. As the holder of State secrets, who was in 1950s attitudes a sexual deviant, he was a dangerous outcast.
He was found dead on 7 June 1954, a few weeks before his 42nd birthday, after biting into an apple laced with cyanide. This 'Snow White' suicide is particularly resonant given his enjoyment of the 1937 Disney film of the fairy-tale. In Andrew Hodges' biography Alan Turing: The Enigma, he records Turing's fondness for singing the words from the scene where the witch drops an apple into a sulphurous cauldron: "Dip the apple in the brew/ Let the Sleeping Death seep through".
58 years after his suicide Turing is beginning to get the recognition he deserves. Nearly 35,000 people have signed a petition calling for his criminal record to be posthumously overturned. Another petition (so far 15,000+ names strong) calls for his face to be printed on the £10 note.
Insights into the man behind the machines:
Turing's nephew, Dermot Turing, 51, the son of his brother John, never met him. He was born after his uncle's death so his impressions are drawn from his father and step sisters' stories.
Because my father was quite closely involved in tidying the pieces after Alan had committed suicide, we didn't talk about him at home much.
Frankly, they weren't particularly close as adults. With the business of the prosecution [for homosexuality], which was only a couple of years prior to the suicide, it is hardly surprising that my father found the whole thing pretty distressing. He felt that he'd been left to 'deal' with their mother.
I began to hear about him in the mid Seventies when information about Bletchley became publicly known. During that period there was a lot of talk about it, obviously. I remember being glued to a BBC report revealing the weirder things that took place during the war, of which Enigma was just one. Also, because his mother died in 1976, my father was suddenly able to talk about him.
Alan had written some "scarifying" things about his mother in notebooks for Doctor Greenbaum [a Jungian psychotherapist]. My father felt it was appropriate to conceal the toxic material about granny, so he destroyed all the famous notebooks.
I suspect people might be upset to think Alan hated his mother. It's more complicated than that, of course. I'm not in a position to judge, but my half sisters, who are, would hotly deny that Alan hated her.
That begs the question: why did he write those terrible things? I'm speculating, and anybody else's judgement on this is as good as mine, but I think if you put together the fact that in 1950s England, when social attitudes are very, very different from what they are now, having to explain to his mother (who was essentially an Edwardian lady) what that conviction for homosexuality meant, must have been the toughest thing he'd ever had to do.
I don't think it's possible to comprehend the enormous pressure he was under. It has taken me quite by surprise that a vociferous group of people still think that it's not imaginable that he could have committed suicide.
These people don't feel it was in his nature to do it and believe in evidence that points away from it. The fact that he'd bought himself two pairs of socks the day before, or something. Frankly, I suspect Alan was a victim of mood swings and we probably won't know what it was that tipped him over the edge at that last moment.
That my father, whose initial reaction was that Alan couldn't possibly have committed suicide, found himself persuaded that he must be wrong on that score, is I think the most powerful evidence that he did.
To lots of people this remains an open question. The fact that he can excite such interest about the manner of his death nearly 60 years on is extraordinary. But this year should be about celebrating his achievements rather than reopening questions about his death.
Regarding his 1952 conviction [for homosexuality], I am still, putting it at its mildest, puzzled as to how the court concluded that it had power to push him to do that [take chemical castration]. There is an open question on that.
He was sentenced under the Criminal Justice Act 1948 which introduced the option of probation as an alternative to prison. This was a very new piece of legislation in 1952. How the judge concluded that you could attach conditions to probation so early in the life of this new sentencing power I don't know.
There's a double-sided view of Alan Turing. Talk to the people who worked with him and were his junior assistants and you get this very positive picture of somebody who took time and was approachable. You also get this same sense from people who knew Alan as children: my half sisters, the Greenbaum children, Professor Newman's sons.
If you talk to people who dealt with Alan either as superiors or in a non-technical social setting, and read the really quite acid writings by Alan about what was going on at Cambridge, you realise there was another facet of him: uncompromising, socially a bit awkward. He didn't go out of his way to charm people if it wasn't interesting enough for him to do so.
I can see traits of my father in that, too. Captain Jerry Roberts [a Bletchley Park veteran] said if you passed Alan in the corridor he would turn his eyes to the wall rather than say hello. He obviously wasn't that easy to deal with.
I'm probably not allowed to say things like that. I'm not trying to de-sanctify him but I think there's a tendency to paint him as completely ridiculous. You've got all these stories about weird things that he got up to. My granny's book [Alan. M Turing by Sara Turing] is full of them. Other people assume he's a mad mathematics professor character.
The people knew him personally will tell you Alan was a bit chaotic. Quite the opposite from a person who is good is processing. I suspect he'd often get bored and not finish projects. Having written this design spec for a universal computer, he wasn't particularly interested in its day-to-day application.
Mike Woodger, 89, was Alan Turing's first assistant at the National Physical Laboratory. They worked together on the Ace Pilot Computer.
I was 23 in 1946 when I first met Turing at the NPL. At that point Turing had nobody else to work for him. He was rather motherly towards me.
My initial impression of Turing was of a rather shy and retiring man. We first spoke because I got into difficulty over a puzzle I was trying to solve. Turing looked over my shoulder and said: "Why don't you try singularity?" I'd done a degree in mathematics and should have known what he meant, but didn't. He patiently explained it to me.
You know about his personal life, of course. But I didn't know that he was homosexual until after his death. I went to his home a few times and we got on very well.
He was respected at NPL, but I would not say he was revered as he is now. Not many people knew what he had done during the war. He had a reputation for being rather gruff. He didn't suffer fools gladly.
I went down with glandular fever almost as soon as I arrived at NPL and went off sick for six weeks. I returned in September and there was a charming note from Turing:
Dear Woodger, [He would never have called me Mike]
Unfortunately Wilkinson and I have both arranged to go on leave just at the moment you are coming back. I trust you can keep yourself occupied while we are gone. You could do:
1. Output
2. Try and help out in any measure doing Ace jobs
3. Read the folder
4. Read some good books
5. Relax
I hope you really are alright. It's a shame to have you come back and find the place deserted. It might be wise to have a relapse for a week.
Turing
He was a bit of a fingers and thumbs man. The ideas were brilliant but the execution suffered somewhat from his physical disabilities.
Turing didn't need to be meticulous. He was creative. He was always looking ahead.
He left NPL in 1947 but he returned for the launch of the first Pilot Ace in 1950. He told us how much better we had made it than if he had stayed.
John Turing, Alan's brother, wrote an account of him before he died. It is included as an Afterword in the recently republished Alan M. Turing: Centenary Edition by Sara Turing. Here's an extract:
One Easter holiday in Dinard, Alan spent all his time collecting seaweed and brewing it up in the cellar until at length he extracted a few drops of iodine which he carried back to the science master at Sherborne [the public school both brothers attended] in high triumph.
When later we were living in Guildford, he had a series of crazes. He tried to learn the violin, which was excruciating. Then he turned his attention to breeding those little red banana flies in test tubes, so that he could prove Mendel's theory at first hand. Unfortunately, they escaped and the house was full of banana flies for several days.
Oddest of all, in the heat of summer, he spent much of his time dressed as a private soldier allegedly drilling at Knightsbridge barracks, to what purpose nobody knew, but looking back on it now, I strongly suspect that drilling was not the object of the exercise at all. He was, as I have said, good at beating the system and, of course, the odder the things he did, the less one was likely to enquire into them.
My mother gives a true picture of Alan's generosity. Our family friend Hazel achieved her life's ambition of becoming a missionary with Alan's help. Alan gave his time and brains unstintingly to his friends, paid for the schooling of a boy whom he more or less adopted, spent hours choosing suitable presents for his relations and friends, without regard to expense, and was incredibly patient with and endearing to small children, with whom he would have interesting conversations about the nature of God and other daunting subjects.
Alan could not stand social chat or what he was pleased to call "vapid conversation". What he really liked was a thoroughly disputatious exchange of views. It was pretty tiring, really. You could take a safe bet that if you ventured on some self-evident proposition, as, for example, that the earth was round, Alan would produce a great deal of incontrovertible evidence to prove that it was almost certainly flat, ovular or much the same shape as a Siamese cat which had been boiled for fifteen minutes at a temperature of one thousand degrees Centigrade.
Code-breaker: Alan Turing's Life and Legacy at the Science Museum from 21 June 2012- June 2013, www.sciencemuseum.org.uk
Join our new commenting forum
Join thought-provoking conversations, follow other Independent readers and see their replies