The Independent's journalism is supported by our readers. When you purchase through links on our site, we may earn commission.
Black Lives Matter: How to support anti-racist organisations in the UK if you can't donate
There are plenty of alternative ways to be an ally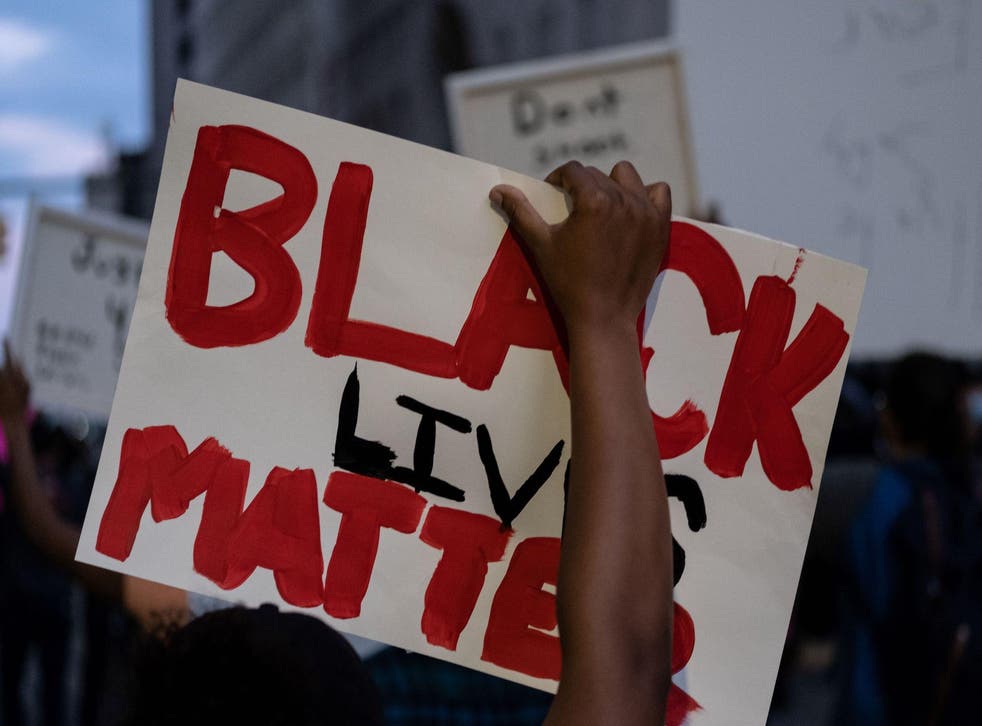 As the Black Lives Matter movement explodes once more across America, prompted by the murder of 46-year-old George Floyd, who died after a white police officer knelt on his neck for almost nine minutes, many around the world are asking how they can show solidarity.
In the UK, there are a wide range of charities and organisations you can support, all tackling racism in different ways.
Putting your money where your mouth is is important, but donating isn't the only way of being an ally. For those who don't have the means to give financially, here are eight ways of supporting the cause.
Write to your MP
Human rights organisations such as Amnesty International are calling for the UK government to halt the sale and export of tear gas, rubber bullets and riot shields – which are being used against protesters – to the US.
One way of adding weight to that call is by writing personally to your MP demanding the immediate suspension of exports, being sure to include your full name and address so they can see you are an actual constituent. Find your local MP at writetothem.com.
Police clash with people protesting over racism and police brutality

Show all 30
Stand Up To Racism day of action
Wednesday 3 June has been proclaimed a day of action in the UK, with socially distanced protests to show solidarity with those resisting racism in the US and against the policies that have led to the disproportionate number of BAME deaths during the Covid-19 pandemic in UK.
Stand Up To Racism local groups are aiming to organise socially distanced events in every town and city (making sure that the communities that they are fighting to defend are not further endangered by the virus). Go to the Facebook page to find local events.
Take the knee
Stand Up To Racism is also asking that, wherever you are, you take a knee in remembrance of George Floyd at 6pm on 3 June. Participants are also encouraged to take pictures and share them on social media with the hashtags #JusticeForGeorgeFloyd #BlackLivesMatter and #PublicInquiryNow.
Join the campaign for an enquiry into BAME deaths
MP Diane Abbott and Stand Up To Racism are campaigning for an independent public inquiry into the disproportionate number of BAME deaths due to Covid-19.
The campaign is calling for:
A public inquiry into the disproportionate impact of the coronavirus on BAME communities. 
The recording of the ethnic background of all Covid-19 patients as recommended by the British Medical Association. 
No end to the lockdown until it is safe to do so.
Click here to sign and share the statement.
Support CRER by reading and sharing its work
CRER is a strategic anti-racist organisation based in Scotland, whose policy and research work highlights the evidence of the racial inequalities faced by minority ethnic people.
Its aim is to change the structures that underpin racism and racial inequality and, in the organisation's own words, "we need all the help we can get". One of the key ways to do this is to help create sustained awareness of the work that needs to be done.
Nickelodeon broadcasts eight minutes of breathing sounds in tribute to Black Lives Matter
CRER is asking allies to share its publications and resources with decision makers at your company, organisation, school, university or college. You can also sign up for email updates to hear about free events, training sessions, publications and resources.
Join a membership organisation
Signing up to become a member of an organisation that supports BAME communities and highlights issues of racial inequality means you get access to resources to help educate yourself and others, plus you're plugged into relevant events, new research and policy-making decisions.
There are a number of organisations to join, although many charge a fee. Race on the Agenda (ROTA) is one of Britain's leading social policy think-tanks focusing on issues that affect Black, Asian and minority ethnic (BAME) communities. ROTA membership is free, and members are kept up to date with social policy issues affecting BAME communities.
Volunteer with Show Racism the Red Card
Show Racism the Red Card is the UK's leading anti-racism educational charity. There are plenty of ways to get involved with the charity, including getting your employer to book an equality training session, joining one of its action weeks campaigning against racism in football, or offering your services as a regular volunteer. Find out more at: theredcard.org/get-involved
Volunteer with the Africa Centre
The Africa Centre is a charity based in London dedicated to providing the African diaspora, and all people with an interest in Africa, a platform for experiencing events and engaging in discussions on culture, education, business and art. It's run by small team of full-time staff, and "doesn't always have the capacity to serve our communities at the levels that we would want to". Volunteers are always welcome; click here to register your interest in getting involved.
Register for free to continue reading
Registration is a free and easy way to support our truly independent journalism
By registering, you will also enjoy limited access to Premium articles, exclusive newsletters, commenting, and virtual events with our leading journalists
Already have an account? sign in
Register for free to continue reading
Registration is a free and easy way to support our truly independent journalism
By registering, you will also enjoy limited access to Premium articles, exclusive newsletters, commenting, and virtual events with our leading journalists
Already have an account? sign in
Join our new commenting forum
Join thought-provoking conversations, follow other Independent readers and see their replies