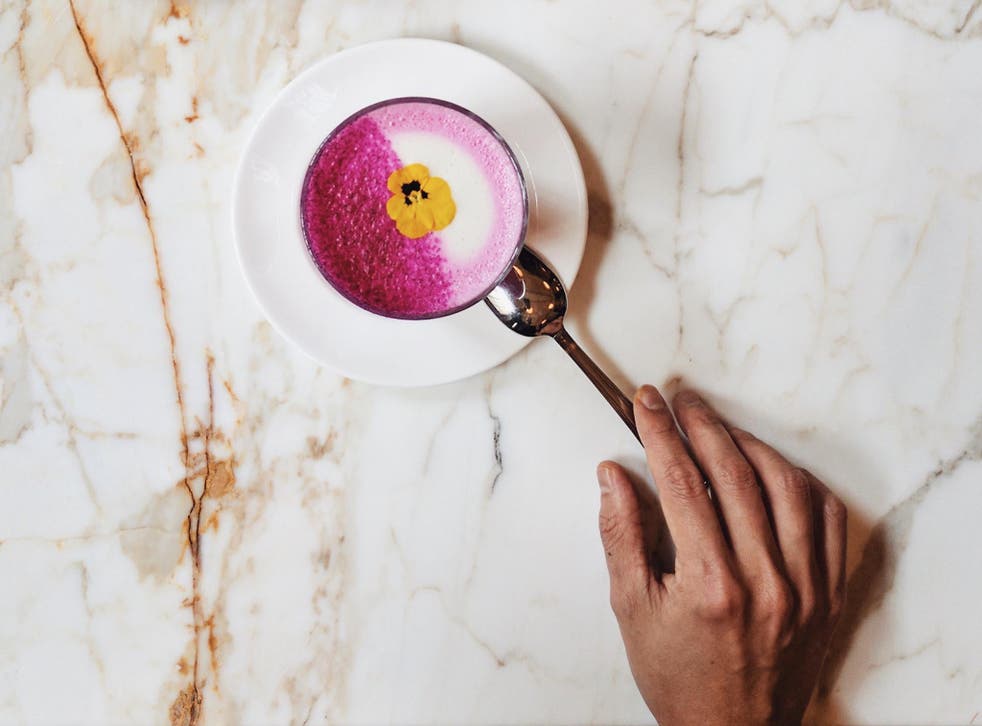 How to take the perfect Instagram photo, according to someone with 100,000 followers
Instagrammer Tschang reveals his tips for taking the perfect overlay food shots and the most exciting experiences he has had thanks to the social media platform
A few scrolls throw the flawless, pink dragon fruit lattes, thriving green house plants and intricate rainbow-coloured poké bowls that make up Instagrammer Tschang's feed and it's clear why the London-based social media influencer has over 100,000 followers.
But Tschang's isn't quite your average Instagram account. Between the beautifully composed overlay photos of mouth-watering brunches and swanky hotel breakfasts, Tschang showcases his stunning photography skills and delicate eye for detail.
Luckily for us, he's happily shared some of his secrets to Instagram success below.
How long have you been active on Instagram? Did you blog at all before?
I opened my Instagram account back in March 2012, out of a recommendation from a friend. I started off just posting occasional social pictures. On the app and from people that I follow, I saw beautiful pictures taken with mobile phone cameras. During that time, #iphoneonly was trending. I couldn't believe those pictures were taken using their iPhone camera and started challenging myself to up my game. I have been posting almost daily since September 2012. I had never had a photo blog before as I could find the right platform to post and share easily and on the go before Instagram.
Photos by Instagrammer Tschang

Show all 13
What inspires you the most? Do you love any specific photographers? Or perhaps have particular subjects or scenes that you like to capture?
Travel inspires me the most. I am a culture vulture and love wandering off beaten tracks to see and experience others' cultures, traditions and food. I love street scenes and the rich, cultural and chaotic everyday street life inspires me a lot. I am always inspired by Steve McCurry's works as they are so real and vivid, as if there is a story behind each capture.
What are the biggest mistakes people make with their Instagram accounts?
Instagram is a photography platform, and as such people are free to express whatever their creativity leads them to. I wouldn't say that there would be any mistake if you are expressing yourself through photography as in my opinion, every style of photography has its own audience. Hence we have Instagrammers of different photography genres. However, I do not condone Instagrammers who buy likes and followers or use bot to increase their engagement rates.
When you are composing a photo, what is going through your mind to make sure it's balanced?
Whenever I look a a scene, most of the times I already have an idea of what I would like to capture and the rule of middle third always come to my mind.
As for food photography or flat lays, it requires styling to make sure the layout of items and composition makes the photo more appealing. Some photoshoots would require more deliberations while others could be spontaneous. I sometimes surprise myself that those taken without much thinking turns out to be quite good.
What goes into creating a perfect overlay shot of food?
To me, food flat lay is always about lighting and by that I mean ample of soft natural lighting. Sometimes, I would wait until certain time of the day - normally early morning or late afternoon - to do food photo shoot as I know that light would be best at my place to shoot. Other than that, I would also give consideration to the background. I find that marble or wooden table top would always work best, the colours and texture of the food.
How should a person go about deciding on the theme of their page?
Instagram is a creative platform, so I don't think that there is a specific theme or colour scheme as people are free to express themselves in the way they like. However, as Instagram is a visual platform and the pictures are laid out on a grid, it would be more appealing if there is a cohesive theme and colour scheme.
What are your favourite editing apps?
My few favourite apps are Snapseed to do some basic corrections to the photos such as brightness or contrast or remove unwanted marks, VSCO and Instagram for filters and SKRWT to correct the perspective.
What are the coolest things you have experienced thanks to your Instagram account?
I would like to say that it's this fabulous experience that I went on or that highly acclaimed restaurant that I had dined in. But I think the coolest thing is to have met many like-minded creative people along the journey from various events, meet ups and travels that I have been to. Each and every one of them has something inspiring that I can take a leaf out of their book.
Until now, I am still amazed by this opportunity, which I have never expected when I opened my account, and am truly grateful for it.
Do you shoot all your photos on your phone, or do you sometimes use a camera?
For my Instagram account, it is a mix between my phone and camera. For instance, I do not normally carry my camera to and from work, so if I come across a scene that I would like to capture, my phone will come in handy. With the advent of technology, the phone camera can sometimes be as good as an actual camera!
A lot of your images seem really natural and spontaneous, featuring people moving. How many shots do you need to take to get the perfect photo? What is the longest you have spent on one photo?
Thanks to the 'burst' or multiple shots function that I have on my phone camera and DSLR, I now can just take pictures of people walking by, for instance, with just one click and choose the best one from the multiple shots taken. It is just a matter of waiting for the right subject to walk into your frame. I would probably wait for about 10 minutes to get the right shot for a scene as I am not a very patient type of person. If I couldn't capture it, I would move on. I am not sure if it is a good thing or bad.
Do you ever worry that Instagram is taking over your life?
It probably has already taken over my life without me realising! However, I enjoy seeing beautiful pictures on Instagram and enjoy being busy creating them. When you enjoy something, that probably takes the worry out of the equation!
Join our new commenting forum
Join thought-provoking conversations, follow other Independent readers and see their replies