Mother unable to wake three-year-old up from her nap was shocked to find she had heatstroke
Even though she hadn't been outside that day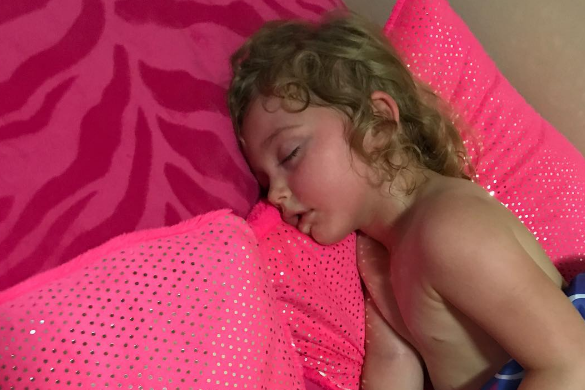 An American mother has spoken out about the terrifying moment she found her young daughter suffering from heatstroke, despite having not been outside that day.
Three-year-old Anastasia was at home when she had taken herself upstairs for a nap. Mother Jennider Abma later went into her bedroom to find her "soaked in sweat, red-faced and boiling".
After 15 minutes of trying to wake her up, Abma called the ambulance, prompting the hasty arrival of both paramedics and investigators shortly after.
Abma posted a photograph of her sleeping child on Instagram to warn fellow parents.
"There is nothing scarier than not being able to wake your baby up," the unnerved mother wrote. "THIS is clear proof a child doesn't need to be in the sun to get heat stroke."
Abma, who works as a blogger and promoter for a premium lifestyle capsule brand, was completely unaware of the soaring temperature levels in her daughter's room.
"I had no idea how hot her bedroom was," she confessed.
The child's blood sugar levels had fallen dangerously low, and after professionals administered sucrose, Anastasia awoke, crying.
"No it is not my fault this happened to her but it is hard not to blame yourself, this is a lesson learnt & hopefully other parents can take something from this & make sure you are checking the rooms in your house because the can be as dangerous as a hot car," Abma wrote.
After sharing the post on Facebook, Abma's story went viral and has now been liked 11,000 times and shared over 46,000 times.
Users have been quick to share their support, with one commenting "How did I miss this?! How terrifying oh my goodness! I'm so glad shes ok!! I would not have known this either. Thanks for sharing Jenn to help another family from having this happen."
Whilst heatstroke typically occurs during a heatwave or when people find themselves in a hot climate, it can also occur when performing strenuous physical exercise or, as in Anastasia's case, when simply in a very hot room for a prolonged period of time.
Less common than the similar-sounding heat exhaustion – which is when you become very hot and start to lose water and/or salt from your body - heatstroke is when the body is unable to cool itself and can be life-threatening.
If left untreated, the latter can lead to seizures and loss of consciousness.
For more information about heat exhaustion and heatstroke, visit Nhs.uk.
Join our commenting forum
Join thought-provoking conversations, follow other Independent readers and see their replies