Robot Car UK set to rival Google's driverless-car project

Show all 2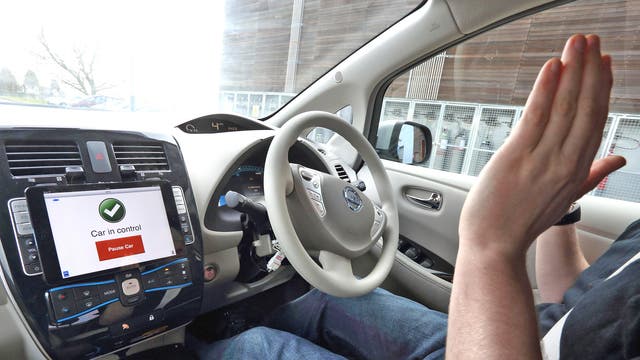 Robot Car UK set to rival Google's driverless-car project
Jamie Merrill visits Oxford for a ride with a difference.
Jamie Merrill
Wednesday 06 March 2013 20:00 Comments
Sitting in the passenger seat as your driver lifts his arms away from the wheel and gleefully says "look, no hands" should be an unsettling experience. My driver is Mark Sheehan, 26, but he isn't a reckless hooligan or boy racer, and he assures me I'm safe. He's a researcher at Robot Car UK and is demonstrating the latest in British driverless-car technology. It has been developed by a 22-strong team from the department of engineering science at Oxford University and I'm one of the first people to get a ride in the country's first road-going autonomous vehicles.
The search giant Google – and car manufacturers such as Audi, Toyota, GM, Ford, Mercedes and Volvo – has been experimenting with driverless-car technology since 2005, but Robot Car UK is the first tested in the UK.
Led by Professor Paul Newman and Dr Ingmar Posner and sponsored by the Government's Engineering and Physical Sciences Research Council and Nissan, the project aims to produce a "low-cost system" to take the "strain out of driving" with a system of lasers and small cameras to memorise regular journeys, such as the commute to work or the school run. Newman's team has only been working on its Nissan Leaf-based test car for four months but it has already travelled close to 100 miles under its own control on private roads at the group's Begbroke Science Park base just outside of Oxford.
Parked in the team's workshop, the Nissan Leaf looks similar to the standard production model and it is mechanically identical under the bonnet, but the team has fitted a small laser pod to its front bumper. On top it has fixed cameras inside a black cab roof light, which the team leader picked up on eBay. Powered by a standard-spec laptop in the boot, the system works by combining these tools to memorise regular journeys by recording its surroundings up to 500 times twice every second.
"The car is able to gain experiences of regular routes," Newman says. "And the brilliance of it is that it's actually the processing power of a human driver that first makes all the decisions and allows the car to build a 3D model of its environment. So once a journey has been experienced by our software the car will be able to take control from the driver via an iPad display on the dashboard when that trip is repeated."
As The Independent's car reviewer I'm used to spending a lot of time behind the wheel and have become a nervous passenger at the best of times, so I'm uncomfortable in the passenger seat as Newman waves me off from the workshop for a lap of the test circuit. Sheehan, he assures me, "is just in the driver's seat to make sure we've got our health and safety covered".
The car does still need a driver. It's more of an advanced driver-assistance program than a truly driverless car but as we head off around the science park at 10mph Sheehan is able to tap the iPad and let the computer take control. The system isn't perfect and over three laps we brake suddenly several times for no reason. We make it around in one piece, though, and the car's navigation and control system even detects when Newman intentionally walks out in front of us. It stops in plenty of time before pulling away when he moves out of the way.
It's a disconcerting experience. Many drivers will be used to modern cruise control and parking-assistance features but seeing the steering wheel move and the car turn on its own takes some getting used to. Adding to the sci-fi feeling is Dr Benjamin Davis, another of the group's researchers, tapping away at a laptop in the rear. What looks like the code from The Matrix is buzzing across its screen and, sure enough, he cracks the "I've spotted the lady in the red dress" gag as soon as we set off.
Newman admits Google's fleet of 12 driverless vehicles in Nevada is far more advanced (it can handle traffic and roundabouts) and has covered nearly half a million autonomous miles without any major mishaps but it isn't yet destined for production and the Robot Car UK system aims to be far more affordable. "The sorts of sensors that Google uses are close to £100,000 per vehicle," Newman says. "Whereas the hardware that powers our system is bought off the shelf. All the hardware already exists so why would we develop our own car and sensors? Essentially what we've done is create a text file to control how all that technology interacts."
"We're using sensors that cost nearer £3,000 so our project is much more affordable and out ultimate aim is to be able to fit the technology as a option on a new car – just like how you'd pick a new stereo or a reversing camera – for as little as £100," Posner adds.
But more work is needed to test the car on public roads and with traffic. One the biggest problems is something Posner calls "the plastic-bag problem". "Currently our sensors cannot tell how dense an object in the car's path is," he says. "They can only tell whether there will be a collision, so if faced with a floating carrier bag it will stop the car."
Unlike many other driverless cars the Robot Car UK system doesn't rely on peer-to-peer communication with other vehicles or GPS navigation. "Imagine the costs involved in putting several tons of satellite into space just to work out where you are," Newman says. "It's horrendously expensive and won't work in an underground car park or tunnel. What we're aiming for is infrastructure-free navigation."
Newman and Posner may have hit on a theme with more basic approach to navigation. Volvo trialled a self-driving convey of vehicles on a 200km dash across Spain with the chase cars programmed to follow the lead car driven by a professional driver, but car manufacturers are increasingly coming to realise that drivers want advanced assistance systems before they'll trust fully automated cars.
Issues such as insurance and liability – who pays if the software fails and an automated car has an accident – are often cited as factors making the roll-out of fully automated vehicles difficult. Instead, firms such as Mercedes, a company that led in safety with features like anti-locking brakes and electric stability control, are launching models with high levels of driver assistance. For example, the new S-Class from Mercedes, launching later this year, is the firm's flagship model and will feature Distronic, a cruise-control system with sensors for measuring and maintaining a safe distance from the car in front, and it will be able to steer itself, making the one of the first production cars to go so far down the path to automated driving.
And Audi, which has already trialled a fully automated car and is seen as the first manufacturer likely to produce a fully automated production car, is concentrating on assistance options rather than a fully autonomous Jetsons-like vehicle.
"Our vision of a piloted driving dream follows the motto: 'When it's fun to drive, I drive myself. When I no longer want to drive, I don't drive'. Like an aircraft that can fully operate on autopilot, the Audi of the future navigates through specific situations and performs driving manoeuvres on its own," the firm's spokesman Josef Schlossmacher says. While another source at the company confirms it doesn't believe "anyone is going to buy a fully driverless car at the moment".
Posner says: "The public perception of a futuristic pod without a steering wheel is still a long way off or may never happen, what is very close, though, is a form of advanced driver assistance.... Many drivers already use features like cruises control and that doesn't mean they happily fall asleep at the wheel. It just makes life easier."
Register for free to continue reading
Registration is a free and easy way to support our truly independent journalism
By registering, you will also enjoy limited access to Premium articles, exclusive newsletters, commenting, and virtual events with our leading journalists
Already have an account? sign in
Join our new commenting forum
Join thought-provoking conversations, follow other Independent readers and see their replies