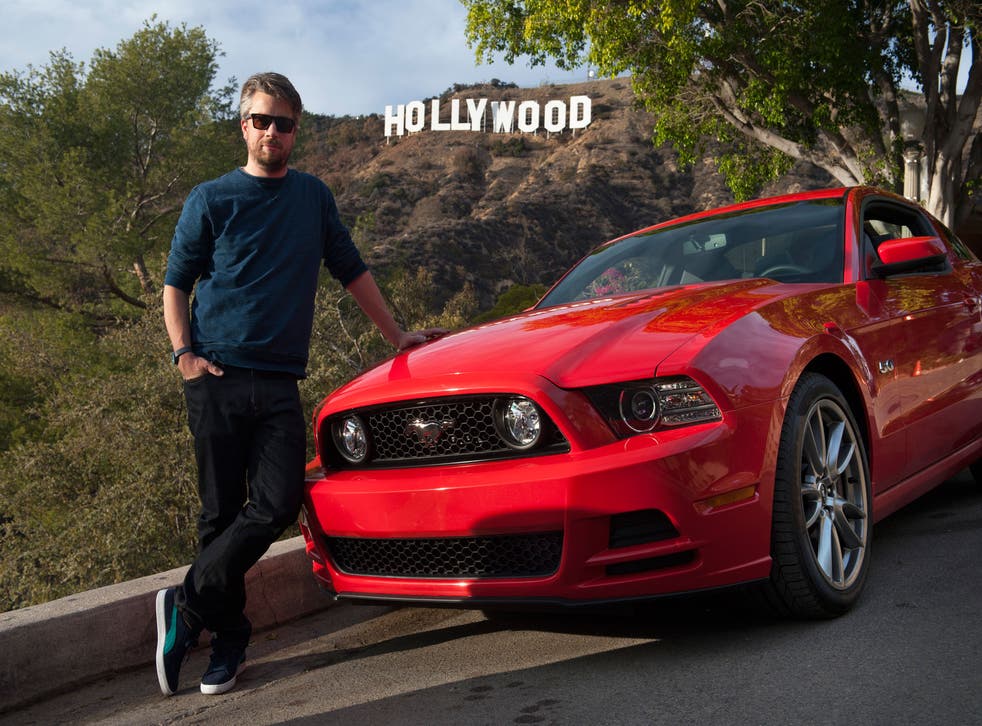 Show pony: A Brit in Los Angeles goes mad for a Ford Mustang
Once the preserve of Americans and Brits on holiday, the Ford Mustang, the quintessential US sports car, is coming to Britain. We asked our man in LA to live out his teenage dreams (minus Cindy Crawford)
Towards the end of 2012, as I prepared to move from London to Los Angeles, a friend of a friend who was leaving California emailed to ask whether I'd like to buy her Ford Mustang convertible. It was the perfect vehicle for a weekend trip to Vegas, she assured me. Ideal for sliding down the Pacific coast to Baja, or for weaving through the Hills along Mulholland.
She sent me a photograph of the car topless, chrome details gleaming beneath a blue sky on the rim of the Grand Canyon. It was an image I'd seen many times before, mostly on the backs of my eyelids. In my earliest daydreams of America, I'd be driving a Mustang along an open desert road, some West Coast rocker on the radio – and in the passenger seat, her big hair billowing, Cindy Crawford. (Look, I was a teenager. It was the Nineties.)
Steve McQueen drove one in Bullitt. Farrah Fawcett drove one in Charlie's Angels. The Mustang is an American icon. Named after the untamed horses of the West, it gave birth to a class of sports coupés known as pony cars – the Chevrolet Camaro, the Dodge Challenger, the Pontiac Firebird – but the Mustang is the thoroughbred. And I had rarely seen one in the wild, let alone driven one, let alone owned one.
In the end, though, my wife and I agreed that the friend-of-a-friend's Mustang had too many miles on the clock, too little space in the boot. So when we arrived in LA, we leased a new Volkswagen Tiguan instead: a sensible German car designed for the transportation of small children or medium-sized items of Ikea furniture. A Tiguan is not the sort of vehicle teenagers dream about. The Mustang would have to wait. It was destined, I decided, to be my mid-life-crisis car.
The brand itself is well into middle age. This year the Mustang turns 50, and Ford is manufacturing a sixth-generation model to mark its half-century. In 2015, for the first time, it will go on sale in Britain. Nine million Mustangs have been sold since the original was unveiled at the 1964 World's Fair in New York – but never in the UK, nor as a right-hand drive.
And so, until now, there have been but a few imported Mustangs on British roads. Several years ago, I lived in east London, where I'd often see one parked in a nearby street: a '64 soft-top in racing green, if memory serves. Rumour had it the owner was a well-known film actress, though I never spotted her driving it. In London the Mustang, like the movie star, is a rare breed.
Not so in SoCal. Some of the clichés about LA are more true than others. After just a few months as a resident, I'd clocked Naomi Watts clutching a juice in Whole Foods. I'd seen Josh Brolin reading the papers at a local café. I'd almost bumped into Christian Bale coming out of a lift. Movie stars really are commonplace here, and so is the Mustang.
In fact, LA is home to the world's largest Ford dealership: Galpin Ford, up in the Valley, which in a good month flogs as many as 100 cars from its dedicated Mustang showroom. A handful from Galpin's vast inventory are permanently parked outside the Horseless Carriage diner, the country's first in-dealership restaurant, which opened in 1966. It serves a Mustang > Burger: made not from wild horsemeat, you'll be pleased to know, but from ground beef and melted cheese on grilled sourdough, garnished with onions and sweet pickle relish. Tastes like freedom, only a little saltier.
Americans love a Mustang, but nobody loves a Mustang quite like a non-American who loves America, which is why there are ranks and ranks of them waiting for Limey honeymooners in the lots at LAX, where the rental companies routinely encourage their customers to upgrade to a convertible pony. I recently drove up California Route 1 to San Francisco. On the most scenic stretches of that celebrated coastal highway, approximately every fourth car was a Mustang – and one of the other three was a Camaro or a Challenger. At a cliff-top petrol station just south of Big Sur, I watched as a pair of Mustang-driving tourists filled their tanks, grinning sheepishly at one another across the forecourt, like women who'd worn the same Topshop dress to a wedding. In the car park behind them, I counted at least five more.
So there are downsides to an abundance of Mustangs. If the UK takes to them like California has, then the M25 might one day look a lot like that car-park. What if, by the time my mid-life crisis actually arrives, a Mustang is no more remarkable than a Mondeo? Will I still pine for one? As if to help answer that question, last month Ford offered to lend me a pony for the weekend.
I should clarify at this point that I'm not really a car person, per se. The only cars I've ever owned were menopausal French bangers: a 1989 Peugeot 205, followed by a Renault Clio from the same vintage as the Papa-Nicole commercial. Speak to me of cylinders and horsepower and torque and I will nod and pretend to know WTF you're on about. But don't be fooled; I haven't a clue.
So I admit to having been somewhat intimidated as I took delivery of the Mustang 5.0 (Five-point-oh what? Five cylinders? Five litres? Five litres of what?), with its tri-bar tail lamps and fastback roof profile. It was red, the colour of a jumped stop-light. Within 30 seconds of starting the engine, I'd already stalled twice and come within inches of crashing it into the Tiguan. In my defence, we live on a steep hill, and I hadn't handled a gearstick for a year: in just 12 months, America had turned me into a dribbling incompetent, capable only of driving an automatic. I crawled gingerly through our immediate neighbourhood, waiting for the sense-memory of clutch control to kick in.
Finally, I found a level parking spot under a tree and left the car there overnight. The following morning, > Robert the photographer arrived to take my picture for this article, and immediately pointed out the fresh smattering of bird-shit on the bodywork. I had already failed the first rule of sports car ownership: never, ever park under a tree.
Two moist J-cloths and one condemned tea-towel later, we were cruising around LA in search of a desirable backdrop: the skyscrapers of Downtown, the Hollywood sign, In-N-Out Burger. It's an odd and not entirely welcome sensation to go from being someone who instinctively disdains guys in red sports cars, to being a guy in a red sports car.
What seems cool in a teenage dream can be mortifying as thirtysomething reality. I could feel pedestrians' eyes on me. I wondered how expensive and/or impractical it would be to rig an LCD display in the rear window, with scrolling messages such as 'It's not really my car' or 'I wanted it in grey'. It might just be that the Mustang is suited to the sensibility of an unselfconscious American, but entirely inappropriate for an unassuming Brit – unless that Brit is on holiday, pretending to be American.
I found these reflections sufficiently distracting that I can relate precious little about the Mustang's actual performance, except to confirm that it can go very fast, very quickly. Robert the photographer said something complimentary about torque; I forget precisely what. The dashboard looks like the bridge of the Enterprise. The seats are snug, though so low to the ground that extracting oneself can be rather undignified. I haven't had much practice getting out of sports cars.
Eventually, Robert suggested we motor down into the Los Angeles River, the vast, near-empty concrete channel where Danny Zuko and 'Craterface' raced hot-rods in Grease. Away from the judgemental gaze of passing hipsters, I grew in confidence, sharking the Mustang through the shallows at speeds of at least 35 miles per hour, throwing up a photogenic wall of spray.
There were some other people down in the river channel beneath the Sixth Street Bridge that afternoon: a homeless man, trying his darndest to snatch 40 winks in a concrete nook as I gunned my (five-litre?) engine; and a fashion model, posing for someone else's photo-shoot, who smiled at me and winked as I lined up the car for one last pass. My Latina Cindy Crawford. So that's what a Mustang is for, I thought: flaunting my superior wheels to the less fortunate; securing the approval of beautiful strangers. Was it an American Dream, or a mid-life crisis?
Tim Walker's novel, 'Completion', is published by William Heinemann on 30 January, £14.99
Join our new commenting forum
Join thought-provoking conversations, follow other Independent readers and see their replies