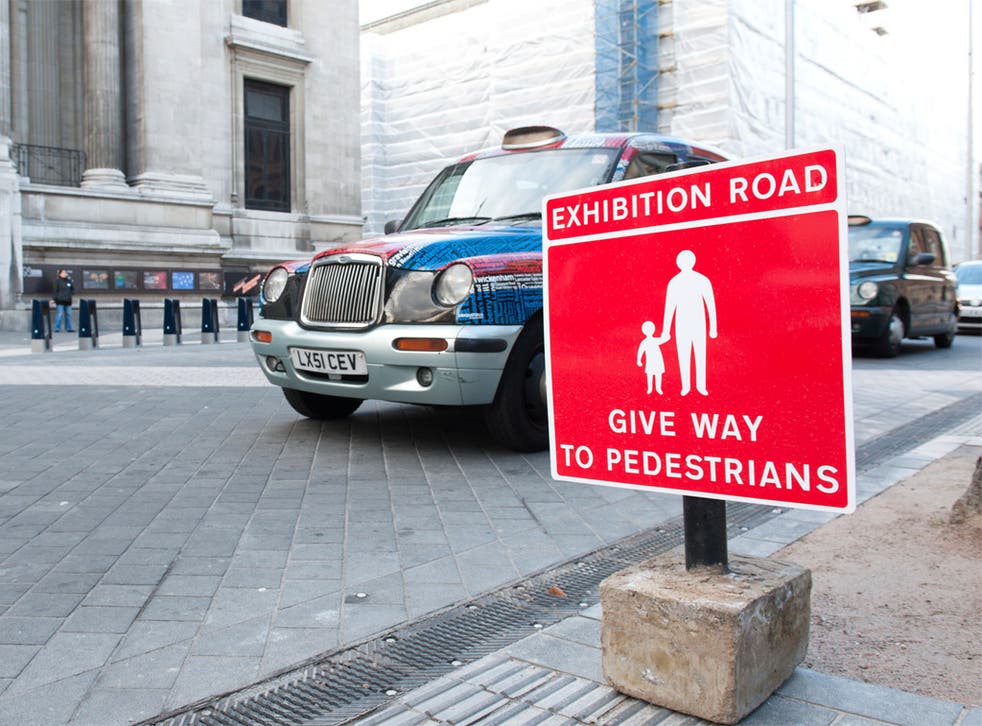 Walk on the wild side: Pedestrians could soon be given equal footing with cars
Traditional planning put cars at the centre of our streets but a radical rethink of how modern cities work could change all that.
I am standing at the junction of two of the busiest streets in central London – High Holborn and Shaftesbury Avenue. In one direction is Centre Point and the start of Oxford Street; in another Leicester Square; to the south-east is Covent Garden; behind me is Bloomsbury and the giant hulk of the British Museum. It's quite a vista. But my view only lasts for eight seconds before the little green man turns turns red and a herd of black cabs rev their engines.
Pointing down the streets and cursing the crossing barriers that pen in tourists and office workers is Tim Stonor, managing director of Space Syntax, a UCL-affiliated consultancy whose job it is to understand how humans move within spaces like these. Space Syntax's work has included analysing how people flow within the British Museum and helping Norman Foster to redesign Trafalgar Square.
London is – when compared to car-heavy cities such as Los Angeles – quite easy to navigate on foot. But all too often roads are designed for cars – pedestrians are plodding afterthoughts.
Stonor's firm came to this spot when it was working on the Renzo Piano-designed Central St Giles complex next door. It discovered that tourists heading from Covent Garden to the British Museum were so perplexed by the crossings that they ended up turning back and getting on the Tube.
This wouldn't happen in a more "walkable" city. Walkability is the measure of how easy and pleasant it is to get around a place on foot, whether that's quick road crossings; lots of routes; cut-throughs and meeting areas; housing in central areas and transport links. If a city is walkable then more people will walk. Simple. And what does a walkable city get you? Healthy citizens, clean air, economic vitality (having people walk past smaller shops instead of driving to out-of-town shopping centres), higher house prices and lower fuel costs.
It's not just an important thing for Britain to consider. If emerging cities in China and India develop in the same way they have in America, then their material and fuel use would be unsustainable. Walkable cities may well be the only way for all of us to live in the future.
Stonor's work on Central St Giles was to make sure it was walkable. Rather than a block which pedestrians would have to traipse around, the new site features two public walkways that go straight through the middle of the complex. This creates a large meeting point in the middle – perfect for lunching office workers and retail spaces – the spaces at floor level are occupied by restaurants including Jamie Oliver's new Union Jacks.
Cities that grew organically tend to be walkable for the obvious reason that the main form of transport pre-car was by foot. But towns and cities planned around the car are the antitheses of walkability. "These failures were due to well-intended but naive planning," Stonor tells me. "People saw garden cities as a wonderful alternative to urban congestion – and then we built them as New Towns: Bracknell, Skelmersdale."
The problem with New Towns is that if cars become too costly, and local transport infrastructure isn't improved, then there'll be no easy way of getting around. For instance, in the New Town where my in-laws live, Redditch in Worcestershire, the nearest shop is a 35-minute walk away. You can't get a pint of milk without a car. This creates other problems, Stonor explains. "The other method [of urban planning] in the 1960s was to separate the cars from the pedestrians to reduce road accidents. If you combine the pedestrianisation of town centres with depopulation then come 7pm the place is dead. The most important thing to do in this country to make towns safer, more economically vibrant and convivial – is to build more houses in the middle of towns."
But how do you measure how walkable those towns are? A number of people are beginning to try and quantify the walkability of an area. The US website Walkscore rates areas on criteria including distances and transport links. But this is different to walkability, which considers many other factors.
In the UK, former sustainable transport consultant Adam Davies has created Walkonomics, a website that uses government data and crowdsourcing to measure how walkable a street is (from crime rates to how hilly places are). He's ranked more than 600,000 streets.
Walkonomics gives local authorities and planners a visual assessment of the parts of their towns that need to be improved. If they can do that and act upon it, then the overall benefits are good for everyone: "Research suggests that people who live in more walkable areas walk 30 minutes more [a week] than those who don't," says Davies. "There's also a study which links how walkable a street is to house prices. Walkability can add about £30k to the average house price."
As with Stonor's High Holborn junction, it's the smaller elements of walkability which Davies thinks could dramatically improve things: "It's things like waiting to cross the road – there was a stat that said that 50 per cent of all time walking in London is spent waiting to cross the street," he says. "You can get crossings with four different stages and you get herded across like cattle when you could get across in one stage if it was well designed."
Concerns such as this are at the heart of the shared space movement. Shared spaces are roads in which pedestrians, cyclists and cars are all on an even footing. They can be controversial – many don't have kerbs, which can disadvantage blind people – but done well they can drastically reshape what a city space can be. They work by desegregating the space between cars and people – examples of the idea can be seen at New Road, Brighton and Seven Dials in Covent Garden.
The most noticeable shared space project so far is the new Exhibition Road in west London – which runs from South Kensington station past the museums (Natural History, Science, V&A); Imperial College and up to the Royal Albert Hall and Hyde Park. "The idea is that as a driver you enter that space and you feel 'this is a space for people to walk within' so you slow down," explains Davies, "it's psychological traffic calming without the speed humps."
Ben Hamilton-Baillie, one of the key proponents of shared spaces, played a role in the early stages of the scheme. He says that shared spaces work because they reflect the way in which we actually walk. "Pedestrians are the world's greatest Pythagoreans," he says, "they always take the hypotenuse [shortest route]. Diagonal movement patterns are typical when you start to analyse what are called pedestrian desire lines."
This is reflected in the new Exhibition Road, where diagonal paving tiles encourage pedestrians to drift between the institutions on the street. This combines with signs telling drivers to give way to people; a lack of street markings; benches in the middle of the road and distinctive street lights. These elements do two things – they make Exhibition Road a nice place to be and inform drivers that this is a public space and not just for them.
It's about designing and building streets "along the grain of human behaviour", adds Hamilton-Baillie. This means "understanding the way humans interact and how we anticipate each others' movements – which a far more sophisticated language than conventional engineering assumes".
The advantages are clear – studies show that urban traffic flows better at 20mph, while the museums are happy with the slowly passing crowds.
Obviously shared spaces aren't the answer for all streets. We still need highways linking places, but if the thinking behind them spreads then it should make our cities and towns pleasant places to walk. And if that happens then everyone – apart from Jeremy Clarkson – stands to win.
A smart route
This 'walkable' space in London works because it connects a university, a Tube station, Hyde Park and museums. The large crowds help explain its purpose to drivers
The paving
Different colours and patterns to regular streets make it clear to drivers that this isn't an ordinary road – the diagonal patterns reflect how people will cross the road
Low/no curbs
Rather than protect pedestrians from the traffic, curbs (and some other safety measures) are thought to encourage drivers to go faster as they feel distanced from people
A 'shared space'
This is one of the few street signs on the new Exhibition Road – cars are kept to low speeds by the surroundings and the free movement of pedestrians
Join our new commenting forum
Join thought-provoking conversations, follow other Independent readers and see their replies