Mercedes E400 Coupe

Show all 4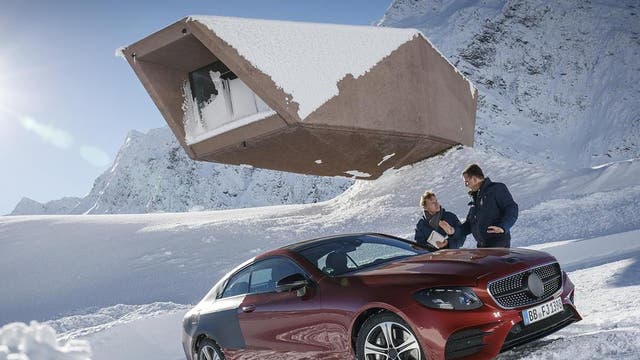 Going for a ride in the Mercedes E-Class Coupé
We ride shotgun in a car that will be officially revealed next year.
The Detroit motor show will be the official world debut for this new two-door Mercedes-Benz in January. The previous car has been on sale since 2010, but we had a chance to ride in the passenger seat of a pre-production prototype through some snowy mountain roads in Austria. Did we turn it down because we couldn't sit behind the wheel? What do you think.
Within a few miles it was obvious the new E400 Coupé is a thoroughly new and improved vehicle. The range-topper has considerable performance, with comfortable yet controlled handling to match.
The engine is a twin-turbo 3.0-litre with 328bhp and 354lb ft of torque. It works seamlessly with the nine-speed auto transmission, which itself works seamlessly with the 4Matic four-wheel drive. For some, four-wheel drive is an unnecessary weight and extravagance, but it certainly didn't seem so as we negotiated snowy mountain roads.
As the roads tightened, the driver shifted from Comfort mode to Sport. The engine tightened and started crackling through the exhaust, as everything else, from suspension to steering, tightened with it.
There is no doubt that the chassis has more torsional rigidity, which is clever given the pillarless design. The aim is to make the car more agile but also more comfortable, to appeal to a wider demographic. To this end there are four modes, from Comfort to Sport Plus and the overall spread of settings has been widened, so that people can get the car set up just how they like.
Even though there was snow and ice on the roads, we were travelling at the sort of pace few people would, if they actually owned the car. The four-wheel drive was fabulously good, giving us great traction out of the corners and making the whole car feel very settled. Suspension is 15mm lower than in the saloon, yet the handling didn't seem to notice the shortening of the suspension. It soaked up bumps and icy ruts with ease.
If you're not sure what you'll want, then the car will be sold with three suspension options, from normal springs, through adaptive dampers to the full Air Body Control, as fitted on our test mule.
How it performs on the other suspension settings remains to be seen, but from this early blast we came away impressed as well as chilly. The sheer quality of the ride, from bump absorption to the almost total absence of noise, is exemplary, and that engine seems to fit the package perfectly.
We can't wait to get behind the driver's seat.
Join our new commenting forum
Join thought-provoking conversations, follow other Independent readers and see their replies