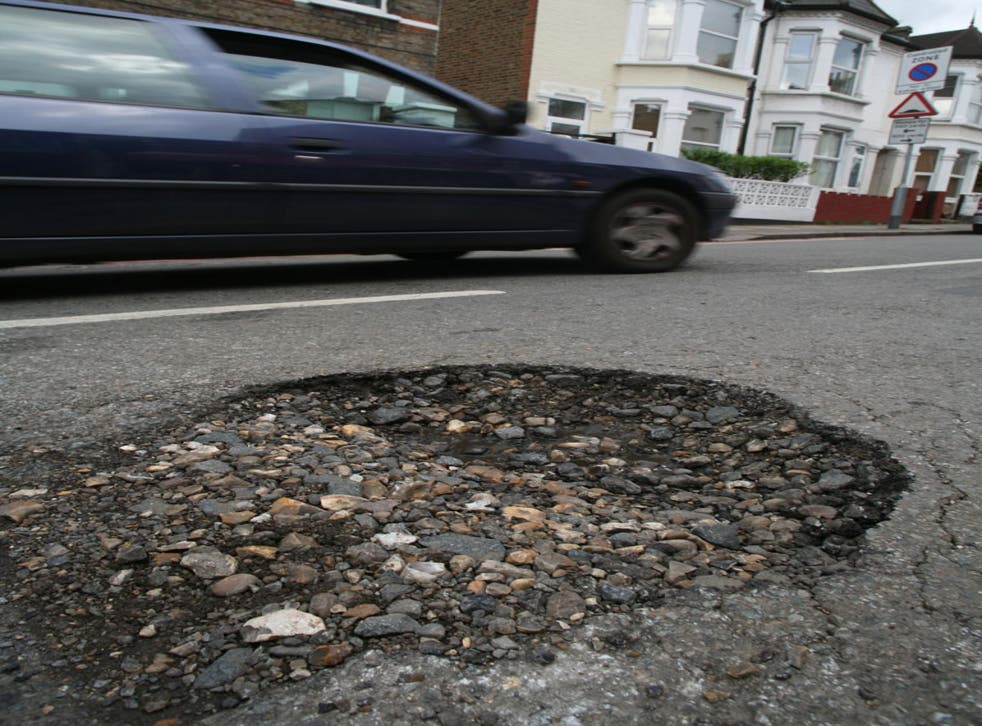 Councils in a pothole panic over £5m bill for car damage
Bad weather and decrepit roads have forced councils to pay nearly £5m in compensation to drivers whose cars have been damaged by potholes.
The dire state of Britain's roads has led to 54,000 compensation claims since 2010, according to research by the breakdown service Britannia Rescue. The average repair bill of £132 was higher than the cost of repairing a pothole – around £50.
Recent wet summers and cold winters have combined to make roads particularly vulnerable to potholes, as water seeping below road surfaces freezes, expands and loosens asphalt.However, the AA said decades of neglect was also to blame, with many of Britain's roads "past their sell-by date".
"Many rural roads have gone without relaying in 50 years," said Paul Watters, the AA's head of roads policy. "It's not a matter or filling a few potholes, it's redoing entire roads and that will take a lot of funding."
Of the 143 local authorities that responded to Freedom of Information requests, Surrey County Council paid the most in compensation payments in the past two years – £638,239. But it said that the figure included other compensation payments, such as for people who had fallen on paving stones.
In total, the 143 councils in England, Scotland and Wales paid £4.8m in compensation for pothole or other road damage in the past two years. The survey also found that one in eight drivers had suffered car damage because of poor road surfaces and that three quarters of drivers believed that roads were in a worse state today than they were five years ago.
"Cuts in road maintenance funding mean that local authorities face very difficult choices on the roads they prioritise for repair," said Peter Horton, Britannia's managing director.
In April, the Government published a review which recommended that local authorities adopt a "prevention over cure" approach. Last year a £200m emergency fund was provided by the Government for highway maintenance. Up to £3bn has been promised to local highway authorities for road improvements over the next four years.
Join our new commenting forum
Join thought-provoking conversations, follow other Independent readers and see their replies