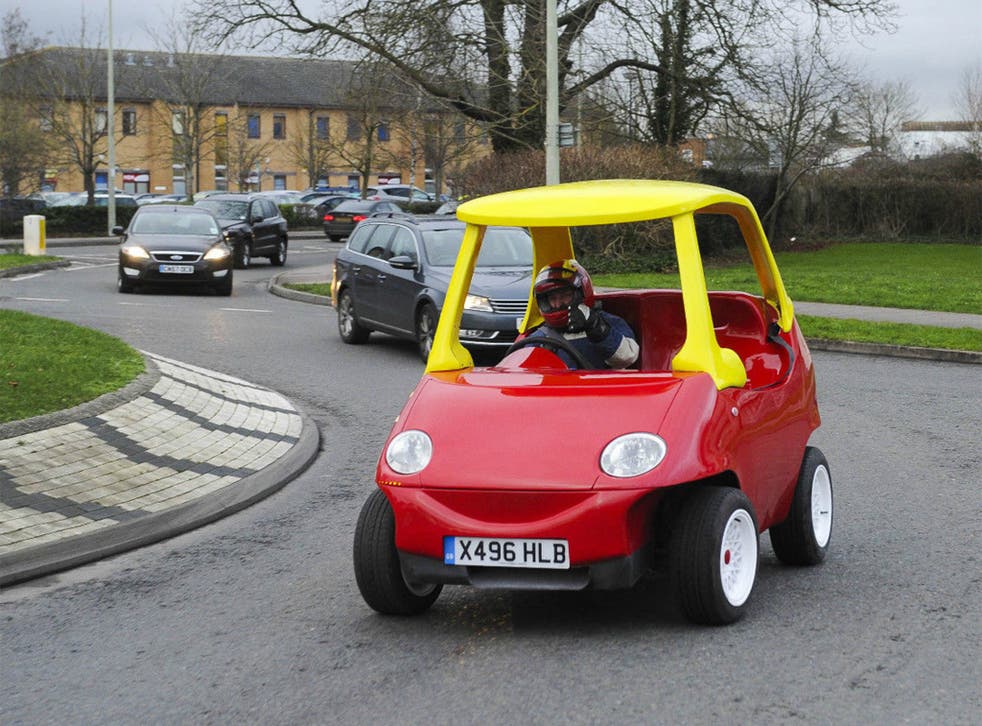 Cozy Coupe: Everyone's favourite children's toy car has been turned into a road-worthy, 70mph adult's version
The functioning car is on sale on eBay for £21,000
It's an iconic children's toy that has given generations their first taste of what it's like to get behind the wheel of your very own car.
But the bright red-and-yellow Cozy Coupe from Little Tikes is no longer just available those under the age of 5.
After topping birthday and Christmas wish lists for years, the design has now been converted into a road-legal version, which can be used on both dual carriageways and motorways.
The adult-size model of the iconic vehicle was hand built by mechanic John Bitmead and his brother Geoff. It cost around £4,000 to assemble and took 1,000 hours to put together at the Bicester base of Attitude Autos. The car boasts an 800cc engine, goes from 0-60mph in 17 seconds and has a top speed of 70mph.
The Cozy Coupe toy is made by American firm Little Tikes and in 2004 the company sold six million of the red and yellow cars. The design is described as a cross between Fred Flintstone's car and the Volkswagen Beetle.
The replica is a one-off and has all the intricate details of the original, including glass-less windows and an over-sized drinks holder. Despite being professionally valued at £30,000 the car can be bought for £21,500 on eBay and the advert reads: "We have covered over 5,000 miles in the past two years driving around shows and charity events in the UK and apart from it not being the fastest car on the planet has been the most incredible fun with people queuing up to take photos along dual carriageways and highways on every trip.
It adds that the car is "guaranteed to create smiles wherever it goes".
Join our new commenting forum
Join thought-provoking conversations, follow other Independent readers and see their replies