Audi A5 Coupe v Mercedes C-Class Coupe

Show all 8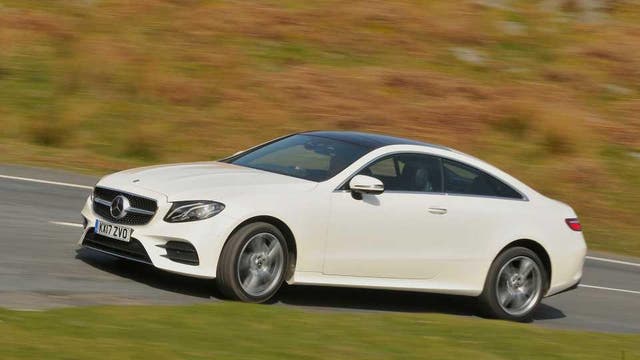 New sports coupés: Audi A5 v Mercedes-Benz E-Class
New models from both manufacturers up the ante
If you're in the market for a top-level coupé that sits around the £40k area, then we have a treat for you. You want a stylish car, with a luxury cabin and relaxed performance. You even want decent economy. It seems too much to ask but it's not, and here they are.
The Audi A5 Coupé wouldn't normally be in the same bracket as the Mercedes equivalent, but Mercedes-Benz has somehow managed a low entry price for its E 220 d Coupé. The Merc looks slightly like an S-Class, and there's that AMG bodykit too, so in terms of class this looks like a one-way street.
But fire up the four-pot diesel and you'll hear the engine clattering away quietly. It fades away at higher speeds, but around town you'll be aware of it. And performance, even with an AMG Line kit, isn't that startling. It's entirely adequate and works well with the nine-speed auto which is extremely smooth, but this isn't going to get the juices flowing that hard.
The Audi A5 Coupé has the advantage of a V6 diesel, the 3.0-litre unit with its seven-speed auto box delivering power quietly and effortlessly. Its 215bhp against the Merc's 191bhp is more than enough to make it feel notably quicker under virtually all circumstances.
As ever, the Audi handles competently if a little remotely. It's not exactly fun, but you can progress down twisty roads with some alacrity thanks to accurate steering, sharp body control and four-wheel drive grip. The ride is therefore a touch firmer than ideal although it does display great composure over really bad surfaces.
The E-Class Coupé can't match that sharper handling, as it rolls around more and the steering doesn't send particularly encouraging signals. However, if you want to cruise or waft, then this is your wagon, with a ride that is tremendously comfortable so long as you're not pressing on too hard.
The cabin in the Mercedes is something to behold. There is a lot of wood, man-made leather and aluminium on view and the dashboard looks sensational. Admittedly this was with the Comand infotainment system, which is a £1495 option we'd heartily recommend, but the overall effect is that you're in a car from the class above.
The Audi's cabin is beautifully put together and has the better infotainment with its MMI system, and everything feels pleasantly tactile. But, really, it all looks a bit ordinary next to the Mercedes.
And if the driver of the E-Class Coupé is the happier, so will the passengers. Both cars suffer from restricted headroom in the back, but there's a lot more legroom in the Merc. The Audi can counter with a larger, more accessible boot, so it's a question really of which has priority, luggage or passengers?
In terms of purchasing, there's less to call between them either as a company car or a leasing deal. A private buyer will save more by buying the Mercedes as it should depreciate less, to the tune of about £2000 over three years.
If you're buying with a PCP deal then it's the Audi which is cheaper, by about £100 a month. Given the Audi has four-wheel drive and a 3.0-litre V6 engine it's impressive that it can pretty much match the 2.0-litre two-wheel drive Mercedes for consumptions and emissions.
Overall this means the Mercedes-Benz impresses, and it looks like pretty good value for money. It's fairly frugal and has a stylish cabin and looks, and a newness which is attractive.
But against that the Audi has all-weather confidence, a fabulously creamy V6 engine, a well-put together cabin and can equal the Mercedes' emission and fuel figures. Which makes it our winner, although not by a huge margin – it turns out our long list of demands wasn't too much to ask from either manufacturer after all.
1st Audi A5 Coupé 3.0 TDI 218 quattro Sport (4 stars)
Engine 3.0-litre V6, diesel
List price £39,885
Target price £36,762
Power 215bhp @ 4000-5000rpm
Torque 295lb ft @ 1250-3750rpm
0-60mph 6.2sec
Top speed 155mph
Gov't fuel economy 61.4mpg
CO2 emissions 119g/km
2nd Mercedes-Benz E-Class Coupé E 220 d AMG Line (4 stars)
Engine 2.0-litre four-cylinder diesel
List price £40,135
Target price £38,193
Power 191bhp @ 3800rpm
Torque 295lb ft @ 1600-2800rpm
0-60mph 7.3sec
Top speed 150mph
Gov't fuel economy 61.4mpg
CO2 emissions 119g/km
Graham Scott is a writer for WhatCar.
Join our new commenting forum
Join thought-provoking conversations, follow other Independent readers and see their replies