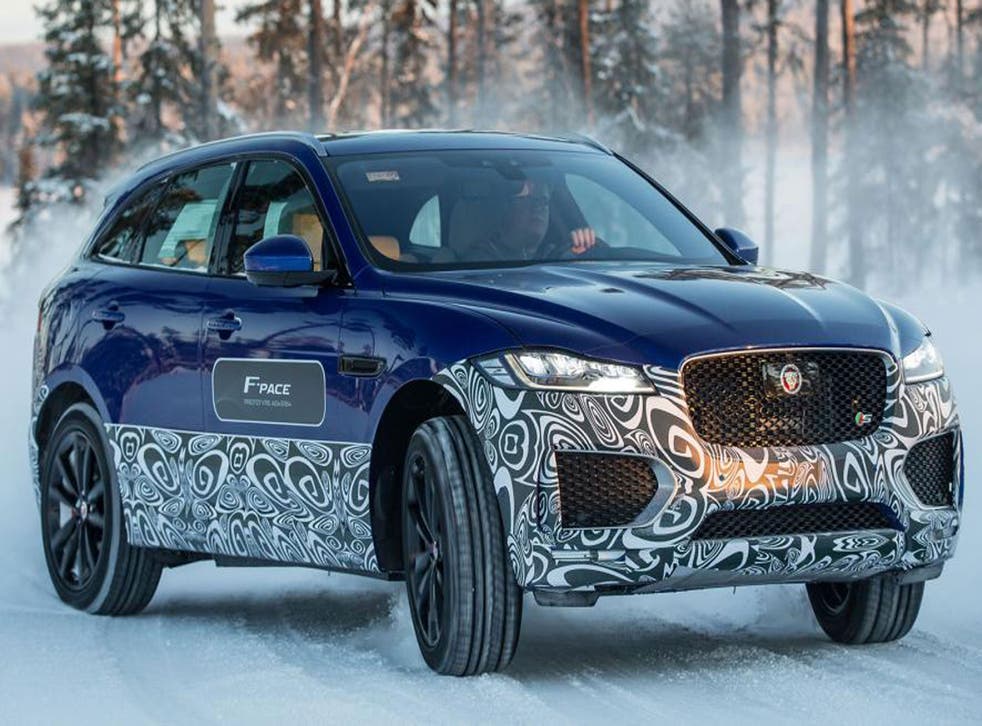 Jaguar F-Pace, car review: SUV looks a brilliant addition to Jag's range
It may only have been a first drive on a frozen lake, but it has us filled with anticipation
John Calne
Wednesday 27 January 2016 13:49 Comments
Mutterings about a Jaguar SUV have been going around seemingly forever. But the rumours are at an end and the reality is here.
The reality is the Jag F-Pace, and it shares its platform and suspension with the XE and XF. That's a good thing.
Despite this, Jag says 90% of the bits used on the F-Pace are unique to the vehicle. Ground clearance of 213mm is certainly unique to it – get that much air beneath a Jag of any other kidney, and it's because you've yumped it off something.
Most F-Pace sales will go to the tax-efficient 2.0-litre diesel, whose 178bhp is enough. This means the 296bhp and 516lb ft of the 3.0 diesel must be more than enough, and the 375bhp of the supercharged 3.0 petrol driven here must be more still.
But again, these are good things.
If you want your SUV to be sneered at by off-road types even more than it will be anyway, you can save money by having your F-Pace in 4x2 form. You can with the 2.0 diesel unit, at least; the others have all-wheel drive as standard.
The 2.0 diesel can be had in manual form, too. But most drivers will want the optional eight-speed auto – which also becomes standard with the 3.0-litre engines.
Either way, the F-Pace handles beautifully. We've only driven it off-road thus far – but on a frozen lake, not a muddy track, so we did get a feel for its dynamics.
And these are very promising indeed. Its suspension feels positive but comfortable; it's involving and well balanced, but provides all the reassurance you need.
That 4x4 drivetrain is excellent, too. Normally, only the rear wheels are driven, but the speed with which it responds to traction losses is such that you'd never think it.
There's plenty of technology to take care of you, too. All Surface Progress Control sounds promising if you plan to explore the F-Pace's off-road limits, and Low-Friction Launch will save you from yourself even if you think the answer to a snow-covered driveway is to plant the throttle and hope.
In less electronic news, the chassis is set up with real skill and the steering is full of feel and feedback. The driving experience is quite unlike what you expect from a big, tall vehicle.
All this comes with the necessary caveat that we're taking about a first drive on a frozen lake, not an extended experience on actual roads – let alone British ones. But thus far, the F-Pace has filled us with anticipation.
At last, the waiting is over. Now all we need is for the waiting to be over.

Register for free to continue reading
Registration is a free and easy way to support our truly independent journalism
By registering, you will also enjoy limited access to Premium articles, exclusive newsletters, commenting, and virtual events with our leading journalists
Already have an account? sign in
Join our new commenting forum
Join thought-provoking conversations, follow other Independent readers and see their replies