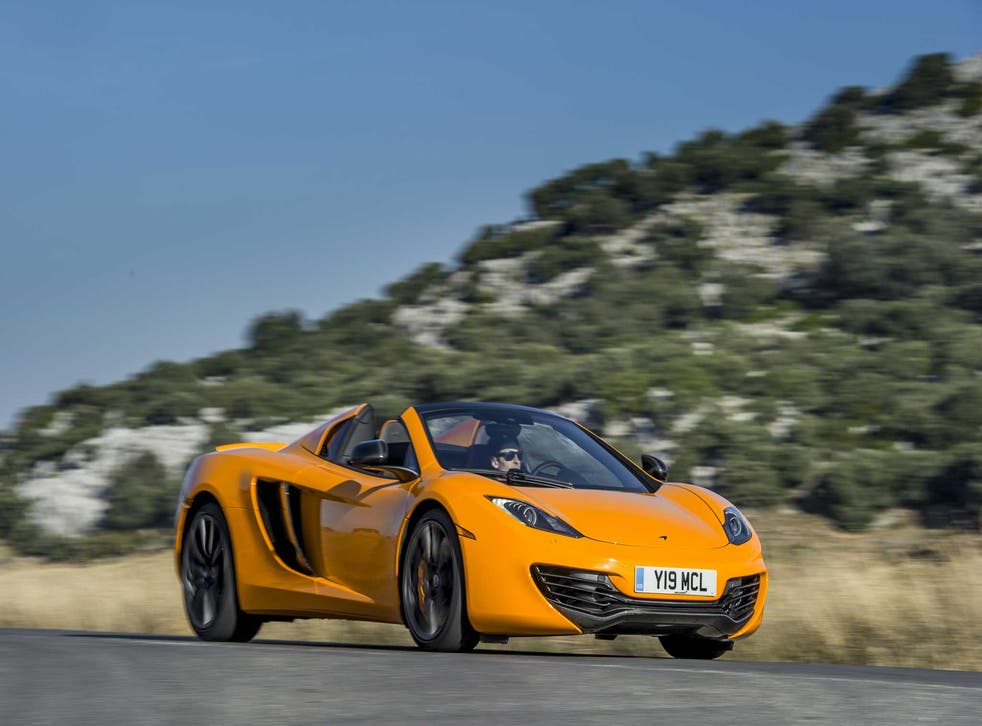 McLaren MP4-12C Spider
The McLaren Spider gives our reviewer the ride of a lifetime
Price: £195,000
Engine: 3,799cc, V8 cylinders, 32 valves, 625bhp at 7,500rpm
Transmission: Seven-speed double-clutch sequential gearbox, rear-wheel drive
Performance: 207mph, 0-62 in 3.1 seconds, 24.2mpg, CO2 279g/km
Forgive me if, for a moment, I sound like a spoilt motoring journalist. So-called supercars, sleek and loud machines which occupy the fantasy garages of otherwise sane people, don't automatically "do it" for me. I can't see the point of these unusably fast and entirely impractical machines, which are ridiculously over-specified for a quick spin along Britain's backroads.
Just occasionally, though, an ultra-car comes along which shakes even cynical old me out of my what's-the-point stagnation. You're looking at one now.
This new McLaren MP4-12C Spider is the most thrilling muncher-up of real roads, the most viscerally astounding conqueror of corners and annihilator of straights, that I have experienced in all the years I have been writing about cars.
Given the road space and a suitable guardian angel, this McLaren will do things I have never quite dared to make a car do before. Even better, you can feel and hear much of the magnificence even without going ridiculously fast.
It's not just that it will scorch round corners, it's the way it does so, helping you all the way, always predictable and friendly. This is where the McLaren differs from, say, the Ferrari 458, which is its most obvious rival. The Ferrari offers full aural theatrics, ultra-quick responses and superlative agility, but there's a slightly artificial feel to its drama and a sensation that you have to take some of its abilities on trust.
By comparison, the McLaren feels almost super-real even though it, too, uses electronics to keep it stable and some aural-effect manipulation in its engine. The difference in these enhancements is the key. McLaren's "brake steer", as used in Formula One, nudges individual brakes as required to help point the car where required. Combined with active hydraulic suspension, which gives an astonishingly supple ride while keeping the McLaren near-level in corners, the result is a car which almost melts into the road.
This model, you will notice, can expose its passengers to the elements. The MP4-12C was launched as a coupé a year ago, but a Spider was always promised. This is it, with an automatically retractable roof which, when closed, makes available a secondary boot space, which might be useful for a long weekend in the rain.
The exhaust system, meanwhile, has been honed for aural effect over the already improved coupé system, because with the roof open you're in a particularly good position to hear the result.
Yet it is not a total success. There's a lot of wind-buffeting at speed, and the view in the interior mirror is restricted. Also, the Spider costs £19,000 more than the coupé. That said, it uses the same ultra-stiff carbonfibre structure and feels just as solid, with none of an open car's typical shudder over bumps.
As for the engine, one small criticism of the MP4-12C as launched a year ago was that it sounded a touch too "clinical" and its response to the accelerator was not quite as natural as it should be. This is now fixed, along with changes to the double-clutch, paddleshift gearbox, which now shifts with breathtaking immediacy; in combination with the engine's explosiveness, it triggers a whole new kind of excitement.
So, would I have the Spider over the coupé? This is a car to thrill beyond all others, and with its sonic delights, the Spider thrills even more. Wind in the hair it is, then.
Join our new commenting forum
Join thought-provoking conversations, follow other Independent readers and see their replies