Porsche 718 Cayman, BMW M2 and Jaguar F-Type

Show all 9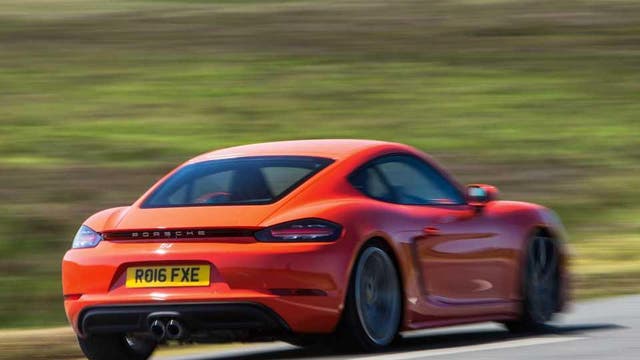 Top sports cars: Porsche 718 Cayman, BMW M2 and Jaguar F-Type tested
Which is the best sports car available? We put three to the test
Can a downsized 2.5-litre flat-four-cylinder turbo replace the legendary sound and feel of the Cayman's traditional hard-working flat-six engine? Porsche reckons so, but we need to be convinced. Offering better economy but fewer CO2 emissions, the new powerplant option may be the sensible choice – but when has being sensible ever come into sports car ownership?
BMW and Jaguar aren't taking the same stance. They've stuck with the six-cylinder route, offering big-capacity motors in their respective rivals for a similar price to the Stuttgart brand's offering. There's a 3.0-litre turbo in the M2, and a supercharged V6 unit of the same capacity in the F-Type. This means our triple test has a bit of everything, but which gives the best balance?
Disproving the old adage that capacity equals power, the Porsche's 2.5-litre flat-four boasts 10bhp more than the Jaguar and it's faster from 0-62mph, too – yet the BMW trumps them both. It has 365bhp – 20bhp more than its countryman, its nearest rival here – and a 4.5sec off-the-line sprint. That's 0.2mph faster than the Cayman.
With its optional switchable exhausts popping and crackling even from low speeds, the Jaguar definitely measures up for addictive aural thrills, even if it can't match its competitors for speed. We also enjoyed the BMW's howl, but the same can't be said of the Porsche. Its four-cylinder sounds flat and monotonous – and frankly a little dull. The low-rev coarseness doesn't help.
The Porsche makes up for lost points through the corners, though, with its spirited drive, super-fast direction changes and superb steering. It's better than ever, in fact – something that can partially be put down to the fact it's a genuine sports car. However hard BMW has strived to make the M2 handle wonderfully, its 1 Series premium hatchback roots still show through.
The booby prize for dynamic quality goes to the Jaguar, which unexpectedly feels like something of a cruiser in this company. Its lack of grip and comparatively heavy roll in fast bends can't compare with the handling of the Porsche, which is also the best-riding car on test.
Those road-car characteristics mean the BMW doesn't feel as special as the lower-slung Jaguar and Porsche, but it is more practical both in the cabin and in the boot, and is the easiest to see out of. Its M-grade seats are superior to the F-Type's and more comfortable all-rounders than the Cayman's extreme bucket seats.
We were surprised when the Porsche managed only 28.4mpg in our real-world mpg test; after all, boosted efficiency is supposedly the raison d'etre behind the swap from six to four cylinders. In comparison, we got 28.8mpg from the supercharged Jag and 31.4mpg from the BMW.
As well as being the fastest, most efficient car here, the M2 is also the least expensive to buy and run; it's £2800 cheaper than for the Cayman and a huge £6600 cheaper than for the F-Type. It is the most generously equipped model on test as well, with the Porsche conversely lacking even sat-nav and DAB. The Jag sits in the middle kit-wise, but it has by far the most expensive PCP deals, and the heftiest bills for business users.
Ultimately, we can't deny that the move to four cylinders means the Cayman isn't as impressive as it used to be – especially as fuel economy isn't as good as we'd expected. Yet while its advantage has been eroded it's still the best car here, with beautiful handling, a wonderful drive in all conditions, a special-feeling cabin and great residual values.
The thrilling M2 is hot on its heels, however, with only its slightly more mainstream and less sporty handling relegating it to second spot. And it's third place for the F-Type, which while still alluring simply can't match its rivals here.
1st - Porsche 718 Cayman 2.5 S manual
Engine size 2.5-litre, petrol, turbo
List price £49,689
Target price £49,689
Power 345bhp
Torque 310lb ft
​0-62mph 4.7sec
Top speed 177mph
Official fuel economy 34.9mpg
True MPG 28.4mpg
CO2 emissions 184g/km
2nd - BMW M2 3.0 manual
Engine size 3.0-litre, petrol, turbo
List price £45,750
Target price £43,124
Power 365bhp
Torque 369lb ft
​0-62mph 4.5sec
Top speed 155mph
Official fuel economy 33.2mpg
True MPG 31.4mpg
CO2 emissions 199g/km
3rd Jaguar F-Type Coupé
Engine size 3.0-litre, petrol, supercharged
List price £51,705
Target price £49,571
Power 335bhp
Torque 332lb ft
​0-62mph 5.0sec
Top speed 161mph
Official fuel economy 33.6mpg
True MPG 28.8mpg
CO2 emissions 199g/km
Sarah Bradley is a writer for AutoCar.
Join our new commenting forum
Join thought-provoking conversations, follow other Independent readers and see their replies