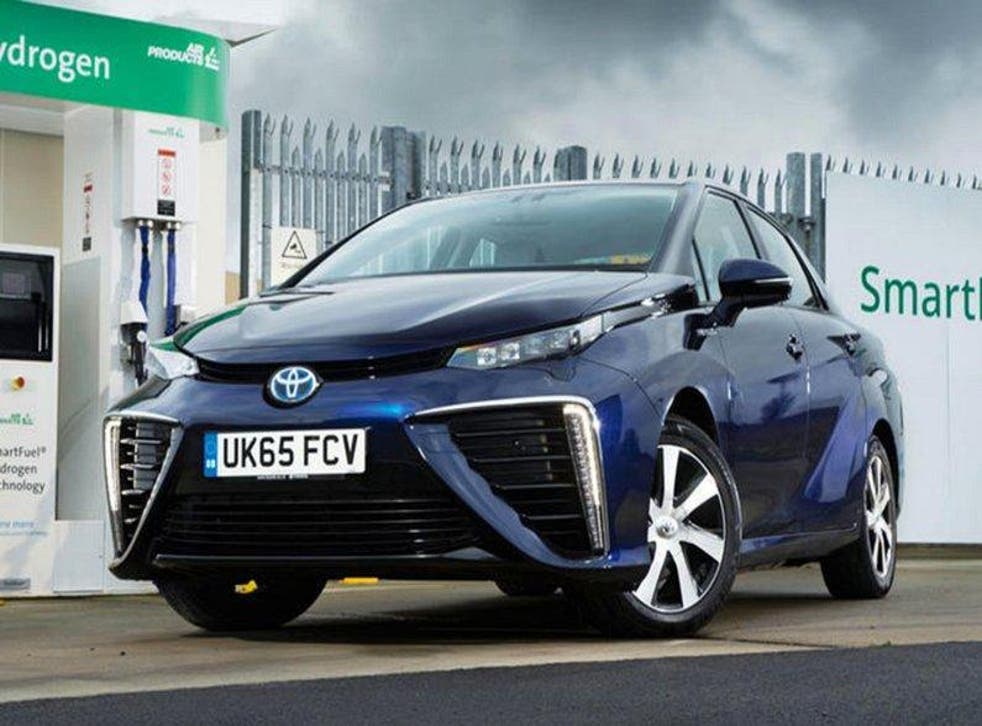 Toyota Mirai: is this the start of our hydrogen future?
It may look funny, but the question this hydrogen Toyota poses for our motoring future is deadly serious
Hydrogen-fuelled cars the Toyota Mirai, the Hyundai ix35 Fuel Cell or the Honda Clarity could solve all our emissions problems. They don't emit carbon dioxide: they emit water that you could drink.
These so-called fuel cell cars use hydrogen (and oxygen) from the air to generate electricity. Unlike electric vehicles, you don't have to wait while a battery charges up. You fill a hydrogen car in much the same way as a diesel or a petrol one. In the case of the Mirai, the process takes less than five minutes and gives you up to 342 miles of zero-emissions driving.
Underneath the high tech, the Mirai is a conventional four-door, four-seat saloon that's slightly longer than a Ford Mondeo. Unfortunately it doesn't have the same interior space as a Mondeo because the hydrogen tanks, battery and fuel cell pinch a lot of it.
On the positive side, the Mirai could hardly be any easier to drive. It's exactly the same as a normal automatic or electric car. Press a button to turn it on, choose drive on the gear selector, take off the handbrake and you're away. As with battery powered electric cars, there's only one gear. Progress is smooth and surprisingly quick at the sort of speeds you'll be driving at in towns. On faster roads, meaningful acceleration is harder to find, but it will keep up with many similarly sized diesel saloons when travelling at up to the national legal limit.
Jamming your right foot down will provoke a faint whine from the electric motor plus a little gurgle from the fuel cell. Wind and road noise are well suppressed, and although you will feel road joints and potholes, progress is generally pretty relaxed with just the occasional sensation of floating over bigger crests.
Even the most enthusiastic Mirai supporter would struggle to call the handling sharp. Grip is good, but throwing the car into a fast bend will generate plenty of body lean. The front tyres hang on gamely, but more weight would improve the imprecise steering. As it is it's necessary to feed in constant corrections to keep the car tracking straight.
The outside styling is certainly distinctive, and that singular look filters through into the cabin with not one but three 4.2in TFT screens and a further 7.0in infotainment touchscreen. The third small screen only displays heater settings but it's located too far back between the seats to be of much practical use. The main touchscreen is straight from the Prius/Auris parts bin, so it's neither responsive nor easy to use.
The Mirai is an expensive car to produce, a fact that is reflected in the £66,000 asking price, but some higher quality interior plastics wouldn't have gone amiss. Beyond the regular touch areas, some cubby lids and dash areas seem tacky.
In terms of interior space, the Mirai is like a reverse Tardis – big on the outside, but not on the inside thanks to the intrusion of the twin hydrogen tanks and a battery pack between the rear seats and boot. Rear head and leg room are both decent, but the space under the front seats is blocked by the fuel cell, preventing even smaller adults from stretching their legs on the move.
That issue restricts rear carrying capacity to just two and you can't fold down the back seats down to boost luggage space. The boot is weirdly shaped and less accommodating than that of the much smaller VW Golf. At least the front seat passengers are well supplied with head room and seat/steering wheel adjustability, though the seat bases are mounted quite high. That helps visibility a little, but you can't see either end of the car from your seat. Luckily rear parking sensors and a rear-view camera are both standard.
Thinking that a Mirai will be a cost-saver is a mistake. Electricity is relatively cheap, but it'll cost you roughly the same to fuel a car with hydrogen as it does with petrol or diesel. That £60,000-plus price (even after a Government grant) will take some paying off too.
Business users might be interested, if their motoring lives allow (there aren't that many hydrogen fulling stations in the UK), because tax outgoings are low. The zero-emissions Mirai has a 9% benefit-in-kind (BIK) rate for company car drivers, but they still have to pay the £350 tax for cars costing more than £40,000. Private buyers face a £140 a year tax cost.
Besides sat nav, DAB radio and Bluetooth, you get LED headlights, heated front and rear seats, dual-zone climate control, rear parking sensors, a rear-view camera, wireless phone charging, adaptive cruise control, blind spot monitoring and rear cross traffic alert.
Overall, the Toyota Mirai is clean, comfy and an easy drive, but there's not much boot space and the price is prohibitive.
Tony Middlehurst is a writer for WhatCar.
Join our new commenting forum
Join thought-provoking conversations, follow other Independent readers and see their replies