Alfa Giulia Quadrifoglio, BMW M3 Competition Package and Mercedes-AMG

Show all 13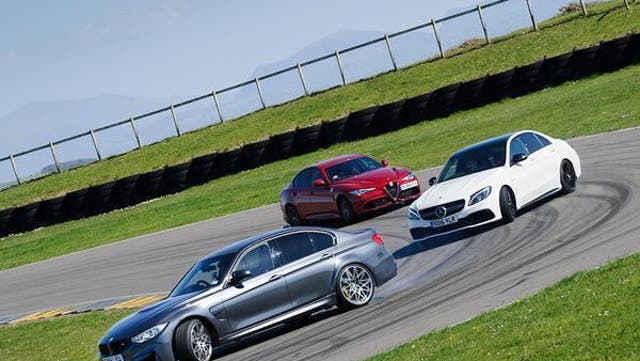 Triple test: Alfa Giulia Quadrifoglio vs BMW M3 vs Mercedes-AMG C63 S
Plenty of smoke, but no mirrors; these three super saloons are the real deal on the track as well as off
From track specials to hypercars, we all love a proper sports car. But for all-round appeal you can't beat a super saloon, with their big power and rear-wheel drive, yet boasting enough practicality and luxury for daily use. Our three twin-turbocharged contenders differ in heritage and character, but all cost in the region of £75K when specced up, which levels the playing field somewhat.
Their powertrains cover all bases, from the BMW M3 Competition Package's straight-six teamed with a dual-clutch M DCT transmission, to the Alfa Giulia Quadrifoglio's Ferrari-'inspired' V6 and auto, to the Mercedes-AMG C63 S's thumping V8 with its halfway-house box. All models have variable damping, various engine modes, configurable throttle maps, electronically controlled locking diffs and optional ceramic brakes. This bestows them with a broad range of ability that best exploits their massive power – and we're planning on having a ball putting their crowd-pleasing handling attributes through their paces on the track.
BMW M3
The latest BMW M3/M4's twin-turbocharged straight-six has had a bumpy ride, with its sound, character and power delivery proving controversial, while the car's spikey handling hasn't been without its critics, either. The Competition Package attempts to address that with revised chassis settings taming some of the car's wilder habits and allowing the engine's talents to shine through.
The M3 is the only sub-500hp car here, but it has arguably the richest heritage and looks amazing with its subtly muscular styling cues brimming with confidence and intent. On track it has a harder edge than its rivals here, and you can concentrate on the pin-sharp front end, razor-sharp throttle response, huge powerband and surprising appetite for revs.
It's lighter than the Alfa but the steering is a bit mushier, yet it drives rings around the AMG and is beautifully resolved and confidence inspiring on-track. The dual-clutch transmission is perfectly suited and gives by far the sharpest shift here. Can the other two contenders measure up?
Mercedes-AMG C63 S
As the only V8 here, the swaggering AMG is the largest, heaviest, most expensive, most torquey and joint most powerful contender here. Its thunderous roar lends even the most day-to-day driving a sense of occasion. Its long-nosed styling isn't as immediately attention grabbing as its rivals', but it feels by far the most lavish and decadent machine, which goes some way towards justifying the price premium.
The changes between its various drive, throttle and gearbox modes are more subtle than in the BMW, and the incremental increases in composure don't significantly alter its more burly but plusher feel. The all-dominating engine may feel a bit of a lump compared with the M3, but it has huge reach and deploys that torque advantage to the max. This makes up for the less sharp auto-with-a-clutch trans. And then there's its grin-inducing party piece; its supreme ability to fry tyres during easily induced, huge powerslides. You can keep the rubber smoking as you accelerate up the straights too; this C63 may be more sophisticated than its predecessors, but it doesn't worry too much about disguising its hooligan nature!
Alfa Romeo Giulia Quadrifoglio
The Alfa has more to prove in this extreme track situation than the Germans, and it has to bring its own unique Italian twist to the formula, too. Its purposeful looks kick things off well, with a carbon splitter and lip spoiler, voluptuous side skirts, diffuser and, of course, that Quadrifoglio badging.
There's substance to the style, as well, with the low-mounted optional carbon-backed Sparco seats, super-adjustable wheel and nicely actioned paddles enhancing the cabin's already swish crimson leather and carbon trim. We'll ignore the cheaper-feeling switchgear and less impressive infotainment…
On-track, this is one pointy, aggressive car, with light, darty steering, great shifts and eager acceleration. Its high-quality damping, sophisticated locking diff control and neat speed merchant/hooligan split personality are a real wow.
The California T-derived engine soon gets over its initial lag to emulate both the AMG's lairy muscle and the M's rev-happy nature. And while it's 'only' a torque-convertor auto, the crisp manual shifts make up for the lack of a proper manual option here in the Britain. Then something went wrong with our test car's electronics, preventing us from exploring its feisty side any further… What a disappointment that we weren't able to put that potential into practice.
Verdict
We'll put the Alfa's unfortunately stereotypical electronics issue aside, along with the fact that the BMW's promised spare set of rear tyres never materialised (we had to save enough rubber to get home again!). At least less time showboating allowed the M3 – probably the most rapid and track-friendly car of the day – to demonstrate how well it can do neat and rampantly fast.
The hugely charismatic C63 is actually a bit of a lump, but it excels as an entertainer. The fact it comes in load-lugging form as well further broadens its appeal.
By combining the best of what BMW M and AMG do into one stylish, classy package, the Alfa could genuinely disrupt this German-dominated sector. It's unfortunate that, on the day, the Giulia couldn't fulfil its potential to set the standard.
The M3 wins out – for now.
BMW M3 COMPETITION PACKAGE
Engine: 2,979cc, straight six, twin-turbo
Transmission: seven-speed dual-clutch, rear-wheel drive
Power (hp): 450@7,000rpm
Torque (lb ft): 406@1,850rpm
​0-62mph: 4.0secs
Top speed: 155mph (limited)
Weight: 1,635kg (EU, with driver and DCT gearbox)
MPG: 34
CO2: 194g/km
Price: £60,355 (As tested £76,295 comprising £,1330 for Sakhir Orange full merino leather, £545 for Advanced Parking package with reversing assist camera and Park assist, £2,645 for 7-speed M DCT with Drivelogic, £6,250 for M Carbon ceramic brakes, £495 for Comfort access, £190 for rear sunblinds, £265 for sun protection glass, £155 for extended storage, £280 for rear seat heating, £395 for Carbon Fibre interior trim with Black Chrome finishers, £1,200 for BMW Icon Adaptive LED headlights, £500 for surround view, £825 for BMW M Head-up display, £245 for Loudspeaker system - Harman Kardon surround sound, £240 for concierge service, £160 for online entertainment and £220 for speed limit display)
MERCEDES-AMG C63 S
Engine: 3,982cc, V8 twin-turbo
​Powertrain: AMG Speedshift MCT 7-speed auto, rear-wheel drive
Power (hp): 510@5,500-6,250rpm
Torque (lb ft): 516@1,750-4,500
​0-62mph: 4.0sec
Top speed: 155mph (limited)
Weight: 1,715kg (EU, with driver)
MPG: 34.5 (combined)
CO2: 192g/km
Price: £67,450 (As tested £77,565 comprising 360-degree camera for £335, AMG Night Package for £585, AMG Performance Exhaust for £1,000, AMG Interior Carbon Fibre Trim Package for £700, Premium Package (leather dash, keyless go, automatic boot, Burmester stereo, LED Intelligent Light System and Panoramic electric sunroof) for £2,595, Driving Assistance Package (Active Blind Spot Assist, Active Lane-Keeping Assist, Cross-Traffic Assist, Distronic Plus with Steering Assist and Stop&Go Pilot, Pre-Safe Brake with pedestrian detection and Pre-Safe Plus) for £1,695, Head-up display for £825, Diamond White metallic paint for £645 and 19-inch alloy wheels for £1,735)
ALFA ROMEO GIULIA QUADRIFOGLIO
Engine: 2,891cc, V6 twin-turbo
Transmission: 8-speed auto, rear-wheel drive
Power (hp): 510@6,500rpm
Torque (lb ft): 443@2,500rpm
0-62mph: 3.9sec
Top speed: 190mph
Weight: 1,695kg (quoted DIN weight + 75kg driver, equating to EU)
MPG: 34.4
CO2: 189g/km
Price: £61,300 (As tested £73,805 comprising Dark tinted rear windows for £275, 19-inch Dark '5 hole' alloy wheel for £350, Leather/Alcantara steering wheel with carbon inserts for £225, Sparco 'Carbonshell' sport seats for £2,950, Convenience Pack (exterior door handle lights, IP storage compartment on driver side, keyless entry) for £425, Sound Theatre by Harmon Kardon including subwoofer for £950, Smoking kit for £80, Carbon ceramic brakes for £5,500 and Competizione Red Tri-Coat paint for £1,750).
Sarah Bradley is a writer for PistonHeads.
Join our new commenting forum
Join thought-provoking conversations, follow other Independent readers and see their replies