Barn-find Jaguar E-Type

Show all 16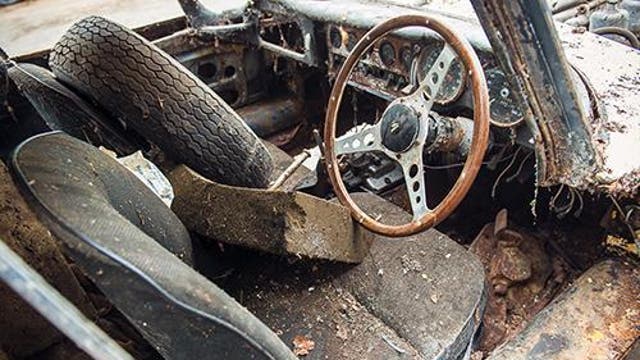 Would you pay £44,000 for this Jaguar E-Type?
Abandoned for two decades, a 1962 E-Type is now set to become a "serious project" for its new owner
It has spent the last 20 years sitting in a damp and drafty barn in the West Midlands, yet this "ultimate barn-find" E-Type could be about to sell for more than a brand new Jaguar XF.
The model in question is a 1962 Series 1 Fixed Head Coupé (FHC), an early example of the E-Type, that has been given an estimate of £38,000 to £44,000.
It last changed hands in 1997, when it was picked up by an enthusiast who had hoped to place the car in a barn pending a few modifications. But as is so often the case with restoration projects, the car then languished for 20 years.
The auctioneers say the E-Type is mostly complete, despite lacking a few glass panels and the radiator, making it a worthy restoration project. Many "barn-find" cars retain curious original features, and this example still has a rare braking system used on the early E-Types that has typically been replaced in later models.
One of the most sought-after British sports cars of the last century, E-Types have seen a rapid increase in value, as well as widespread growth in affection amongst the general public.
"It's always going to be one of the top benchmark cars," says Lionel Abbott of Silverstone Auctions.
"The cache around the E-Type has grown in recent years, and so has the investment side. Some people who find their money isn't doing much in a bank are starting to look to cars like the E-Type.
"They're undervalued compared to something like an Aston Martin DB5. You get better performance, it's a better handling car, and still only 20 per cent of the value."
For many people the idea of buying a car in this condition may seem peculiar, but barn finds are a popular feature at today's major car auctions. In 2014, 59 classic cars found rusting away within a collection of French farm buildings sold for $28m.
"For a lot of people it's an opportunity to own a car that is a blank canvas," Lionel tells me.
"The auction mentality is such that barn finds are treated like a significant discovery of a piece of art. If it happened to be a Rembrandt that was discovered, you have a duty to rescue it and put it back into the public domain."
The E-Type will go up for auction in its current condition on April 1st during the Classic Car and Restoration Show in Birmingham.
Join our new commenting forum
Join thought-provoking conversations, follow other Independent readers and see their replies