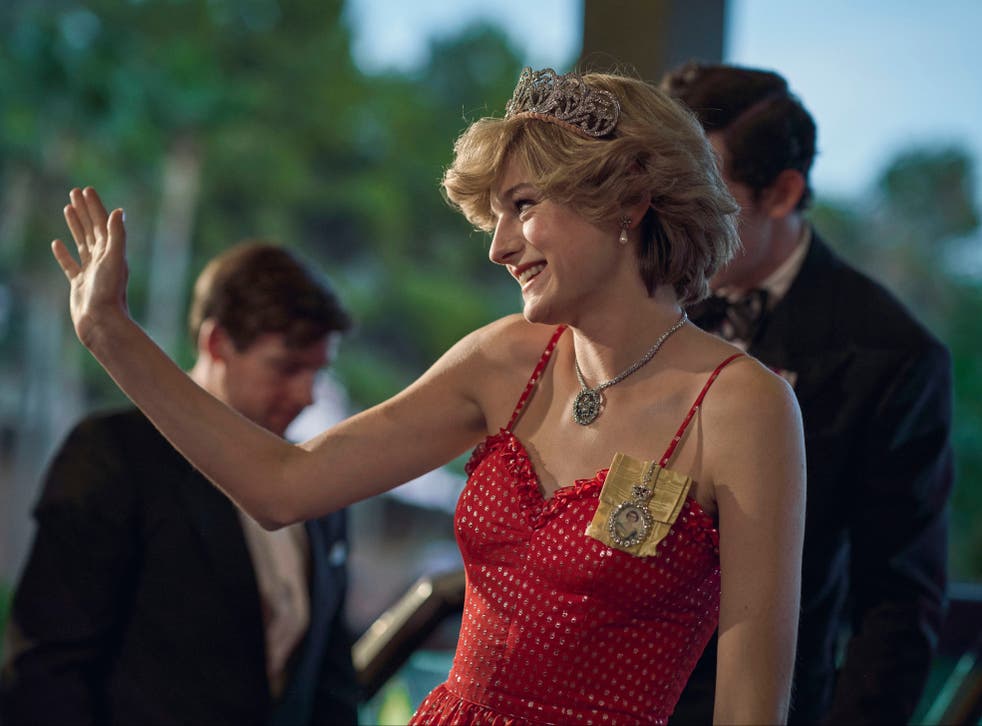 The Crown viewers divided over depiction of Princess Diana's bulimia
Royal biographers have criticised the programme
Olivia Petter
Monday 16 November 2020 11:32 Comments
The Crown viewers are divided over the programme's depiction of Princess Diana's bulimia.
Season four of the Netflix historical drama debuted on Sunday 15 November. The series features several scenes of Emma Corrin, in the role of Diana, dealing with the eating disorder.
While many people have praised the show for its realistic depiction of bulimia, others found it difficult to watch.
"They did Diana's bulimia way too realistically on The Crown," tweeted one person. "I forgot it would be there. I feel like someone just slapped me in the face."
Another wrote: "There were 1,000 other ways to show Diana's anguish and the 'battle' she was facing than that."
Meanwhile, one viewer described the scenes as "grotesque".
Royal biographers have also questioned the programme's depiction of bulimia.
Writer Anna Pasternak told BBC Radio 4's Today programme that she found the depiction to be "extremely sensationalist".
On Sunday, royal biographer Ingrid Seward told the Daily Mail: "It was a significant thing in her young life, so I think it needed to be depicted in some way.
"It would have been absolutely fine having her bending over the loo, but I don't think you need quite such detail. I think it perhaps was a bit over-embellished."
However, not all of the reactions were critical.
"Regarding the scenes of Diana's bulimia in #TheCrownSeason4 :Why is any depiction of the realities of mental suffering frowned upon?" tweeted a psychologist.  
"As a psychologist I've seen the cuts, the scent and other marks of mental illness, and sometimes it has to be shown. One can never be too graphic."
The comments come after it was revealed that Corrin herself had asked the writers and producers of The Crown to accurately depict Princess Diana's struggle with bulimia.
Speaking to the Radio Times alongside co-star Josh O'Connor (who plays Prince Charles), Corrin said: "I felt that if we were trying to depict bulimia in an honest way, we had to show it."
"Otherwise it's a disservice to anyone who has been through that. Diana was very candid about her experience, I so admire that."
The actor added: "I don't buy that anyone has a healthy relationship with food. These days there's so much pressure, especially with social media, to be a certain way."
Diana's bulimia storyline has prompted the series to feature sensitivity warnings at the start of several of its episodes.
The series producers worked in collaboration with an eating disorder charity to ensure that the subject matter was handled appropriately.
To contact Beat, you can call the charity's helpline on 0808 801 0677, the studentline on 0808 801 0811 and the youthline on 0808 801 0711. You can also contact the charity via its one-to-one web chat here.
Register for free to continue reading
Registration is a free and easy way to support our truly independent journalism
By registering, you will also enjoy limited access to Premium articles, exclusive newsletters, commenting, and virtual events with our leading journalists
Already have an account? sign in
Join our new commenting forum
Join thought-provoking conversations, follow other Independent readers and see their replies