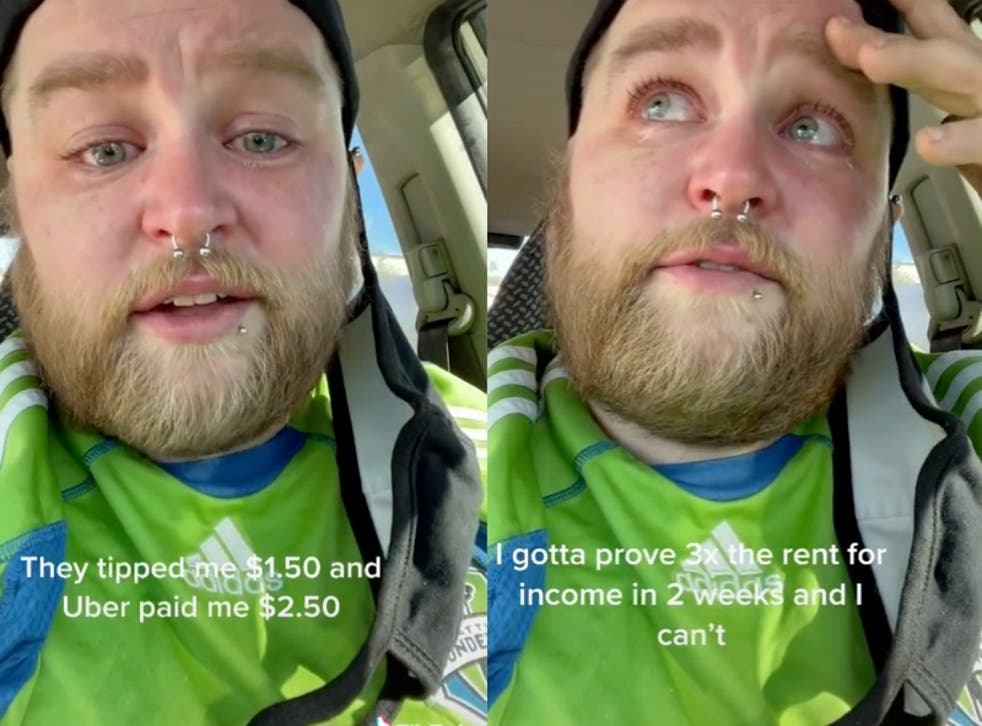 UberEats driver receives thousands in donations after sharing 'heartbreaking' TikTok about the importance of tipping
He was paid just $2.50 by Uber for a 45-minute delivery job
Chelsea Ritschel
New York
Saturday 20 February 2021 21:53 Comments
Leer en Español
An UberEats driver who was struggling to pay his rent has been able to move into a home after a tearful video he posted on TikTok about the importance of tipping went viral.
This week, Riley Elliot, from Seattle, shared a video to his TikTok  @livefreestudios where he opened up about the monetary struggles of being a delivery driver for companies such as UberEats and DoorDash.
In the clip, Elliot is sitting in his car as he explains why he wishes people who order food deliveries understood "what it's like to be a delivery driver".
Elliot then tearfully shared an example of the difficulties he faces, telling his TikTok followers that he "just spent the last 45 minutes on a delivery and had to pay $3 for parking" because there was no free parking and the customer refused to come out.
"They tipped me $1.50 and Uber paid me $2.50," Elliot continued, before revealing that he is currently on the brink of homelessness because he has to "prove three times the rent for income in two weeks" but he can't, despite working multiple jobs.
"It doesn't matter that I'm working multiple jobs, it doesn't matter that I rarely sleep and can barely afford to feed myself," he said, adding that he is about to be homeless for the third time since May and it's "all because people don't tip their delivery drivers".
On the video's captions, Elliot added that he is "out here risking my life in a pandemic and no one cares".
The viral video, which has been viewed more than 2m times on TikTok, was later shared to Twitter, where it resonated with thousands of people.
"If you can afford to order out, you can afford to tip. You're ordering for a service so you should tip. It's not hard. Someone is picking the food up for you, so you can stay at home. They deserve a tip for that. Simple," one person tweeted.
While many agreed with Elliot's statement that customers should tip, others called out the companies who do not pay their employees a living wage.
"This is heartbreaking. Uber's business model is reliant on essentially free labour. This should be a crime. While I do believe people should tip, I think billion dollar companies need to pay workers a living wage so they don't need to survive off of tips," another person wrote.
Following the viral video, Elliot received numerous donations, which he revealed in a follow-up TikTok allowed him and his fiancee to move into a home.
"Because of all of you and your generosity, we are going to be able to get into a house," he said, adding that he has also been able to pay off bills and send money to friends in need with the donations he's received. 
In subsequent TikToks, Elliot also addressed some of the comments he received about blaming the customers instead of the corporations, where he admitted that it's "not entirely the fault of people who don't tip".
"It is absolutely the fault of these companies like DoorDash and Uber who don't pay their drivers very much, who charge extreme delivery fees and only pay their drivers $2," he said.
However, Elliot also noted that we live in a society where it is "expected that most of a service worker's income is based on tips" and that that issue needs to be addressed for anything to change.
Since finding himself in a better place financially, Elliot has since asked people on social media to consider sending donations to others in need, explaining that he does not need more money and that he has begun giving the money to others who need it more.
While speaking with the Seattle Times, he revealed that he has been able to give away $12,000 to help other people who couldn't pay their bills or afford medication. He also sent some of the money to people in Texas who are struggling with power outages caused by a winter storm.
According to Elliot, the ability to help people has been a "dream".
"The last two days have just been me living my dream of being able to help people in need," he told the outlet. "My whole body has just been buzzing with positive energy from all of these people. I get choked up because I've been bullied my whole life and people actually appreciate how hard I'm trying. It means a lot."
Elliot has also dedicated his efforts to helping "other gig economy workers" by setting up a GoFundMe.
"Everyone is asking me for a GoFundMe. We don't need a GoFundMe, but I've created one to support other gig economy workers during this tough time. Everything donated to this fund will go to delivery drivers in need!" he wrote in a Twitter update Saturday.
Register for free to continue reading
Registration is a free and easy way to support our truly independent journalism
By registering, you will also enjoy limited access to Premium articles, exclusive newsletters, commenting, and virtual events with our leading journalists
Already have an account? sign in
Join our new commenting forum
Join thought-provoking conversations, follow other Independent readers and see their replies