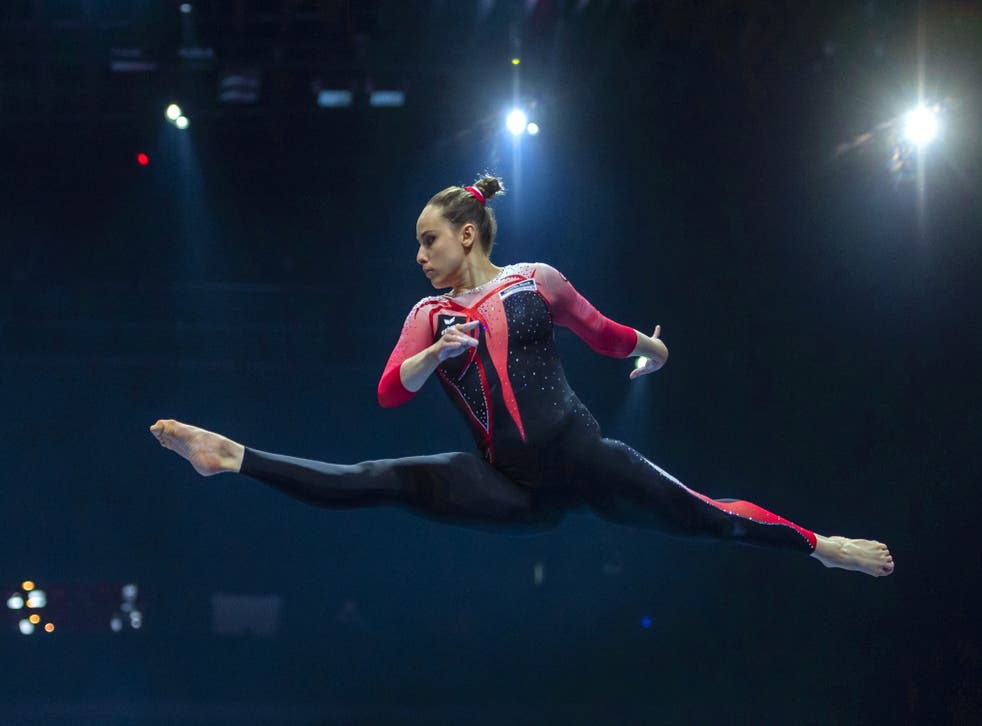 German athlete Sarah Voss praised for wearing bodysuit to protest sexualisation of female gymnasts
Gymnast says she wants to show younger female athletes 'how they can present themselves aesthetically in a different form of clothing without feeling uncomfortable'
German gymnast Sarah Voss has been praised for taking a stand against the sexualisation of female athletes by choosing to wear a full bodysuit at the 2021 European Artistic Gymnastics Championships in Basel, Switzerland.
Typically, female gymnasts are told to wear leotards for competitions that can either be half or long-sleeved.
A full bodysuit like the one Ms Voss chose to wear are seldom worn by women at competitions.
However, Team Germany has since confirmed on Twitter that Ms Voss's decision to wear one was to protest the way in which female athletes are often sexualised through their outfits.
The team shared in a statement on Twitter via the European Gymnastics account, saying: "Our girls want to be role models for young gymnasts and show them how they can present themselves differently without feeling uncomfortable about certain elements."
Additionally, the German Gymnastics Association shared an image of Ms Voss on Twitter confirming that her choice to wear the bodysuit was a protest against the sexualisation of female athletes.
Ms Voss spoke about her decision to wear a bodysuit on her own Instagram page alongside a series of photographs of her competing in the outfit.
In the caption, Ms Voss wrote that she was "immensely proud" to wear the garment and explained that it made her "feel good" and "still look elegant".
Many people praised the gymnast for taking the initiative, with one fan writing: "This is awesome, love the uniform update, thanks for pushing for change in the sport!"
Another person tweeted: "It's revolutionary in so many ways to see Sarah Voss wear a leotard with legs at the European championships! Thank you Sarah for setting an example that aesthetics do no have to come at the expense of potential exposure and discomfort."
Join our new commenting forum
Join thought-provoking conversations, follow other Independent readers and see their replies