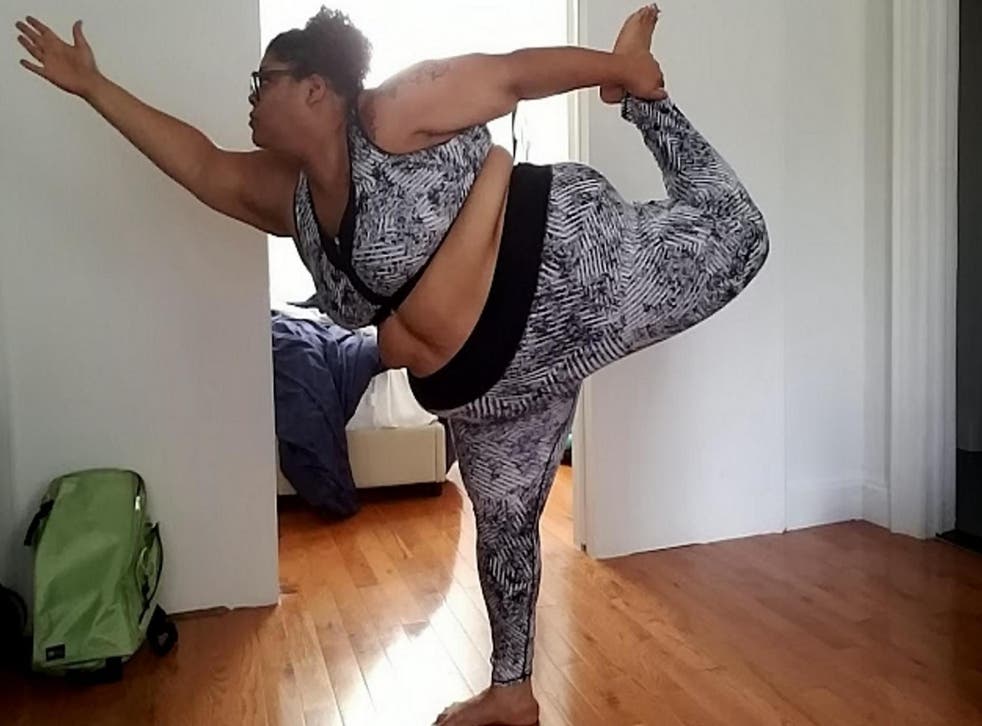 Plus-size woman becomes yoga teacher after noticing lack of diversity among instructors
She wants to help marginalised people de-stigmatise exercise 
A 300-pound woman has been inspired to become a yoga instructor after she was ignored by other instructors because of her weight.
According to Jessica Rihal, 35, when she first starting taking yoga classes in 2007, the instructors would often refuse to offer guidance or pretended as if she wasn't there.
She said: "When I became more heavily involved in the yoga community, I realised that there wasn't a lot of diversity in the instructors I was seeing.
"Don't get me wrong, there are some instructors who understood anatomy and really cared and are amazing, but there are so many instructors who would never even look at me."
According to Rihal, she'd originally tried yoga as a quick weight-loss method, but soon realised that the exercise was also beneficial in easing her anxiety and depression - and came to love it.
However, the lack of guidance was discouraging - especially when she wasn't able to do certain moves because of her weight.
"There were other instructors who were always coaching me for 'someday' when I would be able to walk on my hands or hold myself up in crow pose without falling on my face," she recalled. "That mystical 'someday' is not a reality for so many of us and can be downright discouraging."
So Rihal, from Irvine, California, decided to learn yoga herself - so she could teach other people who may also feel overlooked as well as prove that the ancient practice is not just for thin women.
"According to the media and the society we live in, fitness and wellness are reserved for thin, white and able-bodied people - but that's just not true," she said. "I knew I needed to be the change I wanted to see, I wanted to let other people who look like me, or relate to my body, understand that you don't have to be thin to practise yoga.
"I wanted to help people in marginalised bodies understand they can de-stigmatise exercise and actually find joy in it instead of shame or a fleeting end result."
She also wanted to counter the "westernisation" of yoga - which she claims has become synonymous with white women and expensive athletic clothing.
"I'm part Indian and I feel that yoga is something that belongs to me despite the westernisation," she explained. "It's an ancient practice from India that was actually intended for young boys."
In May 2018, Rihal completed her 200-hour yoga teacher training, and now practises five hours a week.
In addition to teaching weekly yoga classes, Rihal also shares her progress on her Instagram @round_the_way_gal.
Goat yoga in Amsterdam

Show all 10
And while she occasionally receives comments from people judging her size or accusing her of promoting obesity, Rihal, who says she is the healthiest she has ever been, just wants to help and inspire other people to exercise and feel confident through yoga.
Support free-thinking journalism and attend Independent events
"It changes your perspective and the way you look no longer becomes the most important thing in your life," she said.
Register for free to continue reading
Registration is a free and easy way to support our truly independent journalism
By registering, you will also enjoy limited access to Premium articles, exclusive newsletters, commenting, and virtual events with our leading journalists
Already have an account? sign in
Register for free to continue reading
Registration is a free and easy way to support our truly independent journalism
By registering, you will also enjoy limited access to Premium articles, exclusive newsletters, commenting, and virtual events with our leading journalists
Already have an account? sign in
Join our new commenting forum
Join thought-provoking conversations, follow other Independent readers and see their replies