After the deluge, a logjam over insurance
Talks between insurance bosses and ministers to guarantee cover for homes have got bogged down. Mark Leftly and Jamie Dunkley report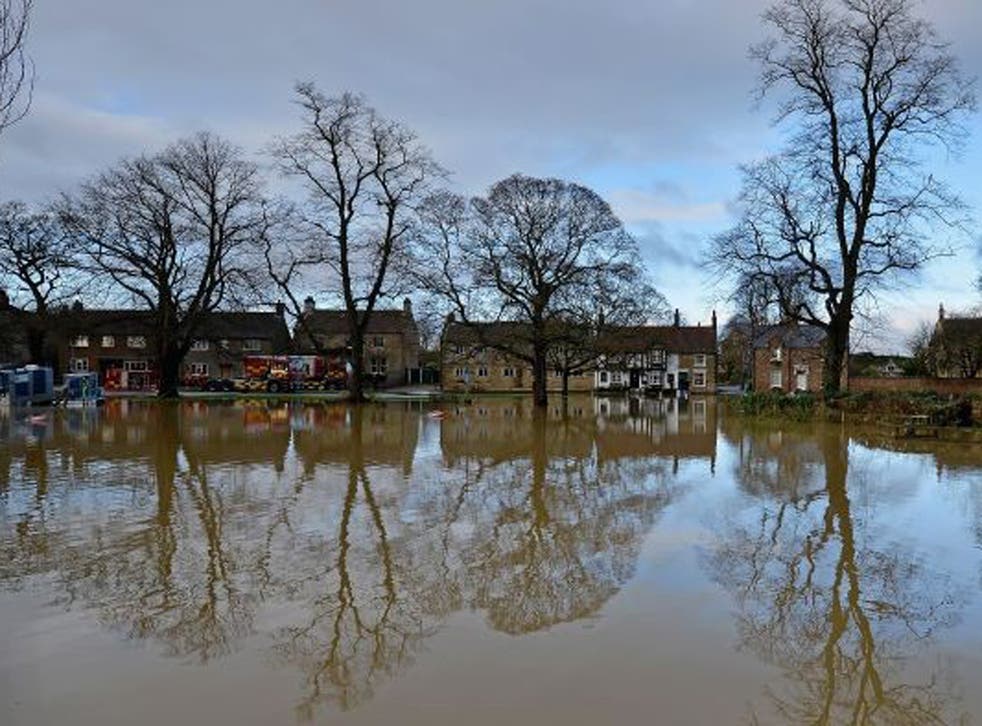 In Skipton, north Yorkshire, a family of three sheep huddled together on a small patch of raised land, as flash floods sent the surrounding field underwater. A 66-year-old maths teacher, Mike Ellis, died as he lost his footing in a stream that had become a torrent on his way home in Bitterley, a small village in Shropshire. The river Windrush rose by almost two metres, putting residents in the town of Witney, west of Oxford, on alert that their homes could soon be devastated by overflowing water.
These make up a tiny handful of the incidents that resulted from the UK's worst floods since 2007 this year, which will result in insurance companies coughing up around £1bn from related claims.
Although a less arresting anecdote than other tales from this year's floods, the images of homeowners fleeing their properties in that third example in Oxfordshire last month could prove to have saved millions of people from crippling insurance premiums.
Many of those residents would be Conservative Party voters, and what's more, their MP is the Prime Minister. It was around this time that David Cameron put one of his most trusted lieutenants, the Cabinet Office minister Oliver Letwin, in charge of negotiations over insurance cover for 200,000 homes that are at high risk of flooding.
Since 2000, the Association of British Insurers and the Government have had an agreement, known as the Statement of Principles, which has effectively meant that the industry has subsidised these homeowners in exchange for state investment in flood defences. This agreement, which means that the policyholders pay about £340 a year for insurance that sees a typical pay-out of £20,000-£30,000, expires next June.
The insurance industry argues that the Government has not held up its side of the bargain, that investment in flood defences has not been sufficient to keep up with the impact of climate change and developments such as cementing over permeable soil. What's more, as flooding becomes an increasingly devastating problem, the 5.2 million homes considered to be at risk become far likelier to suffer water damage.
Disastrously, the Government and the ABI have struggled to come up with an alternative arrangement, which in the worst case scenarios could see premiums reach unaffordable levels of even £30,000 or insurers refuse to provide some homes with a policy at all. In November, talks had broken down and the ABI admitted to an "impasse".
However, The Independent on Sunday can reveal that Mr Letwin and the ABI's director general, Otto Thoreson, met last Thursday at the start of a final push to agree a replacement system. Without it, regional housing markets and therefore local economies could collapse at a time when regions outside London continue to be badly hit by the financial crisis.
The ABI wants a pooled fund that would see an £8 levy introduced on every home insurance policy to subsidise those at greatest risk of flooding. However, it would take several years to build up a war-chest sufficient to match the liabilities of a 2007 or 2012 set of floods, so the ABI has asked for a government overdraft in case damage of that magnitude takes place soon after a deal is in place.
Ultimately, this is a matter of £100m to £200m, which would be repayable and is trifling in contrast to the £3bn of insurance payouts made five years ago.
The ABI's head of property insurance, Aidan Kerr, says: "We know that the free market isn't the answer, but there are one or two fundamental issues that we are trying to get over with government. I'm confident that there is enough drive within government and the ABI not to move to a free market."
However, many senior insurance industry executives are less confident. One said: "If the ABI system is adopted this would leave the Government underwriting a potentially eye-watering overdraft should a few major floods come quickly. It has become clear that the Government has no appetite for this so-called contingent liability. A similar scheme in America saw its pooled funds wiped out by Hurricane Katrina, leaving a $6bn (£3.7bn) hole in its finances.
"Letwin needs to find a way to ensure vulnerable homeowners are protected after June 2013 but also to help spread the cost of this protection in a way that doesn't spook the dry majority of homeowners."
What is particularly worrying is that insurers have to model the costs of their policies several months ahead of any renewals, so many are understood to be drawing up plans in case the talks come to nought.
Progress has been so slow – the introduction of a new Environment Secretary, Owen Paterson, in September who was distracted by the badger culling issue did not help – that many insurers do not believe that any agreement is forthcoming. Cameron suggested that letting Letwin take charge of the issue brought negotiations to the heart of government, though it can easily be considered a rebuke of Paterson for failing to find a middle ground with industry.
"Nothing's going to be announced this side of Christmas," says Ashwin Mistry, the outspoken chairman at Brokerbility. "This is an issue that's got to be tackled now. You're looking at two million homes being affected by this over the next 10 to 15 years. That's going to hit the housing market, funding and resale values. We're the only country in the western world where the Government doesn't provide flood cover."
For example, in the Netherlands floods are excluded from insurance policies and the state is responsible for losses, while Iceland has a public insurance company that provides compulsory cover for natural disasters.
There are alternatives to the ABI's idea, including Project Noah, developed by the insurance giant Marsh, which essentially transfers the cover to the international reinsurance market, whose major companies specialise in catastrophes. Some sources think that this plan is gaining traction in government circles, though it would also require the support of the ABI.
And even just letting the free market dictate prices might not be disastrous – for now. The British Insurance Brokers' Association head of technical services, Steve Foulsham, says that premiums would only go up dramatically or insurers "run away" next year if floods were on a similar scale to 2012, though that is possible.
Paul Cobbing, chief executive at the National Flood Forum, who spent the early part of last week lobbying MPs on the issue, sighs when asked if a deal can be struck. "I just don't know is the serious answer. Negotiations have been pretty critical for some time."
Perhaps the utter disarray of the whole situation is best summed up by an incident from a few weeks ago. In October, the Hull North MP, Diana Johnson, handed over 300 letters from her constituents to the Environment department detailing their problems finding affordable flood insurance. The department lost them. The letters only turned up five weeks after Ms Johnson had delivered them.
Her response: "This shambles is getting like an episode of The Thick Of It, with Laurel and Hardy as guest stars."
The insurance industry and millions of worried homeowners would surely agree.
Join our new commenting forum
Join thought-provoking conversations, follow other Independent readers and see their replies