Moment of truth for payday lenders: Watchdog plans to curb cost of short-term loans
The chief of the City watchdog, Martin Wheatley, spoke exclusively to The Independent's Simon Read about its attempts to control the worst excesses of unscrupulous high-cost credit companies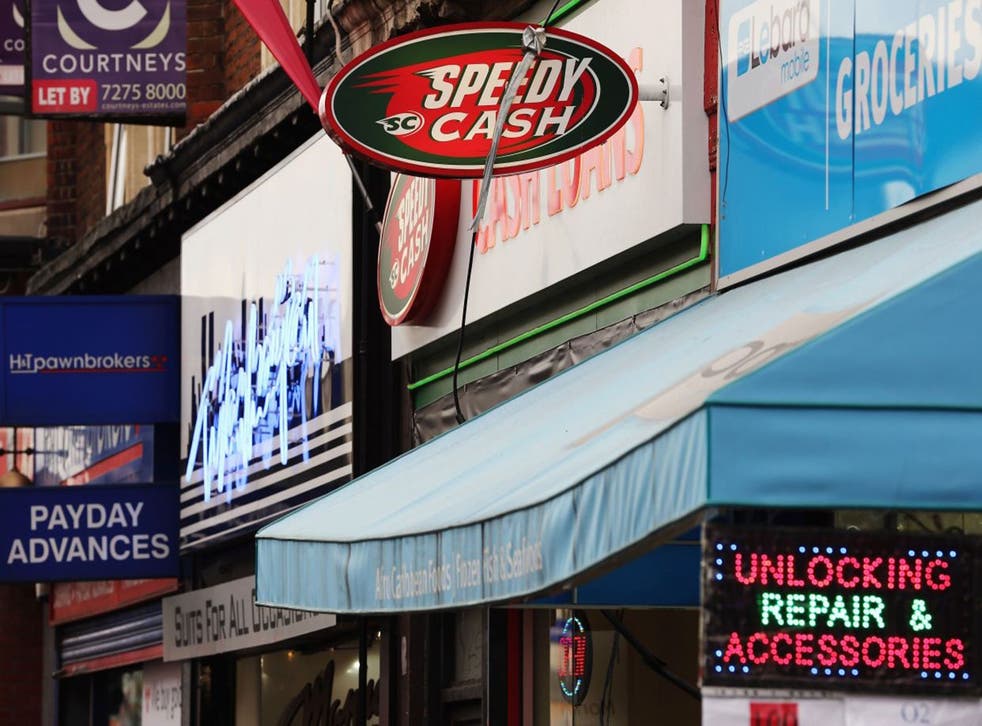 The final element – at least for now – in the City regulator's attempts to control the worst excesses of unscrupulous high-cost credit companies will be announced next week.
It will reveal plans for a cap on the cost of payday lending.
The aim will be to help more people avoid ending up in a disastrous debt cycle because a short-term loan they've taken out has spiralled out of control due to excessive interest and unfair charges.
Under the plans, the Financial Conduct Authority (FCA) will limit penalty charges and the total cost of credit so that, for instance, someone who borrows £100 isn't forced to repay £500 or other soaring amounts if they default.
The watchdog has already introduced tough new rules this month that payday lenders have to stick to. These include a ban on rolling over loans more than twice.
There is also now a limit of two on how many times lenders can attempt to take money from borrowers' bank accounts under controversial continuous payment authorities, which in effect give them the right to drain those accounts.
The FCA has promised that rule-breakers will be dealt with severely, but it's the payday cap that could cause most problems for lenders, not least because it strikes at the heart of their profitability.
The Government told the FCA last autumn that it had to introduce a cap on top of the other new rules. Since then it has been working hard to put together a practical proposal.
To work out the best way to curb the cost of short-term borrowing, it examined detailed data on 16 million loans from 11 of the biggest payday firms. That included information on revenue, loan costs and the length of time taken to clear the debts. It also looked at caps in other parts of the world, including Australia and the US, and the impact they have had on consumers and firms.
Its aim was to find a solution that allows legitimate lenders to continue their business while curbing the excesses that penalise vulnerable people.
The FCA's chief executive, Martin Wheatley, told The Independent this week that while the watchdog will act quickly against rule-breakers, the new moves are not designed to force lenders out of business.
"The reality is that, despite some politicians and members of the public regarding payday lenders as an evil that should be banned, many people use them and there are legitimate reasons to use short-term high-cost credit, as a million people did last Christmas.
"Our role is to find that balancing point between stopping the excesses which are designed to abuse vulnerable consumers, but still allowing the availability of loans to those who can use them in a mature and responsible way."
When the full details of the cap are published next week, he expects to be attacked from all sides, especially as it won't be a simple cap on the total cost of credit. "Everyone has extreme views on the subject," he pointed out.
The loan cap is likely to be designed to cut back the penalties for those who default, rather than reducing the much-criticised high APRs that are quote by the payday lenders. Wonga, for instance, Britain's most profitable payday firm, now quotes an APR of 5,853 per cent.
After the details of the proposed cap are published next week, the regulator will invite companies and consumer bodies to share their views about the plan, setting a consultation deadline of October.
The cap will then come into force from the beginning of next year, although in the meantime the FCA will be policing the sector with much more draconian powers than were wielded by the Office of Fair Trading, the previous credit regulator which passed on responsibility to the FCA in April.
"We have the ability to do things that the OFT didn't have the ability to do," he said.
Mr Wheatley pointed out that in order to get a consumer credit licence to lend money legally, you now have to be regarded as a "fit and proper individual" by the regulator, and it intends to examine all applications closely for those licences.
So someone who has just closed a business, for instance, will fail the "fit and proper" test. That will stop the existing practice of "phoenixing", which involves running a dodgy lending business until the authorities catch up, then closing it down and starting a new one the next day.
Meanwhile, someone with an undeclared criminal background is likely to be deemed as lacking integrity, and that in itself should be enough for them to fail the fit and proper test and be turned down for a credit licence.
But the watchdog will also look closely at business models, and if firms don't meet certain conditions, they will be closed down. "If we think that a firm's business model is a threat to our objectives, then we can refuse to authorise," Mr Wheatley said.
This could help the army of "captive debtors" that end up in the clutches of payday lenders and don't have the money to escape because of the rising cost of their debt.
"If your business model is predicated on lending to people who cannot repay, from my point of view that is a business model condition that we would look very carefully at."
He added: "If somebody's business is making loans, then maybe around 10 per cent get written off and sold to a debt-collection agency, meaning the lender makes no money on them. Then maybe 50 per cent get paid back on time, which they don't make much money out of.
"But where they really make their money is the 40 per cent in the middle which lenders know are going to default, and will then have to roll over their loans. Lenders can then pursue them and have them as captive debtors."
It is these companies that he is now warning: if your profits are mainly based on defaulting borrowers, that's no longer acceptable. And in some cases rogue companies could be prevented from lending immediately.
"We can stop them taking on any new business right away while they attempt to put things right or meet our demands – and we'll use those powers in extreme circumstances," Mr Wheatley said.
Meanwhile, although complaints about payday loans have more than doubled in the last two years, the Financial Ombudsman Service (FOS) warned that the "shame factor" is putting off most consumers from complaining."It's important that people don't feel trapped with nowhere to turn because of the stigma associated with short-term lending," said the principal ombudsman Caroline Wayman.
The FOS received 5,395 enquiries about payday loans in the last financial year and found in the consumer's favour in two-thirds of cases.
It said that disappointingly high numbers of people were unaware that they could speak to the ombudsman if they felt that they were not being treated fairly.
Mr Wheatley said in response to the ombudsman's comments: "Very often the people who are going to payday loan companies are the most vulnerable and not financially the most literate. People need to know the ombudsman service is there before they can take their case to it.
"We know that they walk into debt charities such as Citizens Advice and StepChange a lot because they're on the high street. But we and the ombudsman have the challenge of letting them know that there's a route to get help if they have a problem with a payday lender."
The FOS has warned payday lenders over their poor business practices and called on them to take a positive approach when tackling customers' concerns.
"The fact that most complaints against payday loan companies are upheld is further evidence that when it comes to acting in the best interests of consumers, in many cases they fail to do so," said Mike O'Conner, chief executive of StepChange.
He added that the payday loan industry has been a problem for many years. "Unaffordable lending, the misuse of continuous payments to drain money from customers' accounts, the rolling over of loans and inflating debts with additional charges ... these have been commonplace and damaging."
Last year the charity reported that 66,557 people with payday loans sought its help, an increase of 82 per cent over the previous year.
The ombudsman said the most common cause for complaint was people saying they hadn't taken out the loan, which suggests that fraudsters who apply for payday credit using other people's details may be intensifying their activities.
The FOS is set to publish a report on the payday lending complaints that it receives later this summer.
Join our new commenting forum
Join thought-provoking conversations, follow other Independent readers and see their replies