Critics say Coalition's Green Deal is no solution to curse of fuel poverty
Energy efficiency is key in cutting the bills. But who pays?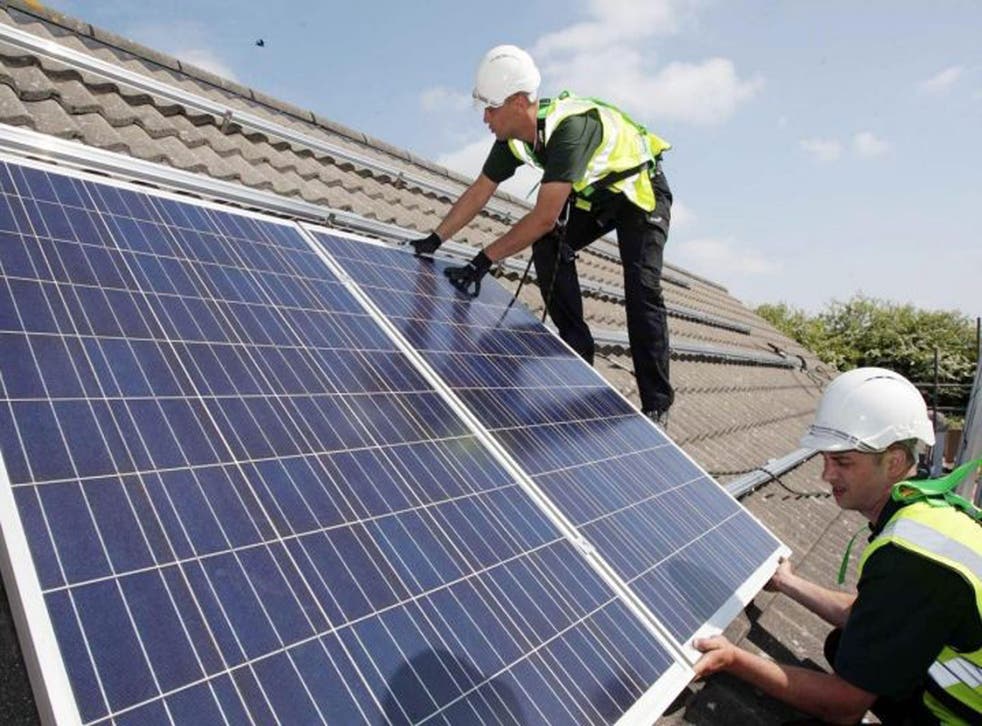 The Department of Energy & Climate Change launched the Government's flagship energy-efficiency scheme on Monday. It's the latest attempt to battle the growing problem of fuel poverty, but critics accuse government policy of only making the situation worse.
The new so-called Green Deal allows homeowners to pay for energy-efficient home improvements through expected savings on their energy bills. Millions of homes do not have double-glazing, for instance, which helps to cut down wasted energy and has a knock-on effect of reducing heating bills. Other improvements that can cut bills and reduce fuel poverty include draught-proofing or insulating homes or putting in a more modern, efficient condensing boiler.
But critics of the new scheme challenge the Government's claims that homeowners will end up saving money in the long term despite having to repay the cost of their home improvements through their electricity bills.
Luciana Berger MP, the shadow Climate Change minister, warned: "Because of sky-high interest rates, hidden charges and penalty payments, the reality for most people will be that the Green Deal ends up costing them more than they save."
In fact many people may be better off arranging finance elsewhere as the Green Deal could lumber them with a debt that could be detrimental and put off future buyers, warned Alan Milstein, of the Residential Property Surveyors Association. "With early repayment penalties and the uncertainty surrounding how having a Green Deal loan attached to your property will impact on its future saleability, for many homeowners it may be advisable to look at alternative ways to fund any energy efficiency measures."
In theory, anyone selling their home who has taken advantage of the Green Deal can pass on the outstanding loan amount to a new buyer. But effectively that will mean the new buyer having to pay more for the cost of heating their home than they need to, until the outstanding cost of improvements is repaid to the energy firm.
There are 45 different types of improvements available under the Green Deal, and households in England and Wales could also qualify for cashback worth more than £1,000. Active measures, such as lighting, reduce the amount of energy you use, whereas passive measures, such as insulation, prevent heat from being wasted.
Cost savings can be considerable. Cutting back on wasted energy will also help the environment. This is crucial in the battle against global warming. Shamefully, Britain's ageing buildings are among the least-energy efficient in the world, and account for 38 per cent of the UK's total greenhouse gas emissions, according to government figures.
So there is a general consensus across the energy industry and government that improving the energy efficiency of homes is the best way to tackle the growing problem of people being able to afford to heat their homes while dealing with growing concerns about the environment.
But the Coalition's plans appear to be woefully inadequate in actually cutting the number of homes in fuel poverty, where the cost of heating a home takes up a tenth of a householder's income.
The Government's impact assessment estimates that Green Deal will lead to 125,000 to 250,000 households being lifted out of fuel poverty by 2023. But that's nowhere near enough, said Michelle Mitchell, charity director general at Age UK.
"The Government's target of lifting just 250,000 households out of fuel poverty over the next 10 years is tantamount to trying to bail out a sinking boat with a teacup; in the last month alone another 300,000 households have joined the ranks of the fuel poor," she pointed out.
It is estimated that some nine million households could fall into fuel poverty by 2016 while six million households are already in fuel poverty.
The closure of the previous Warm Front scheme means there is now no government-funded scheme to tackle fuel poverty.
In effect, the Coalition has transferred responsibility for the fuel poverty problem to energy companies. "That displays a serious failure of government to get to grips with the issue," said Ms Mitchell. "The price of energy will continue to rise for the foreseeable future, so effectively insulating our homes against heat loss is the only way to help consumers to pay their bills and stay warm," she said.
Age UK believes money raised from new carbon taxes of around £4bn a year over the next 15 years should be used to overhaul the energy efficiency of the UK's housing stock, as other European countries are doing.
"To meet the size of the fuel poverty problem, only investment on this scale would offer a lasting solution to the scourge of fuel poverty," said Ms Mitchell.
If you do want to find out more about how you can take advantage of the Green Deal, you can get free advice by calling the Energy Saving Advice Service on 0300 123 1234 or by visiting www.gov.uk/greendeal.
If you apply, an assessor will be sent to your home and will make recommendations about improvements that may work for you. You'll then be expected to get quotes from approved Green Deal providers and once the quote, and the repayment plan, is agreed, work can start.
Complaints can be taken to the Energy Ombudsman Service on 0330 440 162 or www.ombudsman-services.org
Join our new commenting forum
Join thought-provoking conversations, follow other Independent readers and see their replies