Digital can pay off for charity
Social media is a potential source of funds to good causes, but few make the most of it.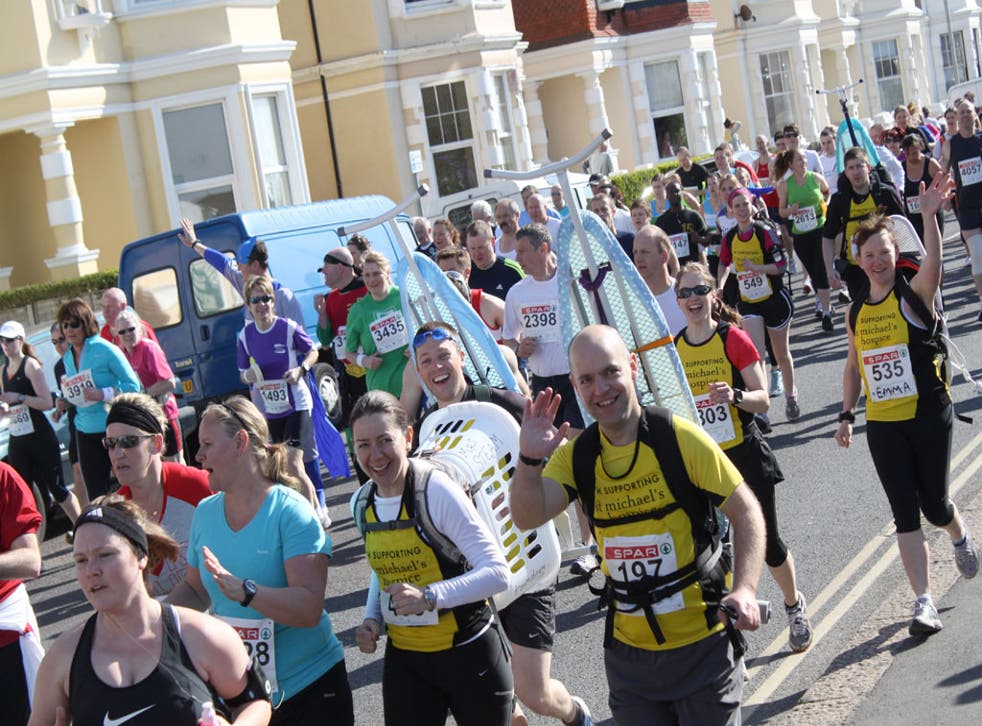 When Phil Szomszor decided to run the Hastings Half Marathon in memory of his beloved mum, Brenda, he used his knowledge of social media to maximise donations to St Michael's Hospice, a local charity that cared for her in the last weeks of her battle with cancer.
The 38-year-old digital marketing consultant, who lives in Welwyn Garden City, launched a website (www.teamsteam.org) to raise awareness, set up a page on JustGiving.com to receive money, and used Facebook and Twitter to update supporters.
And he certainly had a quirky story to tell, having persuaded eight friends to join him in tackling the demanding, 13-mile hilly course with ironing boards strapped to their backs, stopping off along the way to press a few shirts, to the delight of the crowd.
"A website provides a good focal point to tell the story around a fundraising effort and we wanted to explain how the challenge would work, write blog posts and display the promotional video," he explained. "However, although the website was useful, the most effective tool was Facebook."
His regularly updated Facebook page acted as a reminder to those pledged to sponsor, as well as a medium through which to thank those who donated, either on an individual basis or as part of a daily round-up.
"The idea was to make the campaign as personal as possible," added Phil. "It's the human interest side that really gets people putting their hands in their pockets – as you saw recently with the Claire Squires story."
It's an excellent point. The reaction to the tragic death of 30-year-old fundraiser Claire, who collapsed in the final mile of last month's London Marathon, was nothing short of remarkable, with her JustGiving.com page in aid of the Samaritans being inundated with donations.
With Gift Aid taken into account, the amount received in her memory has now soared past £1m, with money continuing to pour in from people touched by her story, according to Anne-Marie Huby, JustGiving's co-founder and managing director.
"Facebook and Twitter drove an extraordinary amount of traffic to our site," she says. "The story began with Claire's friends and family making initial donations, and then people who had watched or run the marathon, and then their friends of friends started piling in as well."
Ms Huby believes the situation illustrated the growing importance of social media – particularly Facebook – in the world of fundraising. In fact, around 40 per cent of JustGiving's traffic now comes from the site, and more than £27m has been raised on it via referrals from that social network.
There's little doubt charities need all the help they can get. The tough financial times, employment uncertainty, funding cuts, and the sheer number of good causes vying for attention, means all conceivable fundraising possibilities need to be examined.
For example, a recent report from the National Children's Bureau (NCB) entitled Beyond the Cuts warned that a significant minority of those working with young people may be forced to close in the face of a £405m statutory funding loss over the next five years.
However, despite the obvious benefits of using social media to raise both awareness and much-needed financial help, the fact is that relatively few individuals and causes are making the most of the opportunities opening up to them. A number of reports published over the last few years have highlighted the fact that charities are yet to fully embrace new media, and that remains the case today, according to Rachel Beer, a fundraising expert who runs the specialist consultancy Beautiful World (www.hellobeautifulworld.com).
"There are woefully few charities using digital media really effectively for fundraising, in many cases because they lack infrastructure, expertise or time, due to restricted budgets," she said. "There's also a reluctance to invest in new, untested media, because it is less easy for charities to predict what the returns will be. This makes it difficult to make a case for investment."
However, there are some encouraging signs, according to Tom Lodziak, digital media manager at the Institute of Fundraising, who suggests there is evidence charities are increasingly using new media in their fundraising attempts.
In fact, YouGov research commissioned by the Institute earlier this year found that 15 per cent of the public had made a one-off, online payment to a charity between October and December 2011. By any measure this is encouraging and hopefully the start of a stronger trend.
Chris Allwood, senior product development manager at the CAF, agrees, but points out that most charities still view social media as a way to engage people who may then subsequently choose to make a donation, whether on or offline.
"Charities are investing very heavily in Facebook and Twitter content by employing people to keep their profiles up to date," he said.
"However, social media and online generally is still not yet a significant source of funding for charities."
The challenge for causes will be how best to use social media techniques, according to Cath Lee, chief executive officer at the Small Charities Coalition. Organisations need to revisit their mission statements, she suggested, and be clear about their ultimate aims and objectives.
"Charities realise there is value to using it to raise profile, recruiting volunteers, getting their message out and potentially raising money, but don't necessarily have the time or skills to implement a strategy," she said.
Mr Lodziak believes mobile phones and text donations will play an increasingly vital role within online fundraising, pointing out that a lot of charities have already signed up to JustTextGiving.
"With the ease of online giving, one-click gifts/donations based on impulse decisions will gain popularity over large annual contributions," he said.
Ms Beer agrees that mobile technology will play a vital role, especially in light of the rise of smartphones and tablets, and hopes charities begin to take digital channels as seriously as they do other forms of media to help fundraising activities.
"They will also need to focus on the media their donors, fundraisers and potential supporters use – and that will be increasingly digital," she said.
Fundraising: Quirky ideas worth a look
Kiva – peer to peermicro lending
It works with microfinance institutions on five continents to provide loans to people without access to traditional banking systems. www.kiva.org
Pennies – round up after purchase
Enables shoppers to donate a few pennies in private when they pay by debit card, credit card or electronically. It is just one button on the chip and PIN machine in-store, or one click of the mouse online. www.pennies.org.uk
Guess 2 give – bet and give on your friends' sponsored event
A sweepstake can be set upfor your event in which friends pay £3 to guess the result.Of that money, 50p from eachof the guesses is put into aprize fund and up to £2.50 (inc. Gift Aid) goes to charity. Whoever guesses closest to the result wins the money. www.guess2give.com
Join our new commenting forum
Join thought-provoking conversations, follow other Independent readers and see their replies