Employees will be able to request flexible hours in drive to make workplaces family friendly
From next week employees will be able to request changes to working hours. Rob Griffin weighs up the options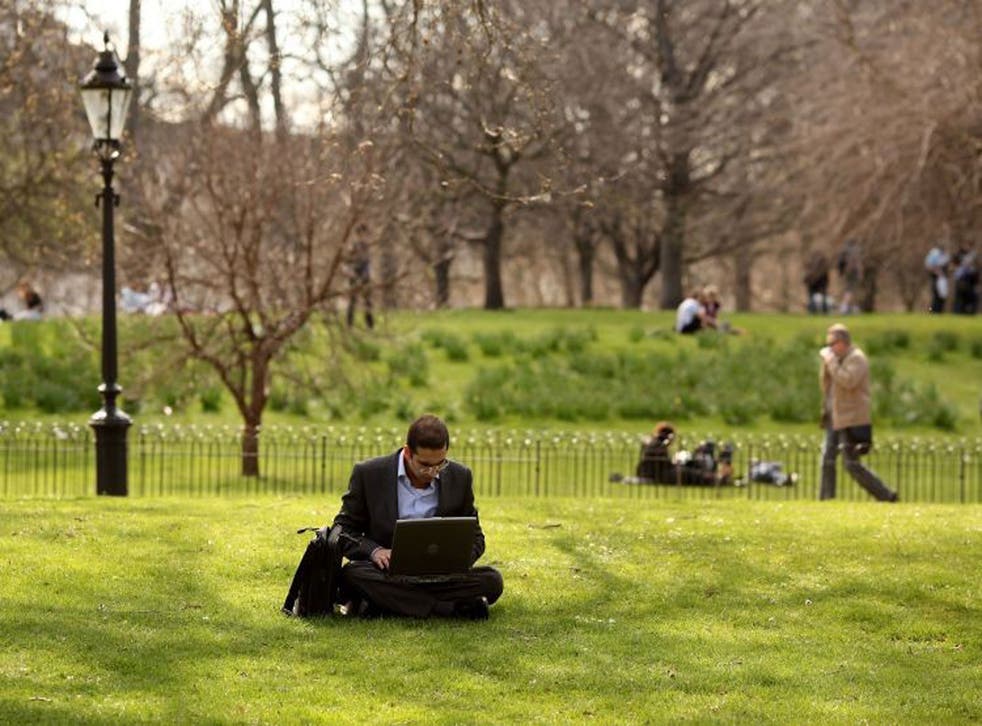 This is an important week for anyone craving greater freedom in their working lives. From Monday all employees will be able to request flexible hours thanks to a government drive to make workplaces more family friendly.
The move will give individuals the statutory right to ask their bosses to change their contractual terms and conditions of employment in favour of a more flexible approach – provided they have clocked up at least 26 weeks' continuous service.
Some may want to modify their day to fit around the school run or even share the job with someone else. Others, meanwhile, could be pushing to work from home or compress their weekly hours into four days in order to take every Friday off.
Previously this "right to request" only applied to the parents of children under 17 (18 in the case of parents of disabled children) or to those caring for an adult, but it is hoped that extending the regulations will encourage firms to explore the options.
Employers who introduce flexible working achieve tangible improvements to their recruitment, staff retention and overall employee relations, according to Jennie Willott, the minister for employment relations in the Department for Business, Innovation and Skills.
"For employees the benefits of flexible working are obvious," she says. "A better chance to strike a balance between work and other commitments, a better work-life balance, and a greater sense of being in control of your working life."
The extension of the legislation is significant but it's important to recognise that it's only a right to request flexible working and not an automatic entitlement, points out employment lawyer Philip Landau of Landau Law (www.landaulaw.co.uk).
"Employers are required to consider requests objectively and in a reasonable manner," he explains. "They must notify the employee of their decision within three months of the request being made, unless an extension is agreed."
Employees must make their request in writing, setting out the date of the application, the change to working conditions they are seeking, and when they want it to take effect.
"They must set out what effect they think the requested change would have on the employer and how, in their opinion, any such effect might be dealt with," he adds, pointing out it's a statutory request and should give details of previous applications made. The employer will then be expected to hold a meeting with the employee to discuss the request.
"An employer must provide clear business reasons for any rejection."
Reasons can include the burden of extra costs, the detrimental effect on the ability to meet customer demand, an inability to re-organise work among existing staff, negative impact on quality and an insufficient amount of work during periods the employee proposes to work.
It is estimated that around 7.4 million people aged 16-plus – out of a workforce of more than 30 million – currently enjoy flexible working arrangements, according to analysis of data from the Labour Force Survey compiled by the Office for National Statistics.
A survey by Jobsite, the online career portal, has found that two thirds of the workforce would request flexible working if they were given the opportunity. The study found spending more time with children was the most popular reason cited.
It also revealed that 53 per cent of British businesses are still unaware of the changes, while of those that are aware, 25 per cent admit they haven't thought about the impact it could have.
It is hoped the move will encourage more businesses to follow the lead of innovative firms such as Create.net, a Brighton-based website design company, that offers all its staff flexible hours and even allows some to work from home. It requires employees to be in for the core hours, but allows them to decide how to make up the rest of their contracted time.
Rebecca Kimber, Create's chief executive officer, admits having flexible working arrangements in place relies on trust but says the policy has been a success: "It allows people to work when they are most productive as not everyone is a morning person and some work best in the early evening," she explains. "Also, an employee might be on a project that would benefit from longer hours one day and shorter hours the next."
The policy also reflects workers' lives. "We have quite a young workforce, so providing the ability to start slightly later avoids someone coming into work really early if they have had a late night and just sitting at a desk, not being ready to work," she adds.
Flexi-time was one of the key attractions for Benjamin Parry, 34, when he applied for a job at Create; it enabled him to solve childcare issues with his wife without the stress and potential cost of making alternative arrangements.
"Having a three-year-old who attends nursery up to three times a week means that there is additional travel time added to my day," he says. "The flexible arrangement enables me to share the responsibilities with my wife."
Flexible working won't be perfect for everyone, points out Tracey West, founder of International Downshifting Week, an awareness campaign designed to help people slow their pace of life. "If you enjoy the security that fixed employment offers, flexible working might not suit you, or your body clock," she says. "But if you're the type who can polish an important project in the wee hours, grab it with both hands."
So what constitutes flexible working? The term can be defined as any arrangement that is better suited to an individual's needs, whether they need to do the school run, want to avoid commuting every day, or be in the office at different times of the week.There is no exhaustive list but here are some of the most popular options:
Part-time working: Part-time hours are agreed to fit around someone's circumstances, such as needing to start work later each day.
Flexi-time: There will generally be core times during which an employee will have to work, but outside of these they will have flexibility to choose when they work the other hours.
Job-sharing: A popular arrangement. Typically, two employees will share the work usually completed by one.
Working from home: Another popular option. The rising use of the internet has meant it's easier for people to work away from the office – and avoid the boring commute.
Term-time working: Ideal for parents. An employee will be able to take paid or unpaid leave during school holidays in order to cope with childcare demands.
Staggered hours: This enables workers at the same place to have different start and finish times. This is regularly used as a way to cover longer opening hours.
Annual hours: The number of hours an employee works over a year are calculated and then split into set and reserve shifts, worked as required.
Compressed working hours: The agreed total hours worked in a week are compressed into fewer days. This means longer shifts, but fewer office days in the office.
Shift-working: Necessary for the emergency services, for example, where workers will be needed round the clock.
Case study: 'I've changed hours to what works'
Rebecca Shula, 32, loves her flexible life. She is contracted to complete 29.5 hours over four days as a health and safety coordinator for EDF Energy in Hove – but doesn't work set hours each day.
"Generally I do two long days and two short days, but every day can be different depending on what I need," she says. "My husband also works at EDF and has a slightly different flexible arrangement."
Not wishing to use child-minders was an incentive to applying for EDF's work-life programme, which champions flexible working arrangements.
"My two children go to school and preschool, and because of the arrangements we have, either my husband or I are always able to do the school run, both at the start and end of the day," she explains. "That's really important to us."
In fact, she can't think of any negatives with the arrangement. "I've been really lucky that when I've come back from maternity leave I've been able to adapt and change the hours to what works for me and the nursery," she adds. "My advice to someone thinking of applying for flexible working would be to think carefully about what would truly work for them."
Join our new commenting forum
Join thought-provoking conversations, follow other Independent readers and see their replies