Energy prices climb as fuel poverty soars
The cost of heating homes is up by an average 7 per cent this winter as more and more people can't afford bills.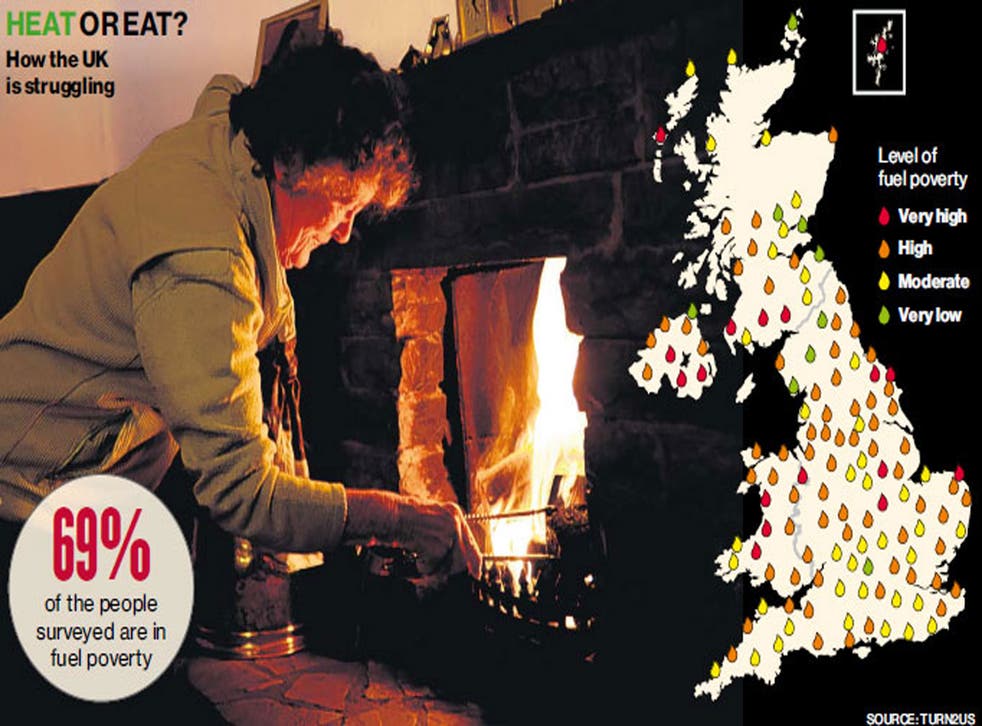 After energy minister Ed Davey pledged to fight rising household gas and electricity bills at Monday's Fair Energy Summit, an interactive, online map has revealed the full nationwide scandal of fuel poverty.
The map, put together by Turn2us, part of national charity Elizabeth Finn Care, was created by asking people their income and energy costs. More than 2,800 completed the map to build an alarming picture of a nation beset by fuel poverty. Over two-thirds of those who filled in their details are in fuel poverty.
More than one in five spends 30 per cent or more of their income on energy. That's a massive chunk of their available money taken up with essential heating and lighting their home.
Alison Taylor, director of Turn2us said: "We are hearing some very distressing stories from those who are being hit hardest."
Meanwhile, the number of people who die at winter unnecessarily was 24,000 last year.
Michelle Mitchell, charity director General at Age UK said: "Cold homes – caused by a number of factors including high energy costs and poor insulation – have a devastating impact on older people's health, and are a major cause of excess winter deaths."
She pointed out that those living in the coldest homes are three times more likely to die a preventable death than those living in warmer ones. On top of that, Age UK reckons it costs the NHS around £1.36bn to treat the casualties of cold homes each year.
At Monday's Fair Energy Summit – arranged by The Independent and Policy Review Intelligence – Mr Davey demanded that the energy companies play their part in tackling the growing shame of fuel poverty, after a report by the Government's Fuel Poverty Advisory Group suggested 300,000 more people could fall into the fuel-poverty trap by Christmas.
But Phil Bentley, UK boss of British Gas, said at the summit that government, too, must play its part.
"The better targeting of winter fuel payment would, alone, make a significant difference in helping to tackle fuel poverty," he claimed.
But EDF Energy stole a march on its rivals on Thursday by sending rebates out to more than 100,000 elderly customers as part of its pledge to support those most in need.
Under the scheme, the beneficiaries will see their prices matched to the company's Blue +Price Promise September 2013 fixed tariff, meaning they'll get a rebate worth an average of £47 this winter.
Martin Lawrence, managing director at EDF said: "We believe this is the right thing to do."
Such moves are welcome, but Gavin Hayes of Policy Review Intelligence said that there needed to be greater agreement between government and energy companies to ensure fair energy prices for consumers and an end to fuel poverty.
He called on them to sign up to fair energy commitments including obliging companies to offer customers the best tariff available. He also said the Government should commit to ensure that all taxes raised from energy are spent on energy, to make sure they are appropriated and used fairly.
When it comes to fuel poverty, Mr Hayes called on all energy companies to adopt the same wide criteria for the £130 warm home discount and actively encourage their customers most in need to apply for it.
He also agreed with British Gas' Phil Bentley that targeting the £200 winter-fuel payment would be a more effective way of assisting households most in need.
Join our new commenting forum
Join thought-provoking conversations, follow other Independent readers and see their replies