Forget estate agents...why not buy a home at an auction?
You could get a property with a difference and pay a lot less for it when the gavel falls, as Chiara Cavaglieri reports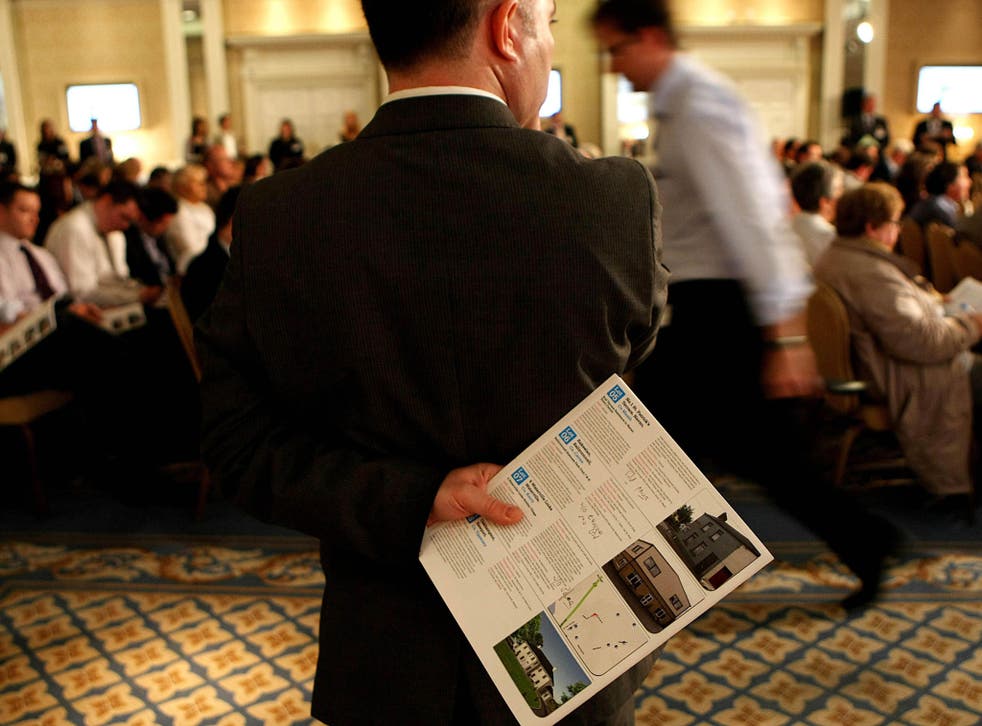 Buying property has become a stressful prospect in some parts of the UK with fast- rising prices and a growing trend for gazumping and sealed bids. Most house-hunters turn to estate agents and property websites which list the vast majority of homes for sale, but could you find a better deal at auction?
Buying at an auction house has some serious benefits, not least because there is no property chain and once the gavel falls neither party can back out. But with the traditional route there is typically around 12 weeks to wait after an offer has been accepted before contracts are exchanged, during which time you can be gazumped by another buyer or the seller can change their mind.
Many people go down the auction route because they are on the hunt for cheaper, quirkier properties and buildings in need of renovation work. You can usually find a much wider selection of property types than you would normally get through an estate agent - for example, many councils use auctions to offload properties. Owners might also be in a rush to sell and therefore willing to accept a lower offer than they would otherwise. If you're really lucky and nobody else is interested in the same property as you, it could be yours on the first bid.
Karelia Scott-Daniels of Manse & Garret Property says that properties typically sell for around ten to 20 per cent below market value: "Buying at auction is not possible for many people who are already in the housing market because you need to put down a deposit on the day, typically ten per cent of the price. It is however a great way for first-time buyers to buy something below market value where they can add even more value through renovation."
The first step to buying at auction is to request a catalogue featuring the properties up for sale, along with information and guide prices for each lot. The auctioneer and the vendor work together to agree on a guide price (which is usually set low to try and stimulate interest) and a confidential reserve price (the minimum price which the vendor will sell at). It's a good idea to sit in on a few auctions first to get a feel for the process and atmosphere.
You need to get your finances in order before auction day, so if you're getting a mortgage you need an agreement in principle from your lender. You may even want to get buildings insurance lined up because you are liable for any damage as soon as your bid is accepted. Don't forget to include stamp duty and any fees in your calculations – you may need to pay a buyer's premium on top of the hammer price and there is an administration fee of around £150 to pay the auctioneer.
Your solicitor should also ask for a legal pack from the auctioneer. This will include details of the property's entry on the Land Register and any other environmental and local authority searches. But you also need to check for any special conditions which could seriously impact the cost, for example you may be required to pay the seller's legal fees.
If you do find a property that you want to bid on, be realistic about the price it might fetch. Auctions are becoming more popular, and as there is a general lack of stock coming to market more buyers and investors are widening their searches to auction houses.
Never forget that if you put in a winning bid you are legally obliged to see the purchase through. The timing is both part of the appeal to buying at auction and a potential headache – successful bidders must put down a ten per cent deposit on the day and then, generally, they have only 28 days to complete the transaction.
If you're not paying in cash, by far the biggest peril when buying at auction is the fact that mortgage lenders are not contractually tied to you. So, although buyers are legally obliged to pay up once the gavel falls, the bank can pull the finance the day before completion which could mean you lose your deposit if you can't arrange another loan in time. Similarly, if you overbid and there is therefore a gap between the lender's valuation of the property and the price you pay on the day, you will need to cover the shortfall from your own pocket.
With so much at stake, it's more important than ever to put your own safeguards and checks in place.
Adam Lewczynski from chartered surveyors London Property Investments says: "It's down to the buyer to carry out his own due diligence which I believe should include a survey, valuation and thorough investigation into title, leases and other issues usually carried out by a lawyer. In reality, however, few buyers want to spend thousands of pounds carrying out the survey, valuation etc in case they are not the successful bidder".
At the very least, go and visit any properties you like the sound of (the catalogue will usually mention allotted viewing times closer to the auction date). Never bid on a home you haven't seen because any number of things may not be mentioned in the catalogue. If the building looks like it needs a lot of work, a structural survey will uncover hidden problems that could cost you an arm and a leg later down the line.
On the big day itself, read the "addendum sheet" very carefully as this contains details of any alterations to the original catalogue listing – be warned that changes could be as major as a correction to the number of bedrooms! Once the auction is underway, do your best to stick to your maximum bid and try not to get carried away.
"Psychologically, auctions can encourage recklessness, and mistakes can be made," says Jo Aldridge of Stacks Property Search. "If the result is a rather tatty second- hand designer coat, you can put it down to experience. But the pain involved in making a bad property buying decision is less easily forgotten."
Tips
Get started by looking at property auction databases such as eigroup.co.uk and propertyauctions.com
Contact the auction house to request their catalogue. Research previous auction sales for similar properties to gauge demand and value.
Ask your solicitor or conveyancer to carry out the usual searches/title checks and arrange an inspection of the property (this will be done through your lender if you are taking out a mortgage).
If you are going to bid on a property you need to register and bring along two forms of identification as well as your solicitor's details if you have appointed one.
Arrive early so that you have time to ask any questions. Check jargon at auctioneers.org/glossary.
Above all, set a price limit and stick to it!
Join our new commenting forum
Join thought-provoking conversations, follow other Independent readers and see their replies