How shops make you spend: The subtle art of the savvy retailer revealed
'A third extra for free', gift sets, recommendations for a present for Grandpa - just some ways to make you pay more than you intended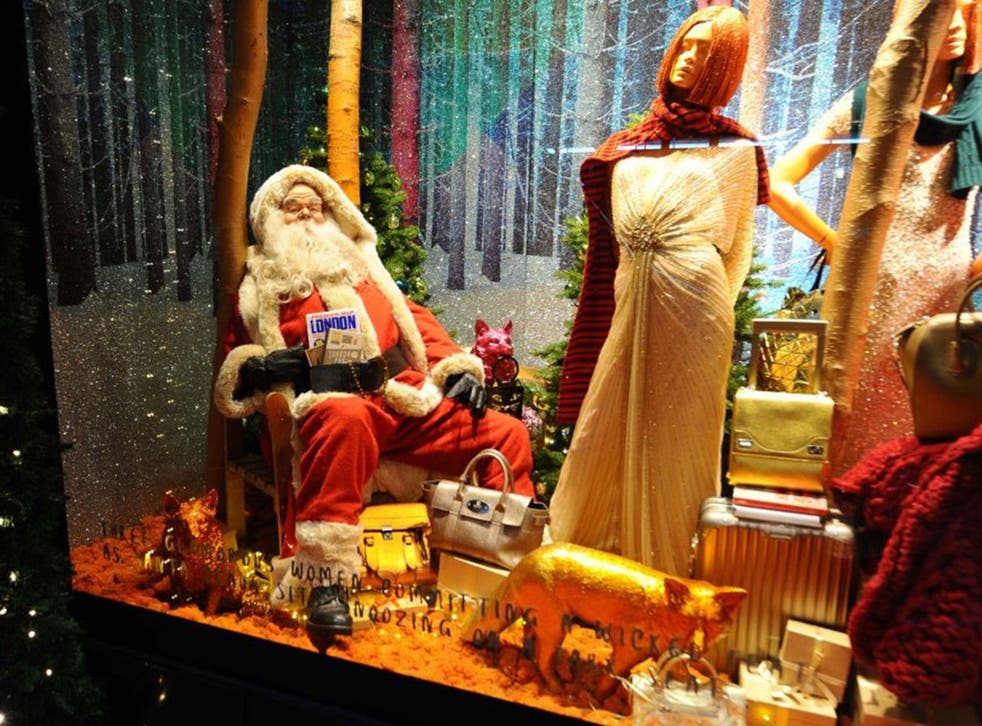 Shopping can be fun, can't it? Wandering around high- street stores gazing at the bright things on offer can be a delightful way to while away an hour or two. You may be tempted, but you can walk out without buying a thing.
Or can you? Not if the retailers have their way. If you leave a shop without buying, they'll have failed. Sainsbury's was recently caught out when a hapless worker wrongly hung a sign in the window exhorting staff to persuade customers to spend more.
The poster said: "Let's encourage every customer to spend an additional 50p during each shopping trip between now and the year end." But the tricks they use are usually more sophisticated than that.
And as Christmas, the biggest shopping spree of the year, approaches, retailers will be ramping up efforts to make you part with your hard-earned. If you know what to expect, you'll be able to spot the tricks and concentrate on buying only what you want, rather than walking out with what they hope to flog you.
Michael Sheridan is the founder of the global retail design agency Sheridan & Co, which has offices in London, New York and Shanghai. He has worked with some of the high street's biggest names, such as Selfridges, Harrods and House of Fraser.
"I've worked with brands all over the world and regardless of target audience or product, upping sales during the season of goodwill is the holy grail of retail," he says. "Through our work, we spend a lot of time putting ourselves in the place of the consumer. When you basically go shopping for a living, you learn a thing or two about the psychology of retail and the techniques used to seduce us into spending."
It's a highly developed science which gets its reward in boosting footfall – the number of people who go into shops – and spend, especially at Christmas. Last year, the average UK household spent an estimated £822 on Christmas, according to a YouGov survey, a £54 increase on 2012.
This year a further increase is anticipated with the KPMG/Ipsos Retail Think Tank predicting that "strong employment, improving job security and resilient consumer confidence will drive demand through to Christmas".
With shoppers prepared to dig a little deeper during the festive season as the economy continues to improve, it's no wonder retailers will be looking to encourage us to increase the amount we spend with them in the run up to the big day.
"There's no Christmas miracle involved, it's more about subtle little touches that the average shopper fails to notice," Mr Sheridan reveals. "However, when you take a step back and consider how these elements work, it's clear that we're all a little bit susceptible to 'Magpie Syndrome' and being drawn in by anything we perceive to be shiny and new."
Here he lets us in on retail secrets to help make us savvier shoppers this festive season.
Gift sets
Gift sets are a staple for many retailers at this time of year, particularly in the beauty and fragrance sector; they prompt many shoppers to snap one up for a loved one.
But are they simply a convenient way to buy two or more gifts, or a subtle retail trick?
"Every element of a gift set is designed to create a higher perceived value, in keeping with the often-inflated price point," Mr Sheridan says. "You only have to look at the packaging to see this, with designers going to town with techniques such as embossing, foil effects and varnishes all helping to create a premium feel."
It all adds up to giving shoppers the idea that they're getting a great deal more for their money. In the average fragrance gift set, for example, you could find eau de parfum and perhaps a body lotion to enhance that feeling, but some elements are often no bigger than a sample size.
"We're also seeing a new trend for 'fill your own' gift sets across all sectors, including beauty products, food and drink hampers and even crackers, which are all designed to make us 'trade up' and ultimately spend more," he adds.
"My advice with any gift set? Take the time to price up the individual elements first, to make sure you're getting the bargain you think you are…"
Retail theatre
A trend that came to the fore last year, and that will be back with a bang for 2014 is themed in-store events, he says.
"Last Christmas, this was particularly prevalent in department stores, from John Lewis and its much hyped 'Hare and Bear' tour, to my personal favourite, the acclaimed Giffords Circus performing twice hourly shows in a specially created big top in Selfridges, in London's Oxford Street, throughout December."
While the spectacles help create a festive feeling and keep the family entertained, remember there's an ulterior motive, Mr Sheridan warns.
"With happy shoppers proven to spend longer in store, these special events are designed to increase our dwell time and up our average spend.
If you look at the child-friendly events in particular, with the kids busy creating Christmas crafts, we have more time to browse and are likely to spend a little longer doing so, as we don't have impatient little ones snapping at our heels."
Time-saving gift sets
Stores are capitalising on the fact that most of us have very little free time at Christmas.
In-store gift-wrapping services were once just reserved for premium stores, but it's now being offered throughout the high street. However, the convenience factor comes at a cost and can add an extra £5 or more to each gift.
Mr Sheridan advises: "Break down the cost of the individual elements and ask yourself if spending 10 minutes battling with the Sellotape and sticky bows is really that bad."
The personal touch
These days retailers – whether in-store, online or through catalogues – like to segment their products into "gifts for him" and "gifts for her". It's all part of their subtle way of pushing shoppers towards certain items.
"This year they seem to be taking it a stage further and guiding shoppers even more when it comes to deciding what to buy for whom," says Mr Sheridan.
"Look at boots.com, for instance. We can now browse recommendations for boyfriends, girlfriends, sons, daughters, grandma and grandpa.
"Capitalising on the fact that Christmas is all about family, we're prompted to think about other relatives and buying gifts for them. In short, by offering us convenience and personal/sentimental family triggers, we are prompted to buy more."
Giving us more
At Christmas, shoppers like to feel like they are getting a gift too, Mr Sheridan points out. "Everyone wants a prize, which is why offers such as 'Three For Two' are big business at this time of year."
But interestingly, we hardly ever see Bogof – buy-one-get-one-free – in the run-up to the festive period. "This is because retailers want you to work a bit harder and spend a bit more to get the freebie.
"They want us to go in to buy one gift and be seduced into buying a second in order to receive something free. The trick is to ensure you attribute every gift you buy to someone so that buying that little bit extra is actually worth it."
The psychology of "giving you more" extends to supermarkets, with Christmas consumables being presented in larger pack sizes, offering "a third extra free" to draw in the thrifty. But are we really getting something for nothing?
"Take a step back and look at the offer logically," advises Mr Sheridan. "Let's say a supermarket offers a third off a turkey. You'd be happy to get a bigger bird for the same price that you planned to spend.
"Then you continue shopping, knowing that you've got more bang for your buck. However, to go alongside the bigger turkey, you're going to need extra veg, extra stuffing and extra cranberry sauce.
"Suddenly, the saving isn't as great as you thought, and the supermarket actually ends up making back more than the initial discount through your increased spend."
Join our new commenting forum
Join thought-provoking conversations, follow other Independent readers and see their replies