Pack a free overdraft as you head off to university
Student cash has rarely been tighter, so a good current account is a must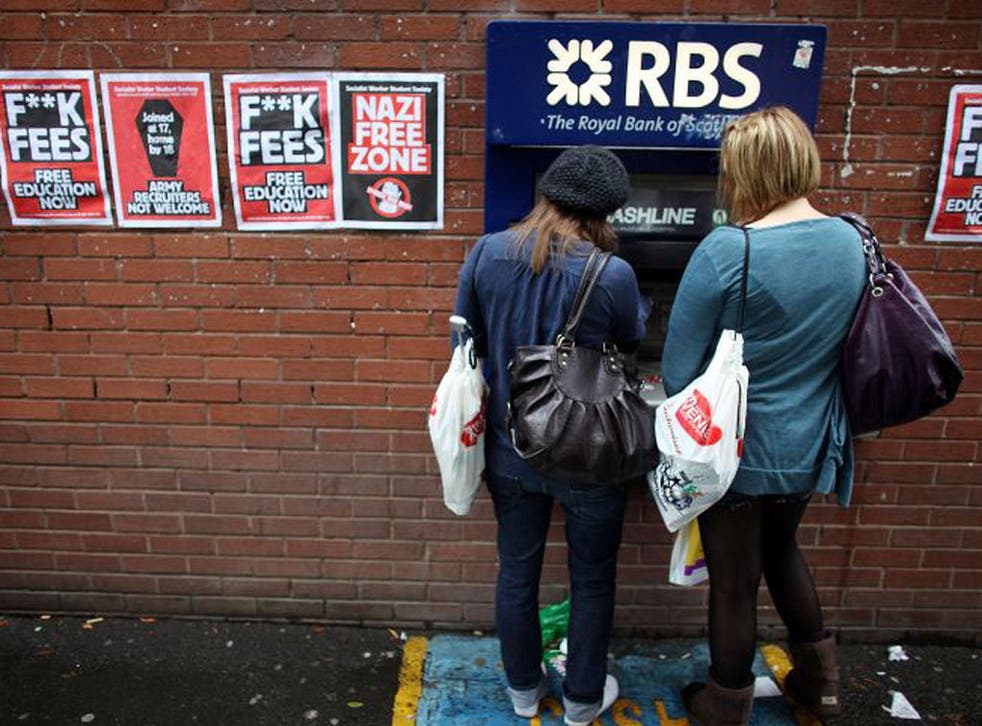 With the new tuition fees up to a staggering £9,000 a year this year, a decent bank account is a must for students heading to university in the coming weeks. The good news is that the banks are falling over themselves to bag freshers, but with a host of enticing freebies and discounts on offer it's easy to be distracted from getting the best deal.
Aside from varying interest-free overdrafts as standard, unlike a standard current account, only one student account can be opened. So, you can forget about opening up half a dozen accounts to milk all the extras on offer.
Hoping to get in early and secure a loyal customer base, the banks up their game for students and this year Santander is giving away £50 cash, NatWest a four-year 16-25 railcard worth almost £100 (for existing customers only) and Lloyds TSB a free NUS Extra card for three years as well as £75 off holidays booked with student specialists STA Travel.
Extras may be a welcome bonus, but don't let it be the deciding factor. The overdraft is the big one so think twice before opting for a student account with a paltry overdraft, such as Bank of Ireland which offers only £400 at 0 per cent for the first year, or Clydesdale Bank and Yorkshire Bank which don't offer free overdrafts at all.
"Interest-free borrowing is the number one priority," says Andrew Hagger, a personal finance analyst at Moneycomms.co.uk. "The crucial element of a bank account for the majority of students will be the ability to borrow funds as cheaply as possible".
One of the most generous accounts is available through the Co-operative Bank allowing a £1,400 interest-free overdraft in year one, £1,700 in year two and £2,000 in the final year, on the proviso that you pay in your student loans and don't incur charges.
Always ensure that you are comparing like for like because some banks advertise overdrafts "up to" various impressive amounts, but unless it is guaranteed, you may be offered a poorer deal in reality.
HSBC, for example, offers a 0 per cent overdraft up to £3,000, however, the initial fixed overdraft is a lowly £500 and you must then request further increases with no guarantees as to the full amount. Lloyds offers a fee-free overdraft up to £1,500 in year one but again this starts at just £500 for the first six months at which point you can apply to increase it to £1,000 in months seven to nine and up to £1,500 in month 10.
"Interest free overdrafts aren't what they once were, though most of the major banks will still offer between £1,500 and £2,000. Both HSBC and Halifax offer overdrafts of up to £3,000, although if you want the full amount you'll need to apply for it – success is not guaranteed," says Oliver Brann, the editor of Studentbeans.com.
Most of our banks sting customers with hefty fees for going beyond their arranged limits so a larger overdraft is a welcome safety net over three years. Even with a decent overdraft, you need to know exactly how much it will cost if you do go into an unauthorised overdraft because mistakes happen and money could be tight. The charges and fees vary widely from one bank to another but Santander is up there charging £5 a day up to maximum £50 per month and Halifax punishes its students with 24.2 per cent for unauthorised borrowing.
If you do need to exceed your free limit, it is always better to contact your bank and try to formally arrange an increase to that limit. On the student accounts available this year, that would reduce the amount you had to pay to 3.5 per cent from 9.9 per cent and some banks may even allow an extension to your free limit.
If you're one of the lucky, but few, students with a decent credit balance don't leave it in your student account as most pay little or nothing on credit balances. The exception here is HSBC which is offering 2 per cent on the first £1,000 for year one, but this is still poor compared to the savings rates you can secure instead such as 2.95 per cent with the Post Office on your whole balance.
"You may also have strong ethical views when it comes to your bank account, in which case The Co-operative Bank will win hands down on this front when compared to the established high-street banking giants," says Mr Hagger.
Practically speaking you only need a Ucas confirmation letter of either a conditional or unconditional offer to open a student account so you could open one up before the start of term and start benefiting immediately.
Crucially, remember that while you may not be able to hold more than one student account at a time, you are still free to review it and switch if necessary in your second or third year if a better account comes along.
Whichever student account you opt for, the ultimate aim should be to pay off the overdraft before you are in any danger of being charged any interest.
"Many students will end up relying on the overdraft facility to make ends meet between loan payments, so securing one with a decent limit is crucial. However, students should ensure they can realistically pay back any money they borrow from the bank," says Kevin Mountford, the head of banking at MoneySupermarket.
Some banks will automatically move you on to a graduate account when you finish university, NatWest, for example, gives you three years to pay off the full amount before they start charging you interest, but others will start charging you as soon as the three years are up.
Join our new commenting forum
Join thought-provoking conversations, follow other Independent readers and see their replies