Rare metals: Beware the scam call that could cost you the earth
'Boiler room' conmen used to peddle worthless shares. But now they are selling rare metals like – believe it or not – yttrium. Tony Levene reports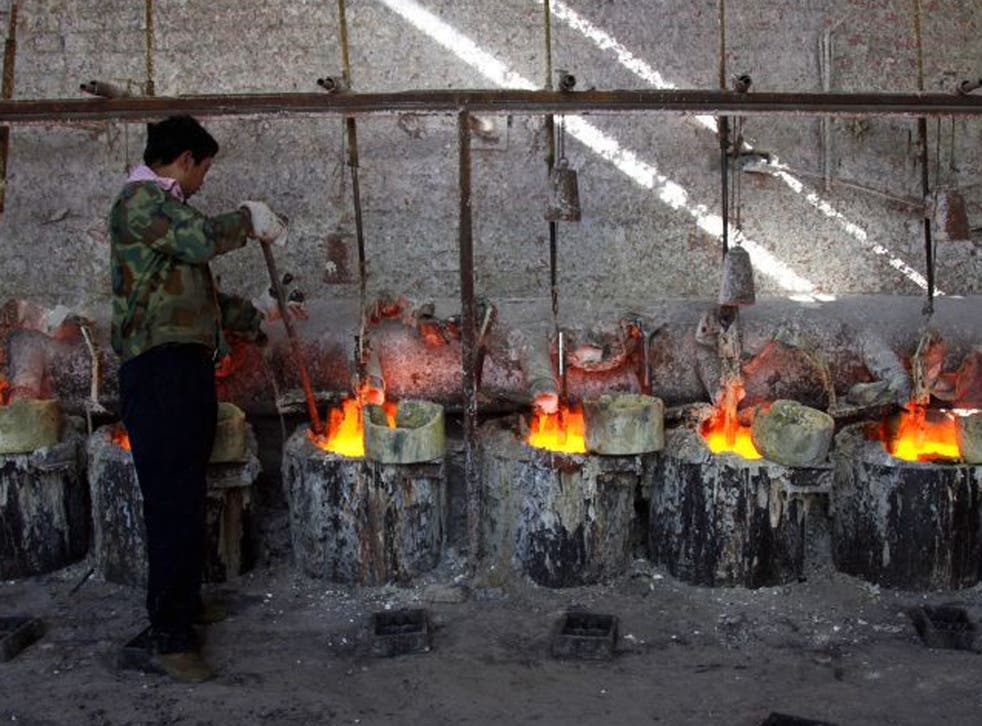 The decision to answer your phone could potentially cost you thousands, particularly if the caller is from a firm offering the latest in get-rich-quick investment products. It used to be shares in unlisted companies that were the hallmark of these cold calling firms, working in so-called "boiler rooms."
But in recent years these firms have branched out into selling land or wine which supposedly has the potential to enjoy considerable growth but would prove subsequently worthless or fetch nowhere near the price paid. The sales pitch is always the same – get in now and the growth could be huge – but it's all unregulated, highly risky and trades on ignorance.
And there is one new type of investment being sold by these boiler room companies. A Midlands firm, for instance, is phoning investors offering a so-called "green energy bundle", For £6,744, buyers receive a kilo of dysprosium, a kilo of yttrium, and two kilos each of lanthanum and neodymium. And they are told these metals will move up sharply in value. But few have any idea of what these strange-sounding substances are or, more importantly, how to value and sell them.
All are, however, on the science lab periodic table of elements. They are among the 17 "rare earth elements" or "rare earth metals".
The Financial Services Authority says rare earth elements sales by unregulated UK firms is the latest scam. It warns: "Firms promoting these investments have often previously been involved in other high risk unregulated products such as carbon credits, landbanking, wine and whisky and overseas land and crops. They use high pressure sales tactics, targeting vulnerable and novice consumers."
Late last year a London meeting of creditors heard how many unsuspecting investors had already lost substantial sums in one such firm. There are around 25 to 30 similar companies – none of which needs FSA regulation – operating in the UK.
The £6,744 "bundle" came from a firm set up last September. The elements it sells are neither for energy nor green. Nor are they "rare", they are common but difficult to purify from ore. Their extraction causes pollution so most are mined and refined in China where environmental standards can be lower than in the West.
In minute quantities, they are essential in smartphones, computers, televisions and fibre optic communications systems, as well as windscreen wiper motors and wind turbines.
Using scripts similar to each other, sellers who cold call, send spam emails – often via legitimate sites – or advertise online, stress the elements' rarity, their necessity in electronics, growing demand and a fast increasing price.
If the salesperson thinks the investor is "sophisticated" he will say returns are "uncorrelated" with stocks and shares – they will go up irrespective of equity or bond prices.
The metals may be irreplaceable in industrial applications but the FSA says: "We have yet to see any convincing evidence that there is a viable market for investors to make money." While metals such as gold, lead or copper are traded worldwide with transparent values, rare earth prices are not available – dealing is in private between refiners and users.
But there is only "broad brush" information on specialist websites. Assuming the metals are standard 99 per cent purity and not oxides, the £6,744 "bundle" is worth approximately £900 – down from around £1,700 last January, and equal to a 7.5 times mark-up.
"Even if someone gets the elements as described, there is no effective market, and no smartphone or laptop maker is going to seek you out to buy a kilo or two," says Jonathan Phelan, the head of the unauthorised business department at the FSA. "These are industrial metals which are bought and sold by specialist firms."
Mr Phelan adds: "As with landbanking and carbon credits, these investments are unregulated so it is part of a long-running narrative about unscrupulous sellers side-stepping the rules.
"There was one exceptional £45,000 investment, but most start off around £5,000 to £10,000."
Working with fraud officers and the Insolvency Service, the FSA has had some success in recovering money from previous sales of unregulated products. "But it is only a proportion. People have lost a lot of money and we can't give any reassurance or comfort to past or future victims," says Mr Phelan.
"We don't regulate metals – it is up to the government to legislate. However, our role includes being concerned about consumers putting money at risk. And we inform other government agencies which scams are bubbling up."
The FSA has a warning notice about scams on its website, and Mr Phelan says: "Deal only with financial services firms authorised by us. That gives access to the Financial Ombudsman Service or Financial Services Compensation Scheme if things go wrong. With an unauthorised firm, you have no protection."
Tricked out of £45,000
Joanna Blyth (not her real name) lost £45,000 in a rare earth elements scam. In early 2011 Joanna, 36, from Bradford, inherited a substantial sum.
Wills are public documents so her details were "data-mined" and sold to investment firms. In August 2011, she was cold called by an unregulated wine company and invested about £5,000. Her details were then sold on as a "warm prospect". One tried to sell her carbon credits. Then, in August 2012, she was cold called by Rare Earth Metal Exchange Ltd based at a City of London mailbox.
It convinced her (and others) of 20 to 35 per cent gains. She invested £45,000 and was told rare earth metals "will see a sharp rise over the next 12 months." Last month the firm went into liquidation, and its total debts could top £1m.
Joanna bought dysprosium, used in magnetic applications, and was promised five one-kilo packages. Only one materialised. But even if all had been delivered, her metal would only have been worth about £3,500 – assuming she could find a buyer.
Martin Cronshaw of Yorkshire-based Wilsons Solicitors has advised Joanna. He said: "Salesmen used high-pressure tactics but as soon as she wanted to contact them she was unable to find them."
Join our new commenting forum
Join thought-provoking conversations, follow other Independent readers and see their replies