Tax change lays foundation for self-build boom in UK
Infrastructure levy exemption will make it cheaper for extreme DIYers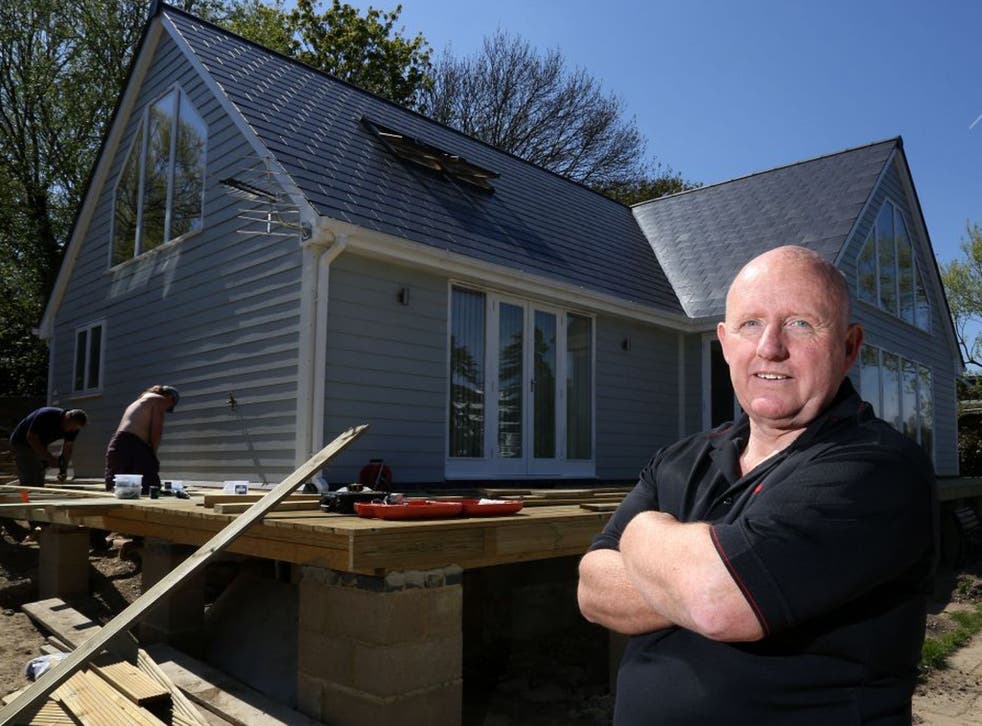 Building your own home is a brave move but the step is slowly gaining popularity in the UK. The Government is pushing new measures to make it a more mainstream option and this weekend marks the start of National Self Build week, set up to encourage aspiring homeowners down the DIY path. But is it really a viable option?
We still lag well behind our neighbours – only 10 per cent of the UK's new homes are self-builds, compared with around 50 per cent in other European countries – but this gap could soon close with plans to make self-builders exempt from a tax that used to apply to all buildings over a certain size. Relief on the Community Infrastructure Levy (CIL) will be for homes built or commissioned by individuals planning to live in their home as owner-occupiers. The potential savings would be significant as the charge typically adds 10 to 15 per cent onto build costs.
Self-build projects can take different forms including co-housing schemes, developer-led projects and cheap eco homes. Finding the right plot and wading through the planning process are the first major hurdles but you can get in touch with estate agents and landowners directly, or have a look through online portals such as PrimeLocation and Zoopla. Specialist agencies such as Plotfinder.net and PlotBrowser.com are a big help in finding out what land is available and at what sort of price. You should also look into buying a smaller house on a large plot which is in need of renovation that you can knock down to start again.
"My number one tip for self-builders is to be flexible and willing to take on the ugly duckling – you have to remember that you are often seeing the plots at their worst, but they could be transformed with a really nice house," says Jason Orme, editor of Homebuilding & Renovating.
You will need a sizeable amount of cash to get started, although self-build mortgages are available, typically from building societies lending directly, or through BuildStore (which also lists agents selling plots of land). The number of lenders in this market has shrunk since the credit crunch and those that remain have strict criteria but you can usually borrow up to 75 per cent of the land and 60 per cent of the build costs. Pay outs are in five or six stages and the lender may want to send round a valuer at each stage to assess how much the property is worth before releasing more funds.
You will need to show you have a realistic budget in place, which takes into account all the potential costs involved, from the build and the land, right through to fees for labour and an emergency fund for the not-so-unexpected extras. A project manager will increase your spend but it could appease lenders if they are concerned that you won't finish on time and to budget. It's also important to consider where you will live while the work takes place and how you will finance both homes.
You may find that self-build simply isn't a practical option but you rearranging an existing property instead may turn out to be cheaper and faster than starting from scratch.
But self-build can be surprisingly affordable. There is no VAT to be paid on new builds and the house is likely to be worth much more than it cost to build. Your bills could be cheaper too if you build a more sustainable home with top-notch insulation and energy-efficient features such as heat pumps.
Another clear advantage to self-build is that you can design the house that you want, although think twice about designs that are too quirky or individual as this could be an issue if you want to sell in the future.
When it comes to the build, one hassle-free approach is to use package companies who construct your home from kits, whether timber and oak frame, or traditional brick and block. They usually offer the design, labour, construction and materials as part of a fixed price contract, but you may have to compromise on the design and features and you will be dependent on the skills of their in-house designers. You will also need to make a sizeable upfront payment.
"Limiting your own input invariably means paying for someone else's – this is not a cheap alternative, but it might be cost-effective," says Michael Holmes from The Southern Homebuilding and Renovating Show.
Otherwise, you will need to hire an architect to draw up the plans and other professionals such as a structural engineer and quantity surveyor. Always negotiate over fees and be wary of fees linked to a percentage of the construction cost because it will then be in their interest to keep the overall bill high. Once you're happy with your design you need to submit it for planning permission which takes up to 12 weeks for approval, but this is a good time to line up and get quotes from sub-contractors such as an electrician and plumber. The independent website PlanningPortal.gov.uk offers lots of advice and guidance on how to make this process as simple as possible.
You can employ a main contractor to run the building site for you, which will cost 10-30 per cent on top of labour and materials, depending on the local market. You benefit from their experience, their access to local contractors and discounts on materials that you may not be able to replicate yourself.
"Many self-builders who go down this route view the main contractor's margin as money well spent to avoid the stresses of running a building site day to day," says Mr Holmes.
If you're up to the challenge, you can be your own project manager, but you need to be prepared to deal with everything from deliveries and ordering materials, to paying tradesmen and hiring toilet facilities. Once you own the land you are also liable for any accidents to workers so you will need to arrange insurance. Lenders will usually insist that liability insurance is in place before work begins.
"Don't be seduced by TV programmes that make building projects look easy," says James Greenwood of Stacks Property Search. "Don't think you can mastermind it yourself – surround yourself with a good team including architect, project manager and builders. Ensure you, and everyone on the team, agree as to where responsibilities start and finish."
'We saved about £30,000 by begging and borrowing from friends and family'
Building a new two-storey home Staines, by the Thames last summer – the wettest on record – was a challenge, but one that Bill Jenkins, 58, a software company director and his wife Angie Jenkins, 55, a school bursar, are glad they took on.
With £50,000 in savings and a £400k mortgage through Build Store and Bath Building Society, the couple spent £250,000 on the build. They approached self-build company Potton for design help and getting planning permission, but they took on a lot of the internal work themselves including plumbing and insulation.
"The largest expense on any build is the labour so the more you can do yourself by begging and borrowing from friends and family, the more you will save. I reckon we saved about £30,000 doing a lot of it," says Bill.
The home, valued at £1.1m, was worth all the pressure Bill adds: "Every night Angie and I walk through our front door, look at each other and say 'we did this' – we absolutely love it and it is our home for life."
'We saved about £30,000 by begging and borrowing from friends and family'
Join our new commenting forum
Join thought-provoking conversations, follow other Independent readers and see their replies