Winter deaths: the true cost of spiralling energy bills
The great switch on begins as critics warn energy costs are up by as much to 21 per cent since the radical move to limit bills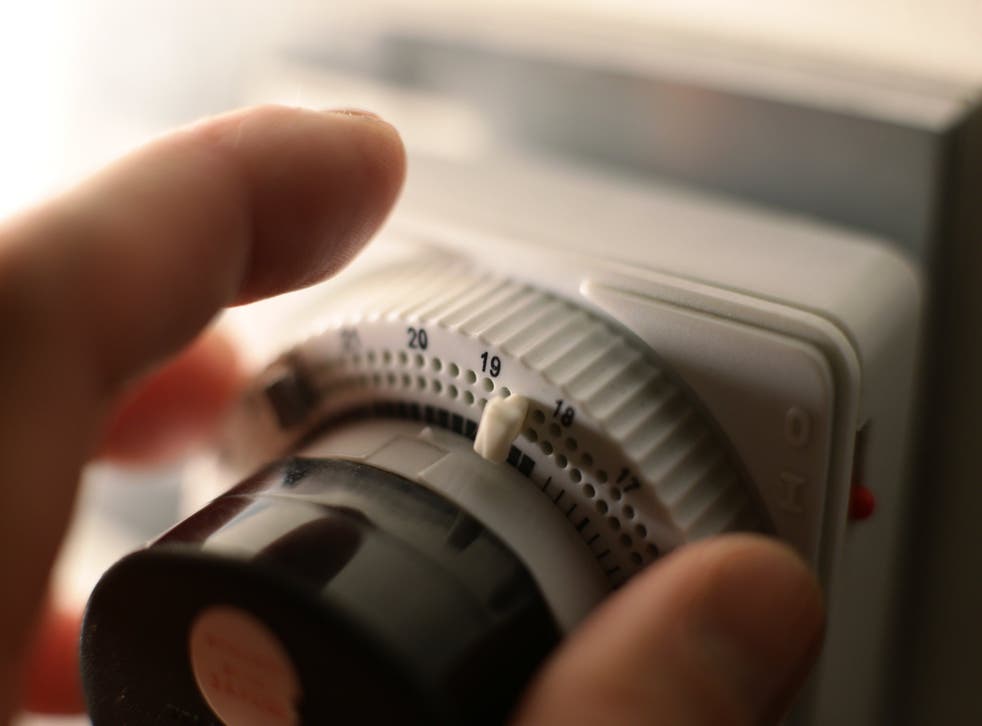 Saturday 27 October may or may not be an immediately significant date in your house but it's the day millions of us start sliding helplessly into the clutches of extortionate charges at the hands of a small group of massive companies.
Why? Because it's the day the average home flicks on the heating.
And after 18 months of relentlessly rising energy prices, this weekend – as the clocks go back and temperatures plummet – could be the start of the most expensive winter for years.
Overall energy prices have risen by 6 per cent over the last year and more than a third of Britons – about 9.5 million households – will delay switching on their heating for as long as possible in a bid to save money, according to new survey data.
"Since the latest round of energy price increases began in March 2017, the big energy companies have all raised their dual fuel standard tariffs at least once," notes Amanda Cumine from switching service weflip.
"According to the energy regulator, Ofgem, the average yearly household energy bill is now £1,194. And yet millions of loyal energy customers are still stuck on their providers' most expensive tariffs – where they could be paying around £352 a year too much."
In fact, households on the big energy suppliers' default tariffs would have to postpone switching on their heating by 18 days this winter if they wanted to keep their energy bills in line with last year. Those same households would need to brave the chill until mid-December to keep their energy bills level with those on the best fixed energy prices.
But as reports declare that the UK has one of the worst rates of excess winter deaths in Europe, in large part because thousands of people can't afford to heat their homes, critics warn that the latest energy price cap plans have simply given the Big Six a target to aim for when it comes to bumping up those paying less than the £1,136 limit.
Ofgem, the energy watchdog, recently announced new restrictions on the maximum amount energy companies are able to charge dual-fuel customers paying by direct debit alongside prepayment and vulnerable customers. The move, which comes into effect this winter, is designed to save a total of 11 million customers currently paying the most expensive bills about £75 a year.
But since the announcement of a cap on energy prices, most energy providers have increased the price of their cheapest tariffs by 21 per cent, according to data from Moneysupermarket.
The 30 best annual dual-fuel tariffs on the market are on average £178 more expensive than the cheapest 30 were in May, rising from £864 to £1,042.
Only four of 89 tariffs are now available for under £1,000 per year.
"When Ofgem announced that they were implementing a price cap, it was immediately apparent that a cap was a defunct solution for the scale of the problem," says Jane Lucy, chief executive and founder of The Labrador, an energy tracking and switching service.
"Price caps promote lethargy and consequently make consumers mistakenly believe that they are getting the best deal, when this is not the case. To hear that many energy providers have increased the price of their cheapest tariffs by 21 per cent succeeding the cap should not come as a surprise.
"We cannot simply introduce a cap that limits peak pricing. A range of cost options need to exist to promote a truly competitive industry that protects the loyal, the savvy and the lower income families. The only way we can ensure a competitive market is not solely with a price cap, but by enabling customers to switch energy providers with ease."
Since the energy price cap was introduced…
British Gas increased its standard variable tariff for the second time in October, rising prices by 4 per cent, making a typical dual-fuel bill £1,205 a year.
EDF raised its standard prices for the second time in August to take its typical standard dual-fuel bill to £1,228 a year
E.on pushed up its standard prices by 4.8 per cent in August making its typical dual-fuel bill £1,208 a year
Npower hiked its standard variable tariff by 5.5 per cent in June; the typical dual-fuel bill is now £1,230 a year
Scottish Power hiked its standard tariff for the second time in October by 3.7 per cent, increasing the price to £1,257 a year
SSE raised its prices by 7.8 per cent in July. Its standard tariff is now £1,196 a year
Source: The Labrador
Join our new commenting forum
Join thought-provoking conversations, follow other Independent readers and see their replies