Pakistan shuts key border crossing with Afghanistan after guards exchange fire
Officials say Pakistan has closed a key border crossing with landlocked Afghanistan after border guards from the two sides exchanged fire
Riaz Khan
Wednesday 06 September 2023 13:50 BST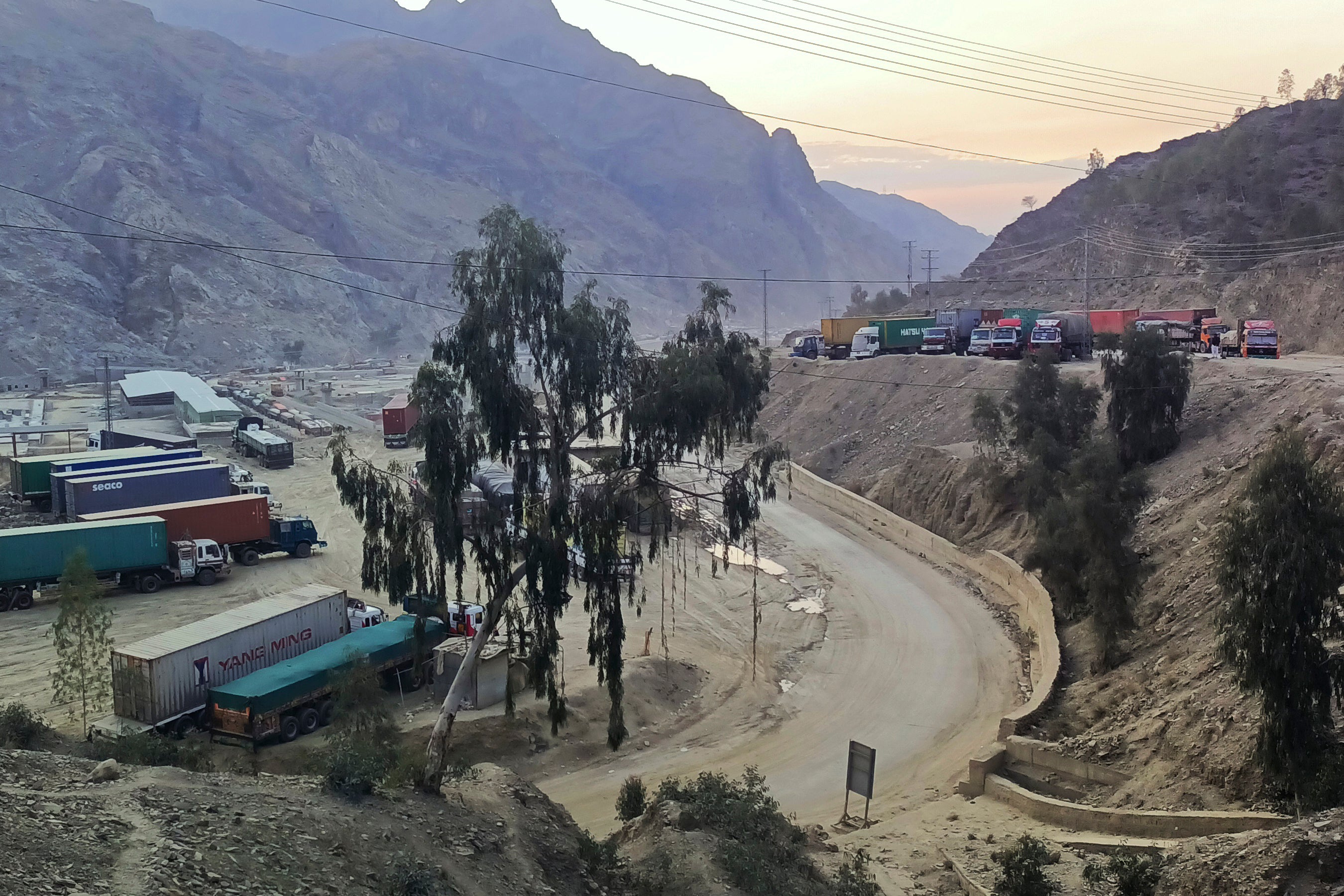 Pakistani authorities closed a key border crossing with landlocked Afghanistan on Wednesday shortly after border guards from the two sides exchanged fire, officials and residents said, in a sign of increasing tensions between the two neighbors.
Reasons why the two sides exchanged fire were not immediately made clear, said Nasrullah Khan, an official in Torkham, a town in Pakistan's Khyber Pakhtunkhwa province.
He said Pakistani government and military officials were in contact with their Afghan counterparts to defuse tensions.
Abdul Mateen Qani, the Afghan Taliban-appointed spokesman for the Interior Ministry, confirmed the clash between Afghan and Pakistani forces. He said officials from both sides were attempting to find out what caused the clash and ways to prevent such incidents in the future.
Pakistani authorities said dozens of trucks carrying perishable items, including vegetables and fruits, were waiting on both sides of the border for the reopening of the Torkham crossing, which is a vital commercial artery and trade route to Central Asian countries for Pakistan.
The border closure comes two days after caretaker Pakistani Prime Minister Anwaar-ul-Haq Kakar said U.S. military equipment left behind during the American withdrawal from Afghanistan had fallen into militant hands and made its way to the Pakistani Taliban.
The Pakistani Taliban, known as Tehrik-e-Taliban Pakistan, have intensified attacks over the past months on Pakistan security forces. They are a separate group but an ally of the Afghan Taliban.
The Afghan Taliban overran Afghanistan in August 2021 as U.S. and NATO troops were in the last weeks of a chaotic pullout from the country after 20 years of war.
The Pakistani Taliban have released statements and video clips in recent months claiming they possess weapons such as guns with laser and thermal imaging systems.
Torkham witnessed previous clashes in February and the town remained closed for several days after the two sides accused each other of trying to build new posts along the border in February.
According to the Pakistan-Afghanistan Joint Chamber of Commerce and Industry, the clashes at the time caused millions in losses to traders whose perishable goods were ruined.
Afghanistan has never recognized the porous border that runs through the Pashtun heartland and dilutes the power of Afghanistan's largest ethnic group on both sides.
Pakistan says it has completed fencing along 97% of the border to stop cross-border attacks and smuggling. Pakistan also accuses the Afghan Taliban of providing sanctuaries to Pakistani militants who are living in Afghanistan.
Also on Wednesday, a mortar hit a house near the Afghan border, killing five Pakistanis— a mother and her four children. It was not immediately clear who fired the mortar and police officers were still investigating, local authorities said.
Currently, Pakistani security forces are carrying out intelligence-based operations against insurgency in the region. Militants often fire mortars to target security forces deployed in the region, and it has caused civilian casualties as well in recent years.
In November 2022, the Pakistani Taliban ended a monthslong cease-fire with the government in Islamabad, ordering its fighters to resume attacks across the country.
—-
Associated Press writer Rahim Faiez contributed to this story from Islamabad.