Greek debt crisis: Alexis Tsipras speaks to 25,000 at 'No' rally in Syntagma Square, urging voters to deny 'those who terrorise you'
25,000 people attended the huge rally outside the Greek Parliament, while a rally of 'Yes' supporters took place just a kilometre away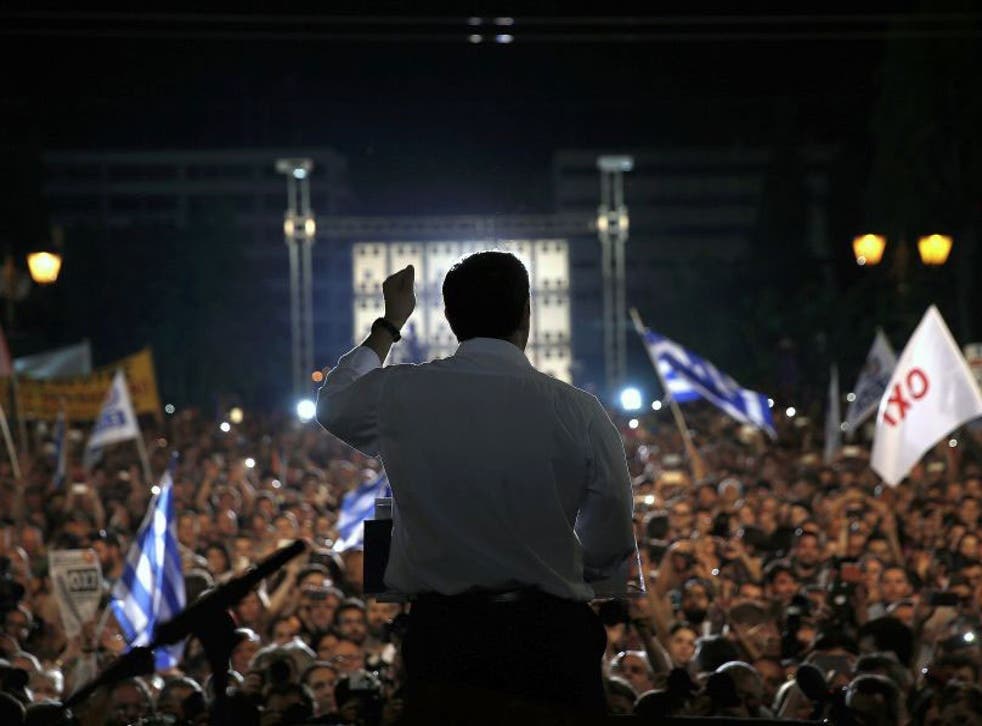 Syntagma Square in Athens has once again played host to a huge political rally of 25,000 people supporting a 'No' vote in Sunday's referendum.
Greek Prime Minister Alexis Tsipras addressed the crowd, urging them to vote 'No' in the referendum and to stand against "those who terrorise you".
Despite the huge numbers of people, there was little violence and disorder - however, there were a handful of small scuffles throughout the day on various marches, during which police shot tear gas and stun grenades at small groups of protesters.
Things were peaceful during the final rally in the square, which sits in front of the Greek parliament building.
At the same time as the massive rally, a much smaller opposing one was held only a kilometre away, at the white marble Panathenaic Stadium, which lies on the opposite side of the National Garden, a park in the centre of the city.
There were fears of possible clashes between some members of both rallies, but there was little trouble, possibly due to a tight security presence.
At the 'Yes' rally, supporters sang Beethoven's 'Ode to Joy', the anthem of the European Union.
Speaking to the crowd from a podium in the square, Tsipras told the 'No' voters that Sunday's referendum, in which the Greek people will decide whether to accept or reject Greece's proposed bailout and associated public spending cuts, was a "celebration of democracy".
He said: "On Sunday, we are not just deciding that we are staying in Europe, but that we are deciding to live with dignity in Europe."
His words were greeted with cheers and chants of "No", as he told voters to "say a proud no to ultimatums and those who terrorise you."
In pictures: Solidarity protest for Greece in London

Show all 7
Polling shows that public opinion is tightly split between the two sides.
A 'No' vote would show an opposition to austerity, and would turn down the offer of a bailout from Europe and the International Monetary Fund, which carries with it a requirement for cuts in government expenditure and other money-raising plans. However, Eurozone leaders have warned that such a vote could result in Greece being forced to leave the Eurozone.
A 'Yes' vote would accept the creditor's demands, but it is thought that the government, led by the ruling radical left Syriza party, would resign. Greek Finance Minister Yanis Varoufakis has already said he will resign in the event of a 'Yes' vote.
Despite a flurry of attempted negotiations between Greece and the Eurogroup and other European financial bodes, the President of the Eurogroup, Jeroen Dijsselbloem, has said that there will be no further negotiations of potential offers, bailouts and compromises until after the referendum.
Join our new commenting forum
Join thought-provoking conversations, follow other Independent readers and see their replies