American Apparel: Never mind the sex scandal, Dov Charney wants his empire back
As the fashion chain careered towards bankruptcy, its founder and chief executive was fired for alleged misconduct. A year and a half later, he has investors on his side in a bid to buy his old company and be the boss again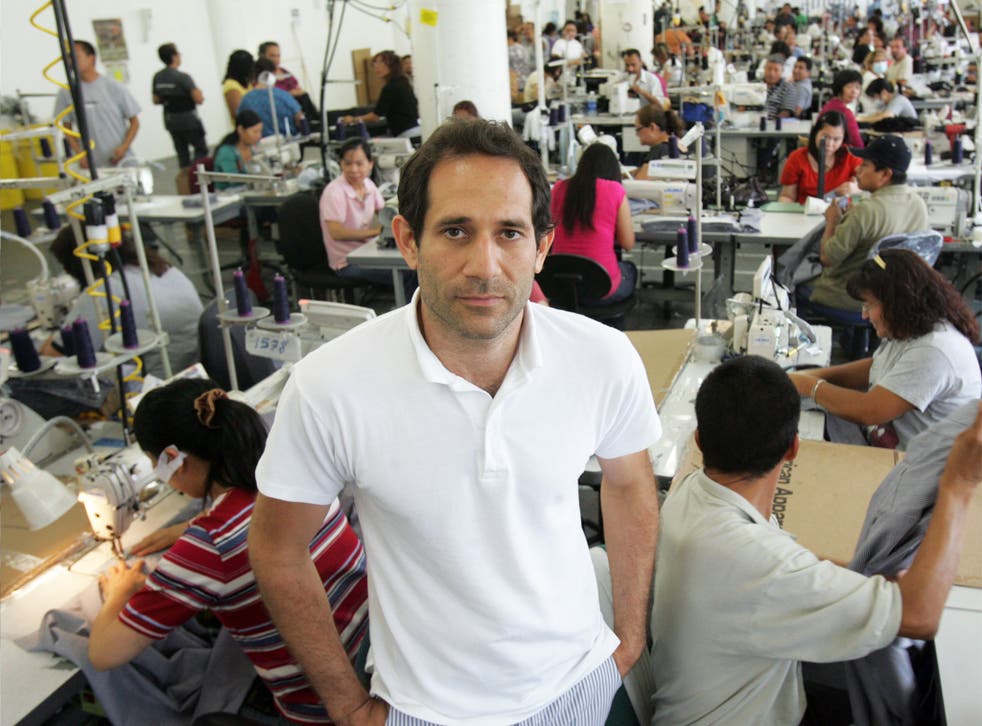 In the world of high-street fashion, just like catwalk fashion, it appears there is no behaviour bad enough to result in permanent exclusion.
Just a couple of weeks ago, a return to corporate life seemed unthinkable for Dov Charney. The Canadian-born founder and former chief executive of the fashion chain American Apparel – fired in June 2014 following serious allegations of misconduct – was rumoured to be so flat-broke that he was sleeping on a friend's sofa.
And yet here he is, backed by three investors and $300m (£210m) of new capital, trying to buy back the bankrupt chain and reinstall himself at the helm.
Mr Charney's new backers – three family-run investment companies that specialise in turning failing businesses around – believe that only he can return American Apparel to its former glory. He founded the chain of teen and young adult fashion stores in 1998, garnering a reputation for advertising that pushed sexual boundaries – which is ironic, given how his own downfall would eventually play out.
At its peak in 2007, the company was worth almost $3bn. However, the accusations of sexual misconduct were already in the pipeline. American Apparel settled a number of harassment suits filed against its chief executive, whose alleged conduct was considered lewd even by the bawdy standards of the fashion industry.
The allegations – including publishing nude pictures of employees online, sexting, dancing naked on stage at a company function and misappropriation of company funds – resulted in the board's unanimous decision to fire Mr Charney in 2014 and were detailed in US court filings last year. Mr Charney and his lawyers have vehemently denied any misconduct.
Lewd conduct by executives is nothing new and is readily forgiven if a company is still growing fast. However, American Apparel had long lost its magic touch with young customers, and a year after Mr Charney's ousting it was actively seeking a buyer to avoid bankruptcy. Its board still includes Lyndon Lea, the British investor and owner of Lion Capital, who initially backed Mr Charney but found himself increasingly isolated among directors who had stopped forgiving Mr Charney's indiscretions long before.
The board fired Mr Charney in suitably dramatic fashion during a meeting at the Times Square offices of law firm Scadden, Arps.
Having given an upbeat presentation of improving prospects, the board presented him with a termination letter. According to the news site Business Insider, the letter claimed Mr Charney "engaged in conduct that repeatedly put yourself in a position to be sued by numerous former employees for claims that include harassment, discrimination and assault".
American Apparel is currently in the process of an agreed bankruptcy exit plan under which bondholders would take full ownership of the company. Those bondholders, led by Monarch Alternative Capital, have made several turnaround pledges including a $40m credit facility. They must reach a decision on the new bid by 20 January.
Mr Charney's new backers appear much more forgiving, going so far as to claim that the allegations against him were little more than trumped-up acts of vengeance. Two of his backers have publicly offered their support: Hagan Capital Group, an Atlanta-based family investment company with an office in Mayfair, and the Connecticut-based Silver Creek Capital Partners. The third backer has, perhaps wisely, chosen to remain anonymous.
Such is the faith his backers have in Mr Charney's talents that an initial $200m offer for the company, made last week, was increased by half again to $300m on Monday this week. Speaking to the Bloomberg news agency, Chad Hagan, the managing director of Hagan Capital, said: "Dov is a manufacturing and fashion maven… any financier looking for a great opportunity would look to back him."
Mr Hagan, who lists civil rights among his non-work interests, added: "We are willing to be friendly and genteel, but the fact is that we want this company and we want Dov back in."
This is not the first time Mr Charney has attempted to regain control of the company he founded. He has twice found backers – Standard General and Irving Place Capital – only to fall out with both before making a formal offer. While finding investors to try to wrest control of his old company from beleaguered shareholders and bondholders, Mr Charney has also found time to launch a handful of lawsuits against the company and his accusers, most of whom are former employees. At least one allegation, that he held a former model captive, was proven to be false.
Business news: In pictures

Show all 13
Mr Charney's group of investors appear to believe that American Apparel's financial troubles, stalled growth and declining share price were the result of the board failing to back Mr Charney and eventually turning on him. However, the company was in trouble before most of the allegations against Mr Charney surfaced: having been worth $2.7bn in December 2007, it over-leveraged and encountered numerous supply problems. By December 2010 it was worth just $300m.
With almost $280m of debt and equity worth less than $7m, the new bid of $300m offers American Apparel's current owners little in the way of a premium. However, given the determination of Mr Charney's new backers to buy the business and reinstate him at the helm, getting out of jail free will probably be enough to win the battle. However, the war for the business is far from won, and customers and employees may not be quite so forgiving.
Join our new commenting forum
Join thought-provoking conversations, follow other Independent readers and see their replies