Black Friday: Helpful discounts for Christmas shoppers, or cynical marketing by desperate retailers?
Special report: The American invention is coming here, with experts predicting it will be the busiest online shopping day Britain has ever known. Brace yourself for consumer frenzy...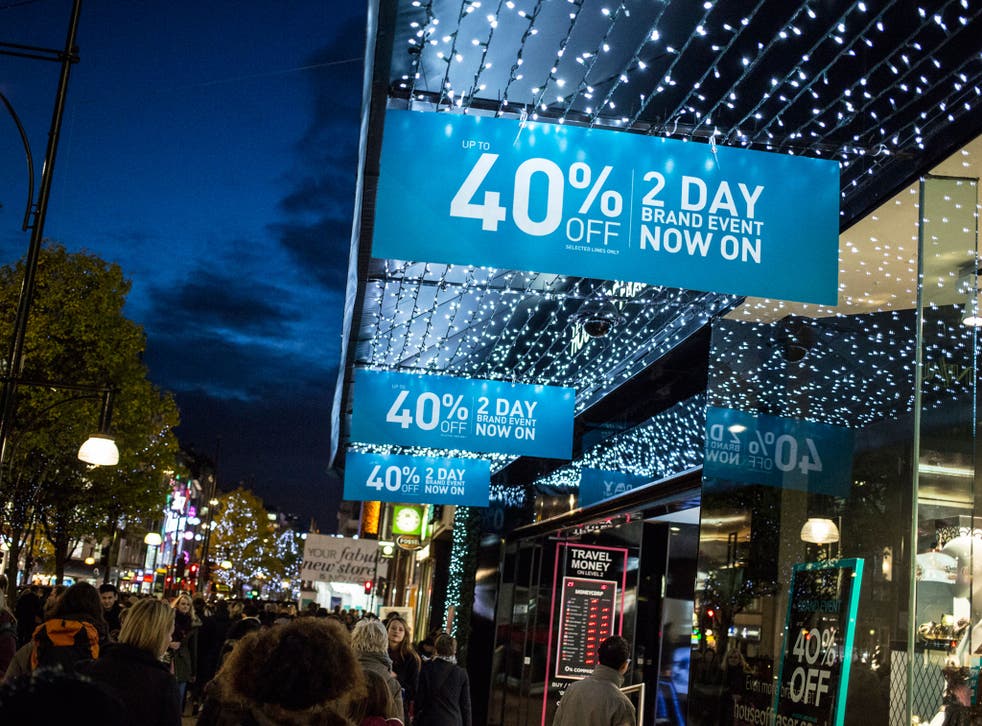 Black Friday is coming: be very afraid. People will get hurt. Zombies will stagger about the streets as a new kind of madness sweeps Britain. But on the plus side, you'll be able to get a big telly for next to nothing.
Black Friday is an American invention, a fake festival held the day after Thanksgiving, so that stores can open very early and crazed shoppers can fight to get their hands on massive bargains, sometimes with their fists, knives or guns. Now it is coming here in a big way, and experts predict that Friday will be the busiest online shopping day this country has ever known, with a million pounds spent on credit cards every three minutes.
Asda will lead the way on the high street as it did last year, when there were nearly riots over tablet computers being sold for £49 each. "It was like a pack of savages looking for a bargain," said one woman in Newcastle, where people had been queuing since five in the morning. "I felt ashamed to be English." Those tablets sold out in an hour, so this year everyone with something to sell wants to be part of Black Friday.
Black Friday: What you need to know

Show all 8
Sainsbury's and other big names are joining the craze for the first time, alongside Superdrug, Halfords and Dixons. Suddenly, in the course of a year, Black Friday has gone from a weird thing they do in the States to a phenomenon that 72 per cent of people in Britain know about, according to eDigitalResearch undertaken for Marketing magazine. Even traditional, family-run stores are feeling the pressure to take part. At Barsleys department store, in the small railway town of Paddock Wood in Kent, Richard Barsley is pondering what bargains to offer. "We have to keep up with what today's shoppers want."
But there is a warning from Michael Smith, of the counter campaign Buy Nothing Day, which is suggesting its supporters dress as zombies and stagger through stores chanting: "Buy, buy, buy! Brands, brands, brands!"
Thousands of people across the country will join him in refusing to buy anything at all in the 24 hours after Black Friday. The point is to resist relentless consumerism and stand in solidarity with those who have little or nothing, while 20 per cent of the Earth's population use up 80 per cent of its resources.
As for the bargains, he warns: "Only a few shoppers will bag a true bargain on Black Friday. Retailers are creating a frenzy by using impulse marketing techniques to dump unwanted stock on consumers who are being tricked into buying organised landfill."
There is evidence to suggest he is right, particularly with outdated electronics. But they can still be great bargains, if you are not bound by the tyranny of the new. So what are the stores up to?
Americans never start their Christmas shopping until after Thanksgiving anyway, so Black Friday evolved to give them a kick up the festive backside.
You might think we don't need that here, as the season seemed to start in August in some shops, but Stephen Smith, chief customer officer at Asda, says we are all three weeks behind in our thinking because of the nice weather we had in early autumn. Mr Smith is supremely confident that Black Friday will start the Christmas rush, telling Retail Week: "It is going to be bigger than ever this year and we own it."
We are slightly more willing to spend than in recent years, according to multiple research sources, although lots of us are still strapped for cash and need encouragement. Hence the full-on assault of the sentimental Christmas ads, with Sainsbury's winning the day by hijacking the First World War commemorations to give us an airbrushed but still touching recreation of a truce in the trenches.
John Lewis followed up last year's bear and hare with a slice of schmaltzy nonsense featuring Monty the Penguin. But the company takes a much more sombre approach to Black Friday, with an announcement on its website that looks like a death notice: "If our competitors have a sale, we have a sale," it intones, as if opening early on Friday was a regrettable public service. Never mind that when John Lewis tried out Black Friday last year it had its best online shopping day ever.
The American retailer Amazon pioneered Black Friday in this country, with a few online promotions in 2010. Now it is offering 3,000 bargains, beginning at 8am tomorrow. Does that mean it's Black Monday? No, not really. Customers have already been offered a "sneak peek" over the past few days, including the chance to buy a David Beckham aftershave set for a tenner.
Confused? Me too. So let's have a look at where Black Friday comes from, what it is doing here and what people are doing to counter it.
Some say this is the day when stores go into the black, having run at a loss all year. But the people of Philadelphia are convinced their traffic cops coined the phrase Black Friday some time in the late 1950s. It was used to describe the chaos on the roads on the day after Thanksgiving, when people went home, to a big sports match or to the shops. Storekeepers held sales to promote it as the first day of the Christmas season, and called it Big Friday. The name didn't stick but the sales did, becoming ever more extreme.
According to the rather odd website Black Friday Death Count, seven people have been killed and 90 injured during the sales since 2006. Among them is Walter Vance, a 61-year-old pharmacist who collapsed with a heart attack in West Virginia and was stepped over by shoppers intent on bargains.
They also include a man who was stabbed in San Diego last year, an 11-year-old girl who was trampled in Ohio, and a shopper who was shot in Las Vegas while carrying a television he had just bought in a sale. The website also lists the "stampede" at an Asda in Belfast, where a woman was sent to hospital with a suspected broken wrist.
Asda is owned by Walmart, an American company that must be pleased with the huge sales it enjoyed last year. But it would do well to consider the case of Woolworths, which brought the full-on American Hallowe'en experience to this country. At the turn of the century, we spent no more than £12m a year on Hallowe'en, a gentle, homegrown affair. Then a team from Woolworths went to the States and brought back 50 lines they thought might work. The supermarkets caught on. One buyer told me at the time that it felt as if they could put plastic fangs and monster masks on anything and people would buy them.
Over the next five years our Hallowe'en spend soared to £120m. Last year it was £330m, all because of Woolworths (although Harry Potter helped). Not that this did it any good: the company went into administration and closed the last of its stores in 2009. Asda, beware.
Down in Kent, the Barsley family is taking its own stand. The Barsleys store does not do Hallowe'en, stays closed on bank holidays including Boxing Day, and is open for just one Sunday a year, the week before Christmas. "I do believe it is important to know when to stop," says Mr Barsley, walking me through the building bought by his grandfather in 1903, where he has worked for 40 years. "Every year we seem to be pedalling a little faster, but what are we really doing beyond fighting the competition?"
Barsley's made uniforms during the First World War, then diversified into clothes, furniture, soft furnishings, kitchenware and toys until it was a department store, albeit one of modest proportions and traditional values. Mr Barsley would make a dapper Father Christmas with his neat white beard, but this is not a fuddy-duddy sort of place. It has just been refurbished. "We keep an eye on the competition but only use ideas that work for our customers."
The secret is that many of the staff have worked here a long time and have a personal knowledge of their customers, even the homes they live in. "If someone has a lovely settee they like and you take their address, it may be a matter of saying: 'Hmm, that's a little farm cottage. Will it get in the front door?' If you make the right sale, they will come back."
There's a T-shirt with a dinosaur that plays "Jingle Bells", near the front of the store, near the luxury shortbread, but Barsleys does not appear to be heading for extinction. Richard's daughter Alice, 27, encouraged her father to take part in Black Friday. Judge cutlery will go for a 70 per cent discount and discontinued furniture will sell at silly prices. But doesn't he really, secretly, think Black Friday is a lot of spurious nonsense? "What bit of advertising isn't, almost?"
That sort of attitude is why Michael Smith, a graphic designer from West Sussex, is the co-ordinator in this country for Buy Nothing Day, which began in America as a reaction to the kind of rampant commercialism embodied by Black Friday. Supporters will have Santa parades and set up swap-shop tables and Shopping Free Zones in high streets on Saturday, as well as dressing up as zombies.
The campaign went a bit quiet during the worst years of the recession, when people were buying less anyway, but became re-energised last year. Ironically, Black Friday is providing a boost. "It is a challenge to switch off from all that, even just for a day, but people do find it liberating when they try," Mr Smith says. "Sometimes you just have to say 'Enough is enough'."
That's true. And you can always order your new telly online the night before …
Join our new commenting forum
Join thought-provoking conversations, follow other Independent readers and see their replies