Dorset Cereals: Changing the world, one breakfast bowl at a time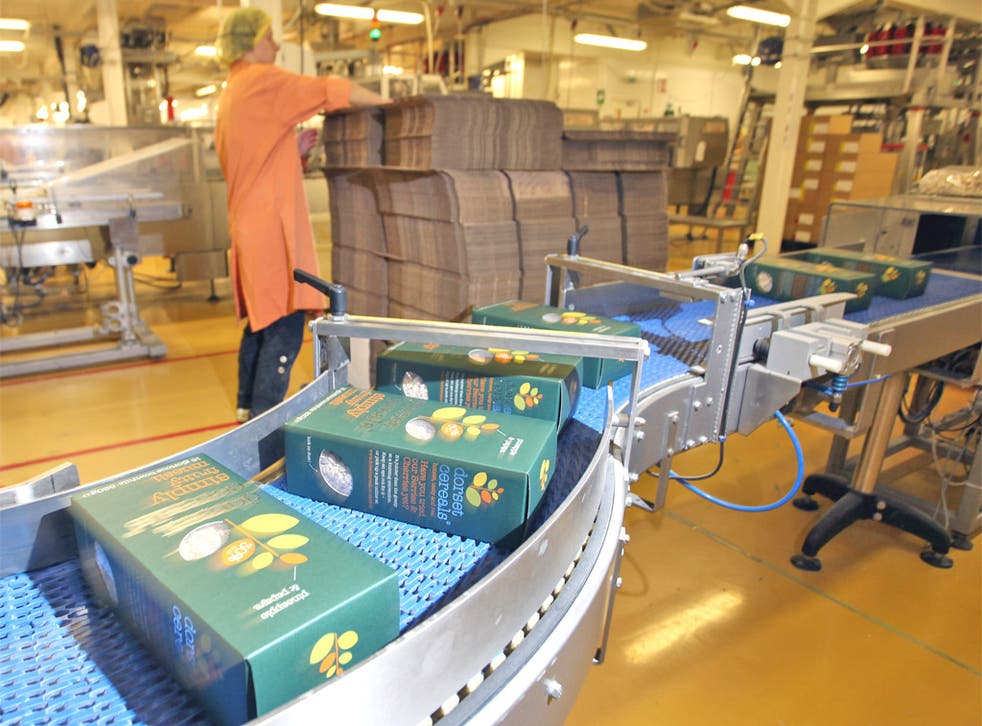 On the edge of the quiet, perfectly laid-out town of Poundbury – Prince Charles' vision of what a town should be like – is a purpose-built barn filled with the best British oats, spelt and wheat flakes money can buy.
Click HERE to view graphic
Over a fast-moving conveyor belt, eagle-eyed workers in peach overalls and red hair nets sift out rogue stones, raisin stalks and nut husks.
The raw ingredients, including cherries, berries and almonds, have already been X-rayed to make sure no tooth-breaking items make it into your cereal bowl. But for Dorset Cereals, the X-ray machines aren't enough. The dedication to making perfect muesli matches the attention to detail of Prince Charles' model urban village.
Perhaps that is why the heir to the throne chose Dorset Cereals to build its factory there. One of his favoured designers, Leon Krier, even oversaw the construction of the barn.
Dorset Cereals has been based in Poundbury since 2000, and with a steady rise in sales it is eyeing more than just filling Britain's breakfast bowls these days.
James Skidmore, the managing director, is about to set off on a trip to China to sell the product. He already has customers everywhere from the Middle East to California. Exports now make up more than 10 per cent of the business.
"The UK market has been tough so we decided to look at alternative markets," says Skidmore. "From 2006, when there were no exports, we now have a £5m international business selling into 70 countries."
You can't blame him for jumping on a plane for a bit more excitement. Poundbury itself is extremely quiet. Fed up with modern architecture, the Prince of Wales decided to create an integrated community of shops and businesses and a mix of private and social housing.
It might not be to everybody's taste, but 23 of its residents are employed by Dorset Cereals, meaning just a short walk to work each morning. The rest of its 130-strong workforce – predominantly factory workers – travel from neighbouring towns including Weymouth, seven miles away.
Being made in Britain has been a huge selling point for the brand. As well as being mixed and packed in Dorset, about 80 per cent of the ingredients are also sourced in the UK.
In fact, Skidmore, a former commercial director at Kerry Foods, can barely find fault with manufacturing in Britain. He explains: "Stability in currency would help our issues but generally there are no real barriers to us in place and the industry gets good government support."
The factory might be a vision of British success, but notices on the walls, written in English and Polish, are a reminder of its place in the European Union. Dorset Cereals has even stepped in here to help. It provides English courses on the premises for any workers who wants to learn – in their own time, of course.
The food and drink sector doesn't grab many headlines – except when Cadbury is getting taken over – but it employs more than 400,000 people. In Dorset, jobs are hard to come by, so a steady job – skilled or unskilled – in a cereal factory is in demand.
The staff's efforts mean that little Dorset Cereals is vying head-to-head with the muesli giant Alpen. But both brands have the same goal in mind: to alter the world's breakfasting habits for their own ends. To bring a switch from rice, congee, dim sum or noodles in China, or lavash bread and feta cheese in the Middle East, to a bowl of cereal with milk.
In China, where Skidmore is in the early stages of finding a partner, Dorset's "foreign credentials" could be to its advantage.
He explains: "Some have said there are issues with imitation and in many categories the local brand might be the one that the consumers will buy. But in food there have been many food scares with local brands. We are now seeing that international brands are more popular as they are not tainted with former food scandals."
Chinese investors have spotted the market for cereals in China. Last month China's Bright Foods bought a controlling 60 per cent stake in Weetabix, whose brands also include Alpen and Ready Brek. Bright Foods' investment valued the group at £1.2bn.
Elsewhere in the world, the company targets the right markets with the right products. In the US, granola is by far the most popular cereal, with muesli a much smaller category. Dorset Cereals makes sure its granola – baked in an oven down the road from Poundbury – is shipped out across the pond more frequently than muesli. For the batches going off to the Middle East, packaging is in Arabic.
Dorset Cereals has already come a long way from its humble beginnings in 1989 when it was founded by Terry Crabb as an alternative to the "rabbit food" options on the market. Dorset Cereals still carefully mixes its oats and flakes to make sure there isn't too much dust – the powdery dregs found at the bottom of many muesli boxes – and includes more fruit and nuts than some rival products.
The brand is now part of the Wellness Foods group of the Irish horseracing tycoons JP McManus and John Magnier which also includes the Oxfordshire-based Rowse Honey.
British-made fare appears to be in demand – accounts filed at Companies House this month show the company's turnover is up 2.9 per cent to £221.6m for the year to the end of December, compared with £215.4m last year. But operating profit for the group is up 90.2 per cent to £7.8m from £4.1m.
Skidmore is now overseeing the next phase of the brand's growth. He says: "It was the archetypal start-up business by one individual. It was a nice proposition but it was not a sophisticated business. In 2006, for it to take off and for it to challenge the rules of the sector, it had to change.
"The key was to highlight the premium recipe and the quality ingredients. Now we are more than muesli – we have granola, porridges and cereal bars. It was really a classic brand re-launch."
But just as the brand got bigger, others started to get into the market too. Skidmore says he isn't worried.
"Whenever you innovate you get competitors copying you. It is a form of flattery. But where others might have tried to copy the box or design they couldn't compete on taste," he says.
The biggest worry might not even be the competition. Rampant inflation has driven muesli ingredients up more than 56 per cent in price over the past three years. At between £2.79 and £3.99 a box, Dorset Cereals is already a luxury. But will consumers want to part with more and more money to have a good breakfast?
For now, from a sleepy corner of Dorset, it forms a small part of Britain's resurgent manufacturing sector. Just the sort of thing that Prince Charles would proudly tuck into.
Food for thought: Muesli munchers
Middle Easterners might not spring to mind as obvious fans of muesli, but Dorset Cereals has carved out a customer base in the region. It began talks in 1993 with a distribution partner in the region and started selling in Dubai in 1994. Now it distributes cereals and snack bars across the United Arab Emirates, Bahrain, Jordan, Kuwait, Oman, Qatar and Saudi Arabia, as well as stocking with British companies that operate in the region such as Waitrose.
James Skidmore says the demographic in the Middle East is similar to the UK, with "higher income customers" buying its premium-priced boxes. And it isn't just ex-pats that are fans. Skidmore says the brand is selling across the population of higher earners. The traditional Middle Eastern breakfast of lavash bread is being swapped for a bowl of cereal.
"Being a British brand is a big selling point, but we don't overdo it with Union flags and marketing. We just stand for good quality produce," Skidmore says.
Dorset Cereals isn't alone in exporting to the Middle East. Saudi Arabia is one of the biggest growth markets for the UK's food and drink manufacturers. In 2011 exports to the country grew by 14.4 per cent, with sauces and condiments up 29 per cent.
Tomorrow - part five: How Britain's defence industry graduated from guns to gadgets
Join our new commenting forum
Join thought-provoking conversations, follow other Independent readers and see their replies