Finance, not protest is taming the banks
So did the Occupy Wall Street movement have any effect? No, says Stephen Foley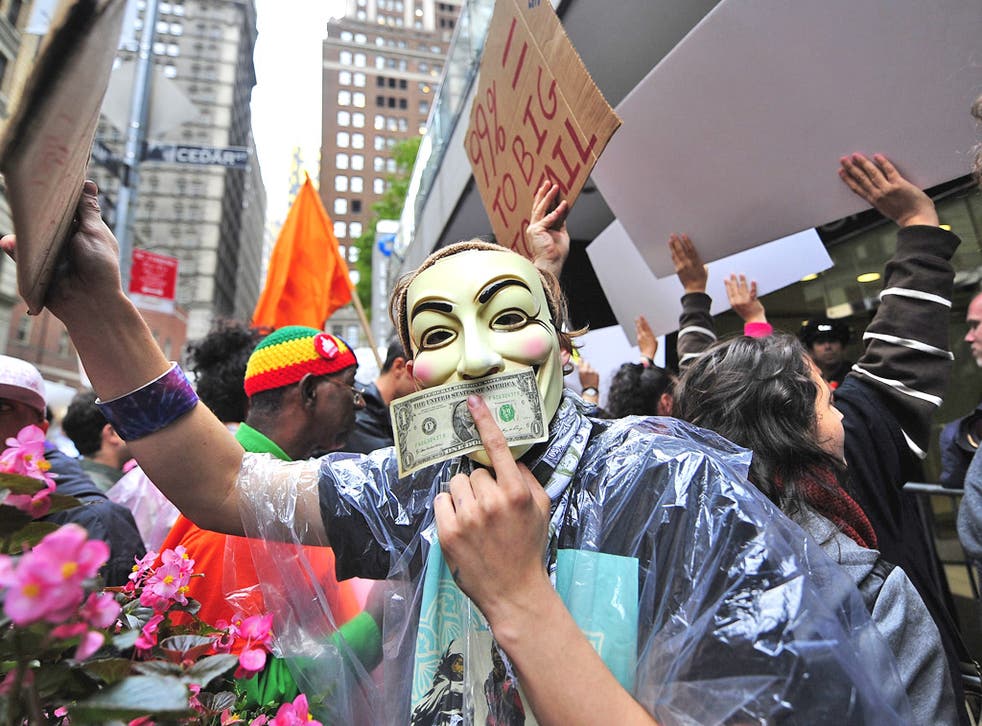 There was a feast in Zuccotti Park on Christmas Day. Protesters munched on Christmas cookies, pasta and turkey sandwiches, and sang a rousing rendition of John Lennon's Imagine, summoning for a moment the spirit of the Occupy Wall Street (OWS) movement that began in this park in Manhattan's financial district 100 days earlier.
These days protest activity in the park is a sorry shadow of the OWS heyday, when it looked like becoming an immovable tent city, whose warren of streets were lined with activists pushing left-wing causes and messages. Of course, it did not prove immovable, and New York sent its police force in to remove the tents, as did other cities across the US. Now, protesters are allowed into the heavily guarded square, but they are not allowed to sleep there, and Zuccotti Park yesterday contained just two activists with a collecting tin.
On the other side of the Atlantic, the copycat encampment outside St Paul's cathedral in London is into its third month and planning a New Year's Eve concert to celebrate, but even that looks like petering out in January as efforts to move the protesters wend their way through the courts.
The legacy of the OWS movement is the subject of as much debate as its aims and methods were during its intense, early days, but there is one question that can be answered with some clarity as this year of protest draws to a close: did OWS have any effect on Wall Street itself? And the answer is no.
That is not to say that the banks have had a great year. Quite the opposite. The US financial sector has been the worst-performing part of the S&P 500 for 2011, and the global finance industry has announced more than 200,000 job cuts this year. Just this week, Morgan Stanley, one of the mightiest investment banks, set out the details of the "rolling layoffs" it began the week before Christmas. Of 1,600 jobs going across the firm, 580 will be in New York.
Options Group, the researcher of Wall Street pay, predicts that bonuses this winter will be down by more than one-third on 2010 – but it is not street protests that are causing banks to retrench.
The reasons are financial. A new mood of caution among clients, shareholders and regulators has been crimping profits, and Goldman Sachs even reported a loss for the third quarter of the year. Wall Street reform laws enacted last year forced banks to cut back on lucrative proprietary trading, and there are new rules coming to curb profitable inter-bank derivatives trades.
None the less, bonuses will still be large. The average managing director at a US investment bank can expect to take home a $900,000 (£580,000) bonus, according to Johnson Associates, a consulting firm. And Jamie Dimon, chief executive of JPMorgan Chase, is set to receive millions more in 2011, after his $20.8m compensation package this time last year.
Meanwhile, Wall Street's lobbying on Capitol Hill and informally in the UK, plus its efforts to influence cross-border regulations coming out of the Bank for International Settlements, have continued apace. Even slowing down the imposition of new rules is lucrative; as of the start of this month, only 74 of the required 400 regulations under last year's Dodd-Frank reform act in the US had been finalised, with 154 of them having missed their implementation deadline.
The coming election will most likely prove the test of OWS's influence. Barack Obama appeared to incorporate some of the language of the movement into his campaign-framing speech in Osawatomie, Kansas, this month. Conjuring protesters' chants of "We are the 99 per cent", the President pointed to the growing disparity between the income of the top 1 per cent and average Americans.
Four years after coming to power using similar rhetoric, Mr Obama is still using anger at unfettered Wall Street to galvanise Democrat supporters and woo independents, knowing that 72 per cent of Americans have an unfavourable view of Wall Street, according to a recent Zogby poll.
The question, though, is whether even this OWS-ish rhetoric, let alone the legislation that might flow from it, can survive through what will be the most expensive electoral campaign in history. Politicians, after all, need Wall Street's money.
Join our new commenting forum
Join thought-provoking conversations, follow other Independent readers and see their replies