George Osborne: has he reached his own targets?
In 2010, the then shadow Chancellor, delivered the Mais lecture and listed eight 'benchmarks' against which he expected a Conservative government to be judged. Ben Chu adds up his successes - and failures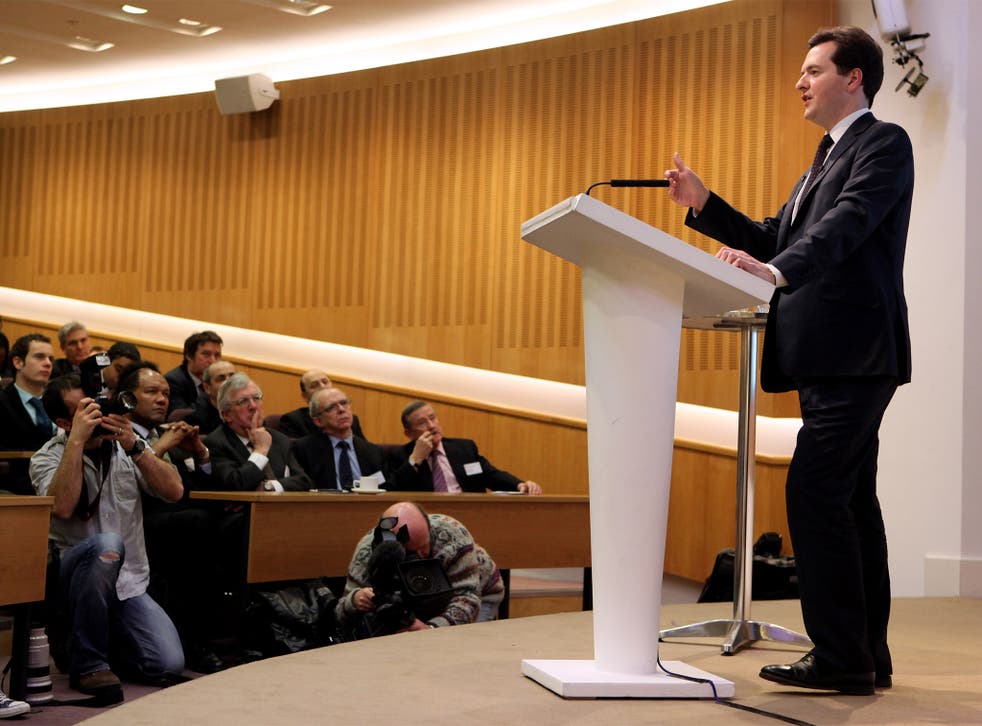 In February 2010 George Osborne was in the mood for accountability. He was delivering the Mais lecture – a major setpiece event in the economics calendar. "I have set out eight clear benchmarks for economic policy against which I expect to be judged," the Conservative shadow Chancellor said. Now, with Mr Osborne's final Budget of this Parliament fast approaching, we revisit those eight benchmarks and evaluate how the Chancellor has performed against his self-chosen benchmarks.
1. "We will maintain Britain's AAA credit rating"
A pretty clear fail for the Chancellor here. In February 2013 Moody's downgraded the UK from "AAA" to "Aa1", citing weak growth and the fast-rising national debt. In April 2013 Fitch followed, taking the UK down from "AAA" to "AA+". The only one of the three main credit agencies that still has the UK as a AAA risk is Standard & Poor's – and even it put the country's debt on a negative outlook for a while.
Verdict Fail
2. "We will increase saving, business investment and exports as a share of GDP"
On business investment there has been some success. Investment spending by firms hit 10 per cent of GDP in the final quarter of 2014, up from 8.74 per cent in the second quarter of 2010. Exports have done less well. Exports were 28 per cent on the final quarter of 2014, essentially flat on the 28.8 per cent in the second quarter of 2010. Household savings have been a big miss, falling from 7.9 per cent of GDP in the second quarter of 2010 to just 4.9 per cent in the final quarter of last year. And yet the economy would never have recovered without that fall. It wasn't a formal benchmark but, in his Mais lecture, Mr Osborne also said: "We have to move away from an economic model based on unsustainable private and public debt." The Office for Budget Responsibility forecasts household debt will soar above its pre-crisis peak, hitting 180 per cent of household incomes in the next parliament.
Verdict Majority fail
3.

"To sell in due course the Government's stakes in RBS and Lloyds"
The Chancellor has managed to offload Lloyds' shares, taking the Government's share in the lender from 40 per cent to below 24 per cent, and raising £8bn for taxpayers. That's out of the initial 2009 investment of £20bn. However, despite strenuous efforts the Government has still not managed to sell a single share of the Royal Bank of Scotland, leaving the state's 80 per cent stake intact and none of the £45bn initial investment recouped. The Chancellor admitted last week that he should have listened to those who urged him to radically restructure RBS in 2010 rather than trusting its former management to put the bank in a position to be sold.
Verdict Majority fail
4. "We will improve Britain's international rankings for tax competitiveness and business regulation with specific measures on corporation tax and regulatory budgets"
Every year the World Economic Forum publishes its "Global Competitiveness" report, which ranks countries by the competitiveness of their business environment. In the 2009-10 report the UK was ranked at number 13. In 2014-15 it had risen to number nine. The accountancy firm KPMG also publishes a regular survey of "tax decision makers" at large UK firms and foreign-owned subsidiaries. When asked to name the top three jurisdictions for "tax competitiveness", the UK was mentioned by 16 per cent of respondents in 2009. In 2013 that had risen to 66 per cent. This reflects the fact that the Chancellor has cut corporation tax down from 28 per cent to 21 per cent. In 2015-16 it will fall to just 20 per cent, the joint lowest rate of company taxation in the UK.
Verdict Success
5. "We will reduce youth unemployment and reduce the number of children in workless households as part of our strategy for tackling poverty and inequality"
Youth unemployment – defined as those out of work aged 16 to 24 – was 939,000 in April 2010. It shot up to more than 1 million in 2011 but has been falling steadily since the spring of 2013. In November 2014 it had fallen to 740,000. There were 1.5 million children in workless households in 2014, down from 1.9 million in 2010. The percentage of children in workless households rate has also fallen, declining from 16.2 per cent to 12.7 per cent.
Verdict Success
6.

"We will raise the private sector's share of the economy in all regions of the country, especially outside London and the South-east"
The Office for National Statistics does not break down gross value added by region. But regional employment statistics give an indication of the relative size of the private and public sectors by region. Across all the regions of the UK the proportion of the workforce in the public sector has come down since 2010. The biggest falls were in Yorkshire and the Humber, the North-east and the South-west where it fell 5 per cent.
Verdict Success
7. "We will reduce UK greenhouse gas emissions and increase our share of global markets for low-carbon technologies"
Figures from the Department for Energy and Climate Change show that total greenhouse gas emissions in 2009 were 613.3 million tonnes carbon dioxide equivalent (MtCO2e) in 2010. In 2013 – the most recent figures – that had fallen to 568.3 million tonnes: so a 7.3 per cent decrease. There do not appear to be any statistics on the UK's share of the global market for low carbon technologies. But Eric Lounsbury, associate director at the Carbon Trust, told The Independent: "The UK market has been consolidating its position as the global hub for innovation in offshore wind and marine renewables. And a number of other pioneering, early-stage low-carbon technologies are coming out of British universities and businesses, in areas such as hydrogen fuel cells, smart grids, and advanced biofuels, which have the potential to bring significant export opportunities over the next decade."
Verdict Success
8. "We will raise productivity growth in the public sector by increasing diversity of provision, extending payment by results, giving more power to consumers and improving financial controls"
The official statistics come out with a considerable lag but the Office for National Statistics' estimated growth rates for total public service productivity are 2.5 per cent in 2011 and 1.2 per cent in 2012. Those represent the two highest growth rates in productivity since the series began in 1997. However, this is in large part a reflection of the fact that health and education – the two biggest sectors of public service spending – have been forced to treat more patients and educate more children with flat real-terms budgets.
Verdict Success
FINAL RESULT 5/8
But...
Those are the benchmarks that Mr Osborne set himself before entering Government and in several cases they were conservative. Upon taking power the Chancellor adopted more benchmarks. The most important was his "fiscal mandate". This compelled the Government to balance the current budget deficit (so excluding capital expenditure) on a five-year rolling horizon and to put the national debt on a falling path as a share of GDP by the end of the parliament (so falling in 2015-16).
The first part of the mandate has been maintained – but only by the Chancellor pencilling in more cuts deep into the next parliament, when he may not be chancellor. The second part?
Falling debt was simply ditched when growth fell away and public borrowing overshot massively. The national debt is now not forecast to fall as a share of GDP until 2016-17. There are many other areas where self-chosen targets from Mr Osborne have not been hit, among them plans to raise £20bn from pension funds to invest in infrastructure, and to increase net lending to firms through the Funding for Lending Scheme with the Bank of England.
There was also a pledge to double exports to £1trn by 2020 – which his own forecaster expects to be missed by a large margin. But perhaps the most crucial benchmark is another one that Mr Osborne specifically quoted in his lecture: "Are you better off than you were five years ago?" Referring to Labour's record, the shadow Chancellor said: "This will be the first election in modern British history when the answer from the government must be 'No'."
Modelling from the Institute for Fiscal Studies last week suggested that median household incomes in 2014-15 will still be 2 per cent lower than they were in 2009-10, the full final year of the last parliament. So, five years on, the answer to that famous political question about living standards looks likely to be "No" again.
Join our new commenting forum
Join thought-provoking conversations, follow other Independent readers and see their replies