High Street Blues: The slow death of retail Britain
As several more UK businesses go into administration, analysts predict another 140 chains could be at risk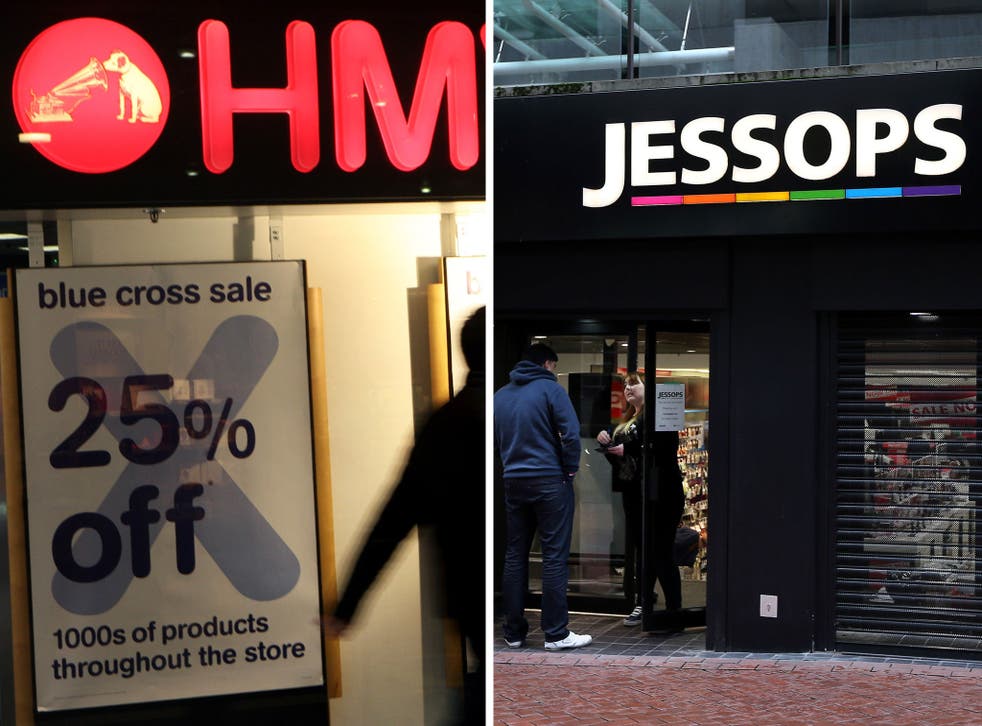 The high street's disastrous start to 2013 looks set to force the Government into adopting some of the aggressive retail reforms called for by TV personality and sector expert Mary Portas.
Already this month, the movie rental chain Blockbuster is to close 129 stores and the 78-year-old camera empire, Jessops, slid into administration. Last week, they were joined by HMV, the country's biggest CD and DVD seller with 223 shops nationwide, though there are hopes that a buyer will be found soon.
Some rumours have even suggested that Jonathan Ross could be part of a HMV bid. The chat-show host has admitted that "some people I know are talking about" trying to take over HMV. Another 140 chains could be in danger, according to experts. Yesterday, it was announced that Hilco, a private equity group which owns HMV in Canada, is interested in several of the stores.
The question vexing retailers now is: what happens next? This spring, the Government will respond to the 28 recommendations made in an independent report by Ms Portas, which looked into how to rescue the nation's ailing high streets.
The Future of the High Street report was commissioned in 2011 as pressure mounted on the Government to address the issue, but nearly two years on, the future of the high street seems bleaker than ever. One in nine high street shops now stand empty as competition from online retailers remains fierce and consumer spending continues to be hampered by the poor economic climate.
Some of the recommendations included making it more difficult to gain planning permission for out-of-town shopping centres – which were originally blamed for ruining the high street – as well as suggesting that larger retailers should support and "mentor" local businesses and independent retailers.
But a recent report suggests that the recommendations cannot be implemented soon enough. Insolvency firm Begbies Traynor, which specialises in corporate recovery, said in a report last month that there will be a rise in high street shops facing an uncertain future. There are currently 140 retailers on the firm's "critical watch list" which Begbies Traynor believes will not survive in their current form by the end of the year. "It is inevitable that there will be further casualties in 2013 which will add to vacancy rates and hasten the decline of some high streets," said Joseph Robinson, lead consultant at retail consultancy Conlumino.
There has also been an explosion in single-price retailers, such as Poundland, and a proliferation of charity shops which benefit from cheaper rents. Both of which are said to blight town centres.
However, there are exceptions. John Lewis, Next, Dunelm, Argos and Sainsbury's continued to perform well, especially over Christmas, while Primark, the budget clothes store, reported rises of 25 per cent in sales over the festive season.
Richard Dodds, from the British Retail Consortium, said: "There is a danger of being overly apocalyptic about what's going on with high streets. It certainly is the case that lots of our high streets are under pressure: one in nine of our high street shops are standing empty. The retail failings of recent weeks confirm that. But it is the case, still, that 43 per cent of all retail spending happens on the high street. High streets are still a very important part of our retail mix. They're going to go on to be significant, but there needs to be a lot of action and we need to intervene."
So what can shops do to reverse this trend? Rob Myers, managing director at Ipsos Marketing, said: "On a level playing field, [the high street] will always lose out to the lower overheads and instant search functions of the internet. So high street retailers must take ownership of the shopping process. Go to the Burberry store and you'll see shop assistants walking around with an iPad under their arm. 'Click and collect' purchases also take the pain out of posting and packaging, as a trip to the shops is far more fun than a queue in the post office."
MFI
Closed: Dec 2008.
Stores: 111.
Staff: 1,200.
Founded in 1964, the furniture chain's fortunes started to decline in 2005. Three years later, all 111 stores were closed and 1,200 jobs were lost.
Barratts Shoes
Administration: Dec 2011.
Stores: 191.
Staff: 3,840.
The 110-year-old shoe firm suffered from low-cost foreign competition. Now online as Barratts Trading.
Zavvi
Administration: Dec 2008.
Stores: 125.
Staff: 3,500.
Music retailer born out of a management buyout of Virgin Megastore. Went online in 2009.
Past Times
Administration: Jan 2012.
Stores: 100.
Staff: 1,000.
Modern antique-based company sold retro merchandise. First went bust in 2005.
Julian Graves
Administration: July 2012.
Stores: 189.
Staff: 755.
Natural food store owned by NBTY, also owns Holland & Barrett. Didn't make a profit in four years.
Woolworths
Closed: Jan 2009.
Stores: 820.
Staff: 30,000.
First store was set up in Liverpool 100 years ago but the retailer's internet operation failed and the much-loved store struggled to find a place in the marketplace.
Borders
Closed: Dec 2009.
Stores: 45 (at time of closure).
Staff: 2,185.
The American book and CD seller was initially established as a subsidiary of the US company in 1998, it later became independent in 2007.
Peacocks
Administration: Jan 2012.
Stores: 388.
Staff: 6,000.
Cardiff clothing retailer still runs half its stores after rescue by Edinburgh Woollen Mill.
JJB Sports
Administration: October 2012.
Stores: 180.
Staff: 4,000.
Founded in the early 1970s and suffered in recession. About 20 stores bought by Sports Direct.
United Carpets
Administration: Oct 2012.
Stores: 72.
Staff: 420.
After calling in administrators, UC sold the business and assets to a subsidiary of UC.
Green & Blue Wines
Administration: Dec 2012.
Stores: 3.
Staff: (not known).
Ethical retailer of organic wines in the London area, went out of business in December. Found UK market difficult during recession.
Wine Shak
Administration: Dec 2012. Stores: 14. Staff: 94.
Developed to support English wine, the chain of off-licences claimed to be between high-end specialist shops and high street off-licences.
Micro Anika
Administration: Sept 2012.
Stores: Seven.
Staff: 140.
The electronics retailer closed four of its stores. Still has two in London and one in Newcastle.
Azendi
Administration: March 2012.
Stores: 17.
Staff: 80.
Leeds-based jeweller cited the effects of the recession, the internet and increasing rent costs.
Optical Express
Administration: Nov 2012.
Stores: 200.
Staff: 750.
Losses filed for the healthcare company at end of 2011 reported to be at £1.5m.
Jessops
Administration: Jan 2013.
Stores: 193.
Staff: 2,000.
The only national UK camera retailer. It started with 50 stores in 1994. Cheap online camera deals contributed to its downfall.
Walmsley
Administration: Sept 2011.
Stores: 60.
Staff: 105.
Furniture retailer, founded in 1933, followed Habitat into administration.
Aquascutum
Administration: April 2012.
Stores: Three.
Staff: 115.
Dating from 1851, the fashion name made a £10m loss on sales of £28m in 2010.
Famous Footwear
Administration: Nov 2012.
Stores: 21.
Staff: 313.
The Wisconsin footwear chain had £15m in sales in 2011 but was understood to be loss-making.
HMV
Administration: Jan 2013.
Stores: 238.
Staff 4,350.
The entertainment chain is fighting a losing battle against downloads and online retailers. May still attract a partial buyer.
La Senza
Administration: Dec 2011.
Stores: 146.
Staff: 2,600.
'Dragon' Theo Paphitis bought UK branch; sold it in 2006.
Focus DIY chain
Administration: May 2011.
Stores: 170.
Staff: 3,919.
Suffered in a weak DIY market and hammered by low level of property sales.
Ugo
Administration: April 2012.
Stores: 20.
Staff: (unknown).
The chain of budget convenience stores was bought by Poundstretcher after entering administration.
Comet
Administration: Nov 2012.
Stores: 236.
Staff: 5,000.
UK's second largest electrical group. Dixons offered jobs to 500 staff.
Ethel Austin
Closed: Jan 2013.
Stores: 300.
Staff: 2,800.
Founded in 1934 by Ethel Austin in Liverpool; 32 stores and the brand were purchased from administration by Ricli Limited.
Blockbuster
Administration: Jan 2013.
Stores: 528.
Staff: 4,190.
The DVD rental store was previously a market leader but suffered at the hands of Love Film and Netflix.
D2 Jeans
Administration: Dec 2011.
Stores: 47.
Staff: 500.
Scottish-based denim specialist chain had 20 stores bought by Blue Inc, and the rest closed.
Clinton Cards
Administration: May 2012. Was bought by American Greetings.
Stores: 332.
Staff: 8,500.
Collapse said to be caused by high rents.
Best Buy
Closed: Nov 2011.
Stores: Eight.
Staff: 1,100.
The Carphone Warehouse-controlled electrical chain had hoped to run 200 stores by 2013.
Cecil Jacobs
Administration: June 2012.
Stores: 19.
Staff: 154.
Leicester-based camera retailer founded 70 years ago. All stores closed except Leicester branch.
Join our new commenting forum
Join thought-provoking conversations, follow other Independent readers and see their replies