Jean-Claude Juncker's Luxembourg tax haven problem
He may survive a right-wing coup, but the new boss of the EC still faces a struggle to shake off a tax scandal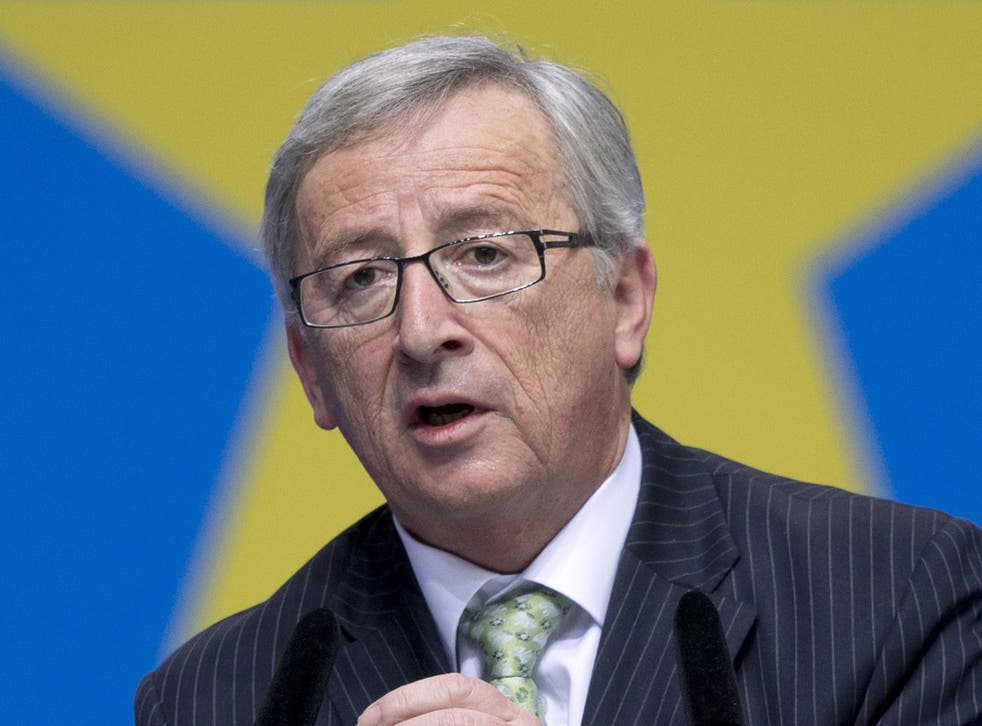 They seem unlikely bedfellows, but as Jean-Claude Juncker comes under increasing pressure over his generous approach to corporate tax when he was prime minister of Luxembourg, the new president of the European Commission may be able to count on a group of eurosceptics to boost his standing.
This week, 76 MEPs including members of Nigel Farage's Ukip and France's anti-immigrant Front National backed a vote of no-confidence in Mr Juncker and his 28-member commission. They accuse him of presiding over a tax haven and are attempting to oust him from a job he has held for just three tumultuous weeks.
But if there is one thing likely to rally the majority of the europhile MEPs to your cause, it is the perception that the fringe far-right and anti-EU contingent are after you, and much of the criticism has focused on the motives behind their headline-grabbing motion instead of the claims.
Catherine Bearder, a Liberal Democrat MEP, accused Mr Farage and his cohorts of "opportunist grandstanding", while similar mutterings about the eurosceptics' ability to self-promote could be heard around Brussels. So come the vote at the European Parliament next week, Mr Juncker will probably find most of the 751 MEPs behind him.
But while he may clear that hurdle, it is not only fringe parties questioning his ability to lead the European Commission, which is responsible for initiating and enforcing laws across the EU.
A tranche of documents leaked this month, laying bare the full extent of Luxembourg's complex tax arrangements, prompted Bloomberg to run an opinion piece calling on Mr Juncker to resign, saying he "made his country rich by picking the pockets of other countries, including those of the European Union he is now mandated to serve". The Financial Times said Mr Juncker should remove himself from continuing EU investigations into some of the Luxembourg deals.
Ms Bearder said "the EU needs a proper independent investigation into the allegations against Juncker and his possible involvement in tax evasion", echoing concerns from across the political spectrum that while Luxembourg's tax laws may be technically legal, they are hardly fair on a continent struggling with high unemployment and slow growth.
"One question that remains to be answered is whether he will be judged on purely legal grounds or on a moral and ethical basis as well," Raoul Ruparel, the head of economic research for the Open Europe think-tank, told The Independent. "Obviously this is up to each person to decide but EU leaders and the European Parliament will probably have to make a decision on how judgement is passed at some point."
Mr Juncker took over the top job in the EU on 1 November after a tough fight. David Cameron openly opposed his candidacy, arguing that he was an old-school EU leader prone to back-room chats about greater integration, rather than a fresh-faced reformer. Some British tabloids even alluded to his drinking habits, adding to the venomous tone of the campaign.
However, it is not his alleged fondness for cognac and fireside chats that have overshadowed his first few weeks in power, but his policies during 18 years running the tiny landlocked nation of Luxembourg. Its 500,000 citizens enjoy the highest per capita income in the EU, thanks to its policies encouraging large multinational corporations to park their profits in the Grand Duchy in exchange for low taxes, high interest rates and relatively few questions asked.
It has always been a touchy subject for Mr Juncker, especially as most of the EU's other nations pursued more transparent policies in the face of global outrage at the growing gap between rich and poor. But it blew up into a scandal just a few days into his presidency when the International Consortium of Investigative Journalists published nearly 28,000 pages of documents detailing the full extent of Luxembourg's tax arrangements.
They showed that around 340 multinationals – including Apple, Pepsi and Ikea – had taken advantage of Luxembourg's laws, which allowed companies to avoid paying billions of dollars in taxes in the countries where they do most of their business and pay as little as 1 per cent on their revenues by using subsidiaries in Luxembourg instead.
Addressing his critics on 12 November, Mr Juncker repeated that all the deals done complied with international law and insisted he was "not the architect" of policies to encourage tax evasion in Luxembourg. The Wall Street Journal, however, trawled through speeches he made while serving as prime minister between 1995 and 2013, and found Mr Juncker boasting of his role in bringing large corporations to the nation on a number of occasions.
European Commission officials have said they will examine the "LuxLeaks" documents to see if they need to open any new investigations into the deals in Luxembourg.
Given that Mr Juncker has the backing of the big political groups in the European Parliament and most EU leaders, he is unlikely to heed any calls to step down. But he may have to come up with a fresh response beyond defending the legality of the deals and ploughing ahead with EU transparency laws that his home country once fought against.
Mr Ruparel said: "The basic premise of Juncker's defence – to look forward at remedies – should also not detract from necessary scrutiny of these deals and what has happened previously."
Join our new commenting forum
Join thought-provoking conversations, follow other Independent readers and see their replies