Meet the luxury owner occupiers: The high-end retailers buying their own shops to avoid rent squeeze
Fears over rents and the risk of losing a prime London selling spot are prompting a host of luxury brands to buy property and become their own landlords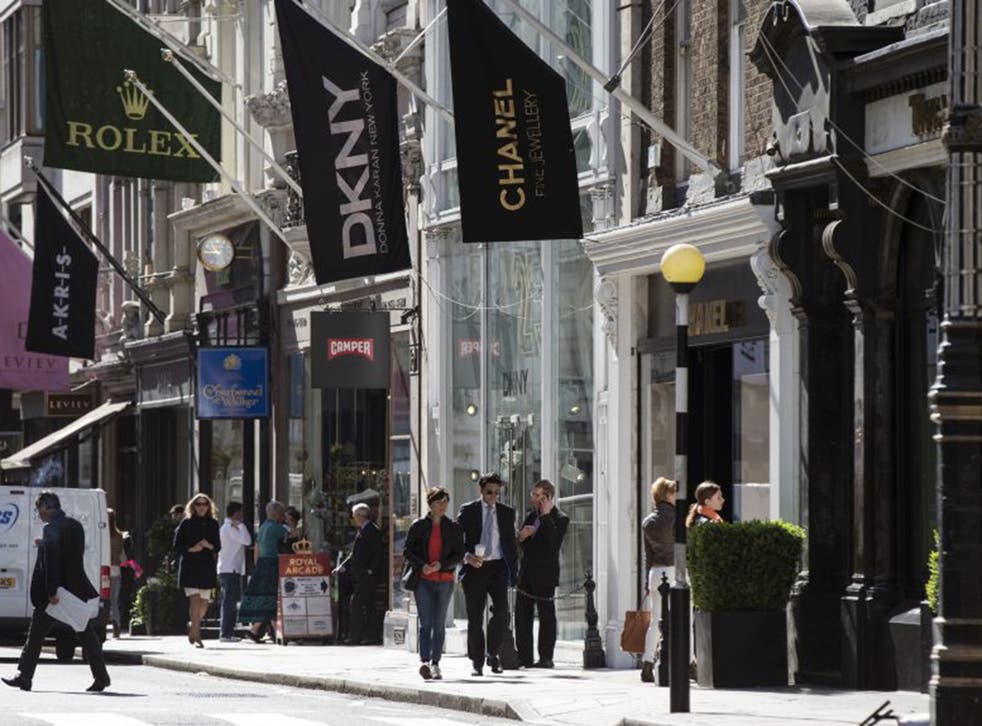 The luxury handbag maker Prada is probably not most people's idea of the kind of company that needs to beg the landlord for a rent reduction. Nevertheless, like many retailers in its upmarket sector, Prada has been hit by the Chinese economic slowdown. And it emerged last week that the Italian company has approached local landlords about rent cuts on shops in Hong Kong and Macau to soften the blow of weaker sales.
In Britain, however, it has taken a different approach to its management of property costs – buying real estate. In London the company has forked out around £145m on the freehold of two shops since 2013.
And Prada is not alone. Since 2011, of the £1.4bn of property sold on Bond Street, London's most luxurious shopping street, almost 70 per cent has been purchased by retailers according to research compiled exclusively for The Independent by the property agent Cushman & Wakefield. And as of last year nearly half of the 80 properties on Bond Street were owned by the stores.
So just which companies are buying the buildings they use in the UK? And why are they getting into the world of bricks-and-mortar investment at a time when some retailers, notably supermarkets, are desperately trying to offload their property assets?
The idea of a building occupied by a single luxury brand goes back to the Parisian couture houses of the late 1940s and 1950s and the buildings of Chanel and Christian Dior.
However, there has been a far more recent trend for luxury brands to buy property in Oxford Street and Bond Street in the West End.
Last year Cartier's parent company Richemont teamed up with the developer Oxford Properties to splash out around £300m buying five properties on Bond Street. In April this year, the Spanish billionaire Amancio Ortega's investment company, Ponte Gadea, is believed to have paid more than £400m for a stretch on Oxford Street. His Inditex fashion empire includes Zara and Massimo Dutti.
Many of the brands are understood to have a lot of cash on their balance sheets, meaning they can compete with seasoned and wealthy property investors. Mr Ortega reportedly paid in cash.
The deals are in stark contrast to the course followed by a number of non-luxury retailers, such as Tesco, that are trying to get out of leases or sell property.
Part of the reason for some of the purchases is avoiding a Hong Kong-style rent squeeze.
In July Jean-Marc Duplaix, the chief financial officer at Kering, parent company of Gucci, said it was seeking rent deals in some parts of the world. "Considering the level of sales we are reaching in some locations… the percentage of the rent compared to the sales is increasing," he said.
But Mark Shipman, director at the West End property agent Michael Elliott, warned that rent cuts are not an option in the UK: "The larger, more established high-end retail brands are often able to negotiate rent reductions in weaker retail territories.
"However, this would not occur in the prime central London market as tenant demand far outstrips supply and has done for many years."
Fergus Keane, senior director at Cushman & Wakefield's West End team, agrees that buying is increasingly regarded as safer than renting in London. "Landlords know there is so much competition for prime space that they can charge almost what they like as they know how important London flagships are for these retailers," he said.
"This has driven the retailers themselves, including some of the biggest luxury names in the world, to try and buy buildings for their own occupation, particularly in the West End where they can control their destiny and image for the long term."
Eye-watering price tags for rental leases hint at why businesses might prefer to own a property. Last year Watches of Switzerland sold on the lease on its 1,200 sq ft New Bond Street premises to the watchmaker Patek Philippe for £10m – a record price per sq ft. Corset maker La Perla was forced to pay a premium of £5m for a 1,000 sq ft central London store.
Yet not all high-end groups are in the habit of buying property. Handbag maker Mulberry told The Independent it leases its stores and has no intention of buying freeholds, while Kering and Jimmy Choo are still largely renters too.
Mr Shipman argues that high-end tenants are actually more worried about losing a lucrative pitch than higher rents. "The larger fashion brands and jewellers are less concerned with rental levels and more concerned about protecting their location in the heart of London's luxury quarter, including Mayfair, Knightsbridge and Chelsea" he said.
Nevertheless, Mr Keane of Cushman & Wakefield believes we can expect a further burst of real estate activity among competing brands. He said there has been a surge in luxury retailers seeking to lease and acquire property to occupy and trade from as their "home".
While some shops may be out of fashion, UK retail property is still very much in vogue for some of the world's most powerful luxury brands.
Luxury owner occupiers
Prada
16 Old Bond Street and 17-18 Old Bond Street
Max Mara
21 Old Bond Street
Longchamp
28 New Bond Street
Chanel
173 New Bond Street
Fenwick
63 New Bond Street
Ermenegildo Zegna
37-38 New Bond Street
Yves Saint Laurent
33 Old Bond Street
Source: Cushman & Wakefield
Join our new commenting forum
Join thought-provoking conversations, follow other Independent readers and see their replies