Mike Jeffries: Beauty and the beast of Abercrombie & Fitch
Mike Jeffries turned a sleepy retailer into a global fashion giant. Now he's stepping down – but few will miss his imperious ways, says Jim Armitage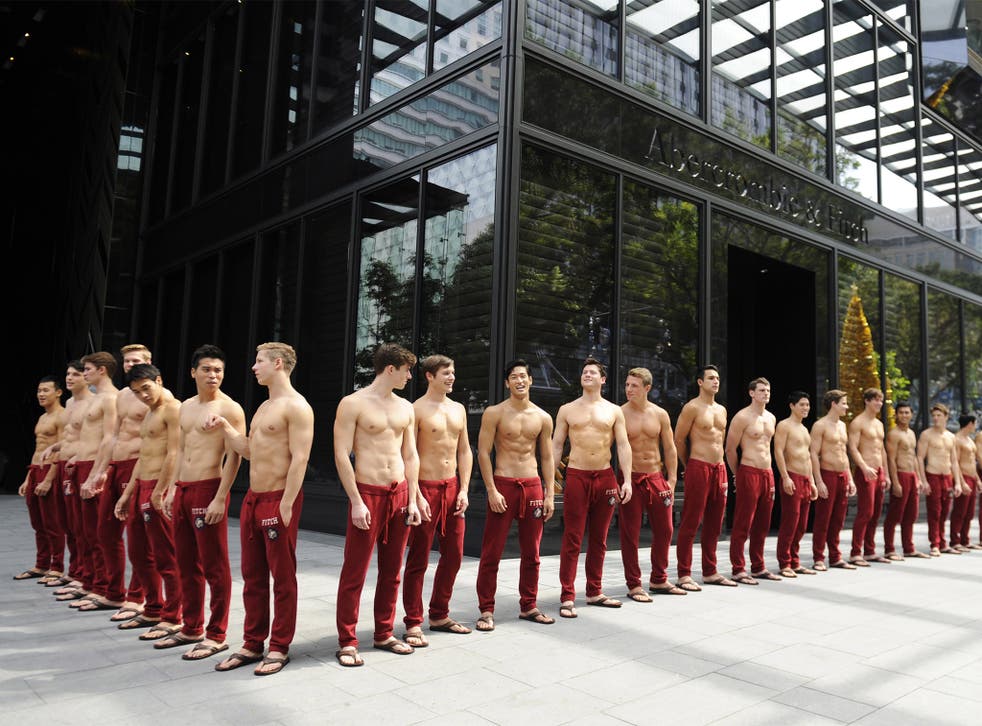 A generation of parents can breathe a sigh of relief.
The chief executive of one of the biggest, and priciest, fashion phenomena of recent decades quit last night in the final act of one of Wall Street's most colourful, and controversial, careers.
He is Mike Jeffries, the chief executive of Abercrombie & Fitch.
Rarely, a powerful gay chief executive, Mr Jeffries had a knack for causing the kind of publicity that would excite and titillate his core customer base of rich youngsters, but enrage their mothers and fathers.
From his sexy photo shoots of scantily-clad teens in provocative poses to hiring topless male hunks as "greeters" at his flagship store in London, Mr Jeffries would always go the extra mile to generate a buzz around his brand.
However, yesterday, the 70-year-old left the company in the same condition as he found it when he joined it in 1992 – on its knees.
Well, perhaps that's not quite fair. The company he was recruited to back then was as tired and unglamorous as a retired college football player's jockstrap. While it still traded on being the sporting outfitter of choice to the likes of Ernest Hemingway, who bought his shotguns there in the 1940s, its main sales for decades had been an unsexy "hodgepodge" (as Forbes magazine described it) of books, sports equipment, fishing gear and the odd clothing range.
Mr Jeffries blasted through the business with the athleticism of the well-groomed, gym-toned hunks who were soon plastered all over its billboard advertising. He ditched everything but fashion, honing in on the core image of the all-American frat boy and his admiring gaggle of barely-clothed female admirers.
Teenagers – especially those in the upper-middle classes who could afford its eye-watering prices – piled their wardrobes high with its sporty hoodies (not much change out of £100), baggie jeans (likewise) and flip-flops.
Year after year, he shot Wall Street analysts' forecasts out of the ballpark. By the mid-noughties, he realised his brand was so fashionable, so desired by its affluent – or aspiring-to-be-affluent – audience that they would pay whatever he cared to charge. The prices kept on rising – revenues leaping by as much 34 per cent year after year.
British private school kids in the posher southern suburbs and Cheshire towns flaunted their A&F shabby chic along with their perfect teeth and expensive haircuts. They were the very epitome of Mr Jeffries' ideal: youthful, rich, good looking and – of course – slim. But for the wealthy youngsters ("dudes", as he called them) who bought his clobber, the world changed fast in the past few years.
It did so in two main ways. First was the change that was well within Mr Jeffries powers to cope with – the sudden and dramatic shift in fashion towards the fast, cheap European retailers like H&M, Zara and a resurgent Gap, which had lowered its prices in recognition of the new order.
These were companies with a completely different look and ideal. For Mr Jeffries, his aim was to create the fashion trends, with his blitzkrieg of gorgeously photographed, sexually-charged advertising. Young, beautiful people sporting big A&F logos.
But for Zara, owned by the giant Spanish Inditex group, it was about echoing the catwalk fashions of the European luxury labels. That meant everything from suits and office wear to bikinis and hoodies via accessories and knitwear to boot. And, in what was a two-pronged killer for A&F, with a dizzyingly rapid turnaround of new ranges at a fraction of the cost.
Meanwhile, as rivals were getting nimbler and faster, young people were looking to spend their allowances increasingly on the dazzling array of new electronics, and their attendant games and apps. Even the chaps at Harrow and the gals at Rodean, not to mention their equivalents in the US, have limits to their budgets: Apple became the aspirational fashion brand. Abercrombie's former shoppers would now happily wear H&M and Zara – and even a dash of Primark – if it meant they could play Candy Crush on their new iPhones.
The Abercrombie revenues, profits, and share price, crumbled. Meanwhile, according to some critics, Mr Jeffries continued in his bubble of self belief. Much has been written about the cult-like atmosphere around the company's sprawling Ohio headquarters, where a journalist in 2006 reported how it was staffed by an exclusively youthful and handsome crew in Abercrombie flip-flops and ripped jeans.
More still has been aired in public about the absurd demands he had for conditions on board his Gulfstream G550, where stewards are male models, A&F perfume has to be regularly spritzed around and the carpets must be vacuumed in regimented lines. A 47-page manual for staff includes precise seating locations for Mr Jeffries' dogs, and cabin crew are ordered only to respond to his and his boyfriend's requests with a friendly "no problem".
Such an obsessive personality can be great when building a company on the up. But it tends to be less effective when the world changes and the business needs ripping apart.
Numbers given to Wall Street last week were little short of a disaster. Sales fell 12 per cent in the last quarter, while the company slashed its profit forecasts for the year. "Traffic improved in August but then declined significantly in September and October," said Mr Jeffries.
It was his last public statement before signing off: "I believe now is the right time for new leadership to take the company forward to the next phase of its development."
He's absolutely right, but whichever dude replaces him has one of the toughest challenges on Wall Street.
The 'F' word: His philosophy
Of all his outlandish corporate philosophies and obsessions, it will be for the F-word that Mike Jeffries will be best remembered. Fat.
Asked why his shops did not stock larger-sized clothes, he explained: "In every school there are the cool and the popular kids, and then there are the not-so-cool kids. We go after the attractive all-American kid with a great attitude and lots of friends.
"A lot of people don't belong (in our clothes), and they can't belong. Are we exclusionary? Absolutely."
Join our new commenting forum
Join thought-provoking conversations, follow other Independent readers and see their replies