Pawnbroking: the business that always does well in hard times
When you need money to pay your bills, and banks won't help, the pawnbroker is ready to oblige with instant cash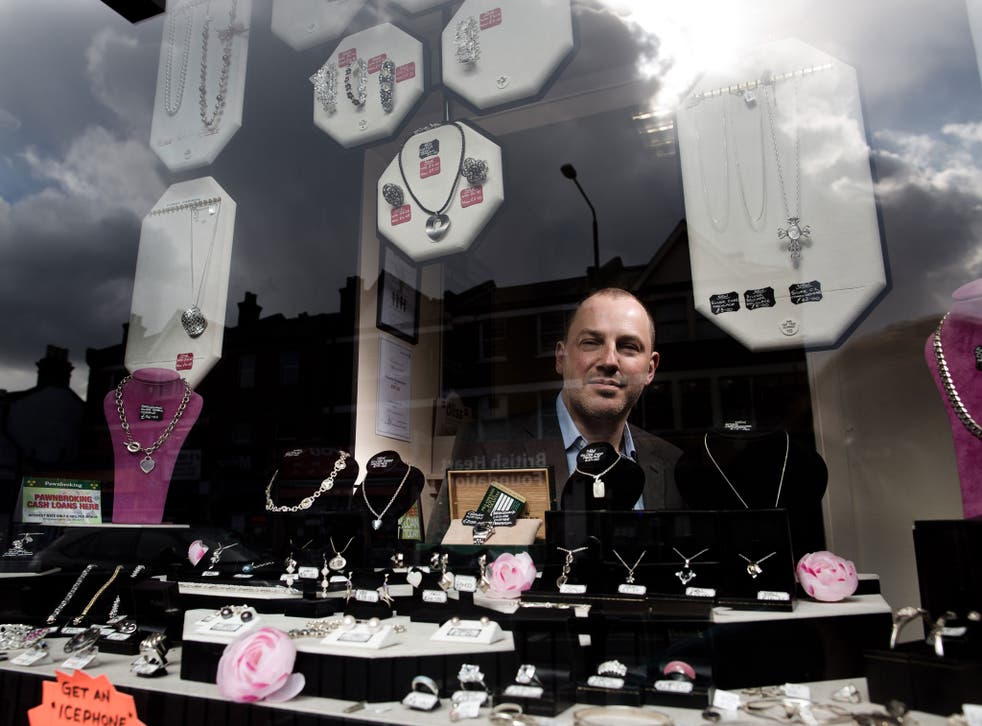 In the morning sun, gold bracelets and diamond rings glisten through the window at Pickwick Pawnbrokers, winking at passers-by on Eltham High Street. This is the main strip in a working-class district of south London which will forever be linked in people's minds with the murder of Stephen Lawrence. Alongside pound shops, newsagents and chemists, Pickwick is one of several pawnbrokers within spitting distance on the street.
But owner Nathan Finch isn't worried. After all, he shrugs, there is plenty of business to go around. The number of pawn shops in Britain has doubled over the past four years. As forecasters warn of a potential triple-dip recession, this 3,000-year-old industry is booming. When Finch started working for the National Pawnbrokers Association of the UK 22 years ago, there were 70 shops in the country – now there are 2,500.
It is not just the numbers that have changed dramatically, Finch claims. He says that rather than being purely a last resort of the poor, his is now a respectable trade which has overtaken banks as the first go-to point for small business owners and the middle classes. "The biggest problem small businesses face is cash-flow – even if your creditors haven't paid you, you still need to pay employees there and then, you need fast cash." That is where he and his co-owners step in, offering instant, no-questions-asked cash loans in six shops across the country, and five concessions.
Picking up a hefty Rolex watch, the face of which Finch presses against his forehead to check whether it is real ("You can tell because it's crystal, so it's freezing cold"), he grins: "This person is hardly destitute. This is someone who knows they come to us and they get instant cash. While the banks are looking for reasons not to lend people money, we're looking for ways to lend them more."
In a world of automated phone lines and computer screens, pawning, Finch explains, provides a personal service. "A customer once said to me: 'It's easy, when I come to my pawnbroker, I meet my bank manager. Face-to-face conversation, will you lend me this, will you push me that?' Every transaction is personal."
For parents who need to pay their children's tuition fees, too, he says, pawning an engagement ring or brooch is now a reasonable option. "You bring us a 2.5-carat diamond ring and you walk out with £900."
By 10am the customers are bustling in and out of the Pickwick Eltham. Inside they are met by a shield of reinforced glass and counters showcasing items for sale. Some are "ex-pledge" (pawned items which customers never bought back and are now the property of the shop), others have been bought in second-hand.
Elaine Jones, 57, is in and out every few days. Today she is here about a gold gate bracelet. "I pawned it about a year ago now. I've just come in to pay it over, I can't really afford to get it out." Originally, she says, she took out a £350 loan against the item to pay a utility bill. "Today I've got to pay £162 and that carries it on for another six months. If I could afford to get it out, I would. I'm not in quite so much trouble now, but at the time I needed the money and it was a way, rather than going to a payday loan which charges a lot more." With her outgoings swelling with the new welfare reforms, she doesn't know when she will get it back.
Another client, 55, has also been hit hard. She is here to pawn her husband's ring. "I've got to pay my council tax today, that's why it's been done. That's the only way of doing it." The woman, who doesn't want to be identified, is adamant that she will get the ring back by the end of the week.
Sixty per cent of the customers are female. At lunchtime a heavily pregnant young woman with two children arrives to collect a gold baby bangle she has had in for several days – followed by a man in his twenties who comes in every week or so to pawn the same gold bangle. An older woman arrives not long after with a bag of goods that staff say don't "test up".
Staff work next to a wall of photos captioned "DO NOT SELL", or the "lookout wall", lined with pictures issued by local police of known criminals. Not that store manager Debbie Franklin or her colleague, Sarah Small, having difficulty spotting when a potential customer is unsavoury.
"You can tell them a mile off," says Franklin, 44, who has worked at Pickwick since it opened nine years ago. "The way they're acting, asking for different things. We're very clued up, nothing we can't handle."
"The smile usually kills them," says Small, 23, who has worked in pawnbrokers since she was 18. "It's like being at the front gate of your house – you know who has been doing what, which day a dog's had an operation."
At a concealed counter, staff test items that are brought in as pledges. The first job is to look at the item with an eyeglass, checking for any hallmark and any inclusions in stones.
The average loan is 60 to 70 per cent of value, a dramatic increase from the traditional 50 per cent, driven up by competition. "Bring a diamond ring valued at £1,500 and walk out with £1,000," Finch says.
The reason for the industry's massive expansion, he explains, is not just to do with recessionary times: "In a consumer culture, people want the newest and best things, now. No one wants to save up." The rise in the price of gold, too, has played a part.
The biggest change staff at Pickwick claim to have seen over the years is customers becoming more frugal, borrowing less than they are offered. "People are budgeting – with everything that has happened in the economy they have seen the effect of borrowing beyond their means. People are taking £100 rather than £500."
Generally, they get the same customers coming back again and again. "We have our regulars who, when they're not pawning, will pop in and say hello. There's a woman who comes in with her husband's medals, takes out a £40 loan. She would never get rid of them. Another woman will bring in a certain bracelet on Monday or Tuesday and get it back by Friday."
Behind the scenes, past two sets of locked doors, there are three giant safes. Inside are shelves laden with hundreds of packages, people's "pledges". Finch flicks through diamond cluster rings, a half-sovereign, a bangle, a box of Second World War medals.
On the side, there is a bag of gold items on their way to being scrapped: rope-chains, a pendant heart inscribed with the words "Someone Special", hoop earrings, a dolphin pendant. "I am saddened by the number of pocket watches scrapped," Finch says.
Up to 80 per cent of customers redeem their pledge. "We absolutely do not want to keep the item, we don't want to buy it. If a customer buys it back, they have the opportunity to use us again. If we sell the item, we've lost that customer – they won't have the it to pawn again. Then who is losing?"
Join our new commenting forum
Join thought-provoking conversations, follow other Independent readers and see their replies