Price of a scandal: Brazil's oil giant Petrobras in £11bn write-down
After a clear-out of executives and with dozens of politicians being investigated, the company's new chief has announced a clean start
Tom Bawden
Friday 24 April 2015 12:31 Comments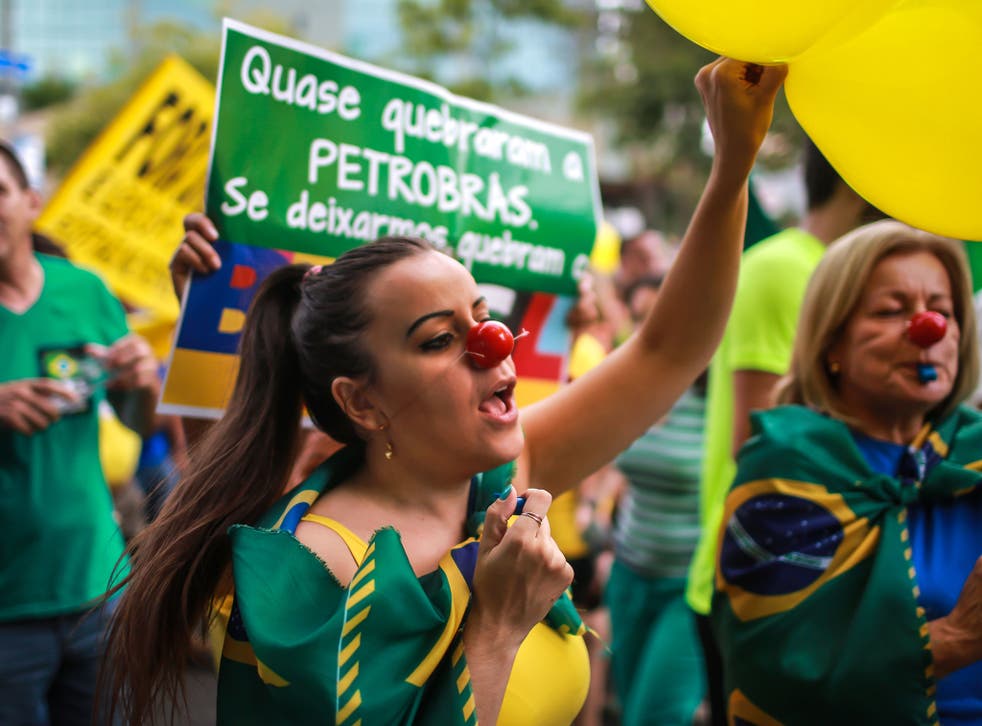 The Brazilian state oil giant Petrobras has attempted to draw a line under a corruption scandal that has dogged the company for months, aiming to clean the slate through a massive $16.8bn (£11.2bn) write-down.
The smaller part of the write-off takes the form of a $2bn charge to account for eight years of alleged bribes in a scandal that could involve more than 40 senior Brazilian politicians. To make matters worse, the company, which had been riding high in recent years on the back of Brazil's oil bonanza, announced a one-off $14.8bn impairment charge on the value of its assets. The charge relates to a host of factors, chief among them the impact of the sliding oil price and spiralling costs at some of its refineries.
Taken together, the writedowns dragged the group into an overall loss of $7.2bn for 2014 – its first move into the red for decades – and the company said it won't pay dividends for the year.
"Today is an important day, not only for us but for the whole company. We are cleaning up mistakes," said the chief executive, Aldemir Bendine. "From here on in, Petrobras guarantees a return to normality in its relationships with investors, shareholders and creditors in Brazil and abroad," he added.
Mr Bendine conceded that additional revisions to corruption-related write-downs are possible if prosecutors uncover more wrongdoing. However, he suggested that it was more likely that Petrobras had overestimated the costs of the corruption, saying that an independent auditor approved the latest figures "without any reservations".
"We were conservative with this number. We might not reach it, but it was a way to give credibility. We have made our best efforts to turn the page on this sad chapter that the company has passed through," he said.
Petrobras has been embroiled in a massive corruption scandal in which it is alleged that bribes were paid to secure lucrative contracts. The case has toppled Petrobras's leadership and halved its share price as well as making a substantial contribution to Moody's decision to cut its debt to junk status in February.
It has also sent shockwaves across Brazil, pushing the broader economy closer to recession. Hundreds of thousands of its citizens marched to protest last month against President Dilma Rousseff, who chaired the board of Petrobras for much of the period where the alleged bribes happened. She denies any knowledge and has been cleared in an investigation by the attorney general, but that has not stopped her popularity from plummeting in the wake of the scandal. According to a poll last month, 84 per cent of Brazilians believe she knew about the corruption.
Although President Rousseff has been cleared the case looks set to run for some time. More than 40 senior politicians are still under investigation, while dozens of executives have been charged.
Similarly, Petrobras has got its work cut out in restoring investors' trust. "Petrobras's problem isn't about oil or finance, it's about trust. The first thing the company needs to do is to recover its credibility, because today the market doesn't believe it," said Daniel Marques, chief analyst at the consulting firm Gradual Investimentos.
But there is a sense that Petrobras is going in the right direction. "Since earlier this year, a set of more favourable policies and measures have been taking shape, beginning with a change in the company's leadership, and the decision to overhaul the board of advisers by removing political appointees and replacing them with more business-friendly names," according to a note published by Eurasia Group of the US.
Mr Bendine took over as chief executive in February after his predecessor and five other senior executives left because they had been tainted by the scandal. He was previously head of Banco do Brasil, one of the country's biggest state-controlled banks.
The case is probably the biggest financial scandal in Brazil's history and began with the arrest early last year of a company director, Paulo Roberto Costa, who struck a deal with prosecutors in September. Since then, details have emerged almost every week of a decade-long alleged bribery scheme involving company officials.
Costa has alleged that for nearly 10 years, Petrobras contracts were routinely inflated by 3 per cent, with the extra money used for bribes and kickbacks. Much of that money has allegedly been used to fund the country's ruling parties.
Costa, a former downstream director of Petrobras, was found guilty of money-laundering and criminal conspiracy on Wednesday, along with several other suspected members of the corruption ring. He named many of those implicated in the widening scandal in a plea bargain deal with prosecuted and was sentenced to seven years and six months in prison. However, he will only serve one year under house arrest due to time already spent in detention and his collaboration.
A dirty business: Rolls-Royce accused
It is not just Brazilian companies and politicians that have been dragged into Petrobras's bribery scandal. The FTSE 100 engineer Rolls-Royce was embroiled in it in February after being accused of offering backhanders to secure a $100m (£66m) contract in the country. Pedro Barusco, a former Petrobras director turned whistleblower, claims that he personally received $200,000 from Rolls-Royce, via its agents, with additional funds paid to other executives and politicians.
At the time, Rolls-Royce, which makes gas turbines for Petrobras's oil platforms, said it had not been approached by Brazilian authorities: "We want to make it crystal clear that we will not tolerate improper business conduct of any sort and will take all necessary action to ensure compliance."
Jamie Dunkley
Register for free to continue reading
Registration is a free and easy way to support our truly independent journalism
By registering, you will also enjoy limited access to Premium articles, exclusive newsletters, commenting, and virtual events with our leading journalists
Already have an account? sign in
Join our new commenting forum
Join thought-provoking conversations, follow other Independent readers and see their replies